A few weeks ago, I shared my experience with Baillardran, a chain a shops in France that specialize in mass-produced canelés de Bordeaux. Since then, I've gotten many emails asking for the recipe that came with the copper cannelé molds I bought that day. I hunted all over the internet to find a copy of the recipe to link to, but it was nowhere to be found. After a quick call to one of the Baillardran shops, I was told that they didn't have a problem with me posting the recipe – so, here it is in all of its glory.

Note: I have not used or tested this recipe at all. The reason I'm posting it here is for posterity's sake. One day I may make this particular recipe, and if I do, I'll update this post. But until then, I want to say a few things before you dive in:
Again, I have not tested this recipe. So, your mileage may vary.
Traditionally, cannelés are made in copper canelé molds, and if you are using said copper molds, the seasoning process is very important. Others use silicon molds, yielding decent results. I have personally never used the silicon molds, so I can't comment on them one way or the other. Edit: reader Barbara Qualley emailed me this video of a pastry chef using a silicon mold to make cannelés. Enjoy!
To get the perfect canelé, you need to use a combination of butter and beeswax to grease the molds, regardless of what type of mold you use. This recipe doesn't call for beeswax, so again, YMMV.
The flour and sugar measurements in this recipe are by weight. Suck it up and get a scale. If you need more convincing, read this.
Some of the directions weren't very clear when translated directly into English, so I took my cannelé baking knowledge and added a little more info here and there where necessary.
The cooking time here says 1 hour at 425°F (the original recipe calls for 220°C). Other recipes recommend varying your oven temperature for best results.
When eating the Baillardran canelés from the shop, I found that the rum flavor was a little overpowering for my taste. If you prefer a less rummy canelé, you might try cutting the amount of rum down to 3 tablespoons and adding another 2 tablespoons of milk to make up for the wet ingredient deficit.
If you do make this recipe, please leave a comment and let me know how it goes!
Also, here are the seasoning instructions that came with the Baillardran cannelé molds:
Before first use you have to cure (season) the canelé molds. Preheat your oven has 390°F (200°C). Grease molds with butter and bake for 1 hour. Take them out of the oven and lightly re-grease them. After each use, wipe clean with a soft rag and lightly re-grease. Do not wash with soap.'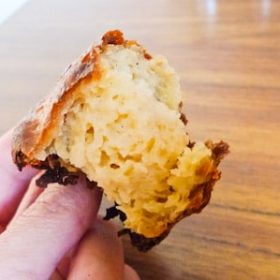 Baillardran Cannelé Recipe (Canelé de Bordeaux)
Cannelés are a finicky French pastry... that is, until you've made them a few times. Once you've got a few tries under your belt they're surprisingly easy to churn out. The key is that you HAVE to let the batter sit at least 24 hours -- ideally 48. If you bake the batter too early, your cannelés run the risk of baking into misshapen lumps. Also, make sure you don't overmix the batter! You don't want airy cannelés. They're supposed to be a little more dense, verging on custardy.
Print
Pin
Ingredients
2

cups plus 2 tablespoons

milk

1

whole

vanilla bean

250

grams

sugar

125

grams

flour

6

large

eggs

3 1/2

tablespoons

butter

at room temperature

1/4

cup

rum
Instructions
The first day:
Slice the vanilla bean pod down the middle, length-wise, to split it into two long halves still joined at one end. Use a butter knife to scrape out all the tiny little beans from inside each half.

Add the milk, the tiny vanilla beans, and the split vanilla pod to a small pot. Give it a good stir. Heat to just below a boil. (Not bubbling!) Remove from heat and steep the vanilla bean for 30 minutes. Discard the split vanilla pod and skim off any skin that formed on the milk.

Stir sugar and flour together in a large bowl. Combine milk and eggs, whisking to mix well. Pour milk and eggs into sugar and flour, stirring just until combined. Do not overmix.

With an electric mixer or hand beater, combine butter and rum, mixing until somewhat emulsified . Gently stir the rum and butter into cannelé batter, making sure to not over-mix (which will cause your cannelés to be too airy).

Place batter in the refrigerator for 24-48 hours.
The second day:
Preheat oven to 425°F (218°C).

Gently stir the cold batter, making sure to not over-mix.

Grease the molds with butter, wipe away excess fat, and place the molds on a plate. Pour batter into molds, leaving about 1/2-inch of space from the top. Slide the individual canelé molds into the oven and cook for about 1 hour, or until the tops are very brown (not burnt!).

Unmold the cannelés while they are still warm and allow to cool before eating.
Notes
Cook and prep time to not include resting time.
Nutrition
Serving:
1
Canelé
|
Calories:
133
kcal
|
Carbohydrates:
19
g
|
Protein:
3
g
|
Fat:
4
g
|
Saturated Fat:
2
g
|
Monounsaturated Fat:
1
g
|
Cholesterol:
73
mg
|
Sodium:
54
mg
|
Potassium:
67
mg
|
Vitamin A:
200
IU
|
Calcium:
40
mg
|
Iron:
0.5
mg
This content was originally posted on FearlessFresh.com.