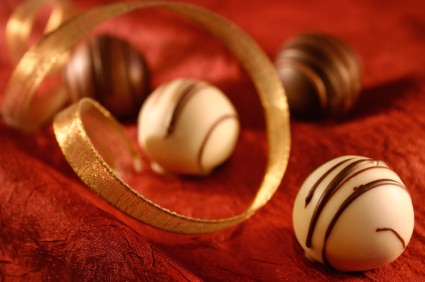 – This easy chocolate truffles recipe is a dream, even for beginners. –
It's coming up on Valentine's Day, so I thought it apropos to make a few posts about chocolate truffles. You know, that stuff that will buy you out of trouble with the wifey? Just think how many brownie points you'll earn if you actually make it yourself. And you can riff on the idea, such as adding a little spicy heat, or even make them entirely vegan/dairy-free.
And ladies (biological or otherwise), imagine how many obligatory dish-washings you'll have in the bank if your tell your partner that you slaved away in the kitchen for hours, making them a V-day gift by hand?
The key: just don't tell them you can make these with a half an hour's work.
Today we'll be talking about truffles. There are a billion different ways that you can go about making these little balls of cocoa love, but for our current purposes, we're going to take the easy route. This is a basic recipe, though you can alter it in any number of ways.
Today's recipe was inspired by Charity Ferreira's lovely cookbook, Brittles, Barks, and Bonbons. My stepmother and I made a few of the recipes from this book for Christmas, and they all turned out fabulously. Along the way I made quite a few alterations, which will show up in later posts.
Tip for Beginners: Chopping Chocolate
First things first: when you chop chocolate for melting, you need it to be fine. Like, as fine as possible. The coarser your chocolate, the longer it will take to melt, which will increase your chances of scorching or just generally screwing the whole thing up. It's easiest to chop long flat bars, though it's not a huge chore to chop chips or the larger baking dots. My weapon of choice? A meat cleaver, of course.
You'll want your chocolate chopped about this fine, if not finer:
Another Tip: Take Care When Melting Your Chocolate!
Next: you need to use a double boiler to melt your chocolate. Any other means of melting will burn or turn into a weird seized goo, and no one wants to eat that. If you don't have a real double boiler, fashion one out of a pot and a large bowl that will snugly fit in the pot without slipping into it. You don't want the bottom of the bowl to rest in the water – rather, you want there to be a good inch or two between them. Also, be sure to not get ANY water into your chocolate mixture, lest it seize into a concrete-y mess. If this happens there is no saving it – you need to dump it and start over. Cue sad face.
If you're nervous about melting chocolate, check out this handy chocolate resource for a second opinion.
Your Favorite Easy Chocolate Truffles Recipe
Now, to the good stuff. This recipe will result in sweet chocolate truffles with a slight bitter aftertaste, or feel free to get 12oz of either kind of chocolate if you prefer more bitterness or sweetness.
Candy for Beginners: Easy Chocolate Truffles Recipe
Want to learn how to make chocolate truffles? These chocolaty candies are rich and moist, just like the pros make. You'll be surprised how easy it is. Yields about 24 – 3/4″ truffles.
Print
Pin
Ingredients
6

ounces

bittersweet chocolate

chopped fine

6

ounces

semisweet chocolate

chopped fine

3/4

cup

heavy cream

(fresh will make a big difference here)

1

tablespoon

vanilla extract

1

tablespoon

pre-made strong black coffee

1/4

cup

unsweetened cocoa powder

Small foil cups for packaging

(available from a craft or cooking store)
Instructions
Fill the bottom of your double boiler with a few inches of water, and set it to boil. Have the chopped chocolate waiting in the top of your double boiler but not yet set over the heat.

In a small saucepan, bring the heavy cream just to a boil, then pour it over your chocolate. Gently mix the two and set them over the heat, stirring until the chocolate is completely melted. Stir in vanilla and coffee, then cover and refrigerate until firm enough to handle (about 2 hours).

Rolling out your easy chocolate truffles recipe: I do this in a two-part process to keep the cocoa from soaking into overly sticky truffles. After your chocolate has firmed up, grab yourself a parchment-lined cookie sheet and a melon baller or two teaspoons. Scoop about a teaspoonful of chocolate and then working as quickly as possible, roll it into a sphere shape with your hands. Try to make sure your hands are as cool as possible, or your truffles will melt as you roll them. It might be a good idea to keep a paper towel or two nearby, so that if your hands get caked with chocolate you can wipe them off. Set the rolled truffles on the lined cookie sheet, and keep going until you've finished all of your chocolate.

Your truffle may look a little sticky at first. That's fine, we'll smooth them out in a second.

Let your chocolate truffles sit for about 10 minutes at room temperature, or stick them in the fridge if it's a warm day (say, above 70F). Add cocoa powder to a small round-bottomed bowl and keep it within reach. One at a time, pick up your truffles and roll them between your hands for a few seconds to barely warm the surface, then drop them in the bowl of cocoa. Toss the bowl a bit until the truffle is completely covered in cocoa, then set it back on the cookie sheet. If you end up with a too much cocoa on your truffles, don't shake them off until after they have firmed up again.

Once you're done, put the cookie sheet full of truffles in the fridge for half an hour. Once they're firm again, shake off any excess cocoa powder and put them in little foil cups for decoration.

These chocolate truffles will keep in the fridge for two weeks, but can be kept at room temperature for a few days. I like them a little softer, so I pull them out of the fridge a few hours before serving.
Nutrition
Serving:
2
truffles
|
Calories:
200
kcal
|
Carbohydrates:
15
g
|
Protein:
3
g
|
Fat:
18
g
|
Saturated Fat:
11
g
|
Polyunsaturated Fat:
1
g
|
Monounsaturated Fat:
6
g
|
Cholesterol:
20
mg
|
Sodium:
10
mg
|
Potassium:
209
mg
|
Fiber:
3
g
|
Vitamin A:
250
IU
|
Calcium:
30
mg
|
Iron:
1.6
mg
This content was originally posted on FearlessFresh.com.