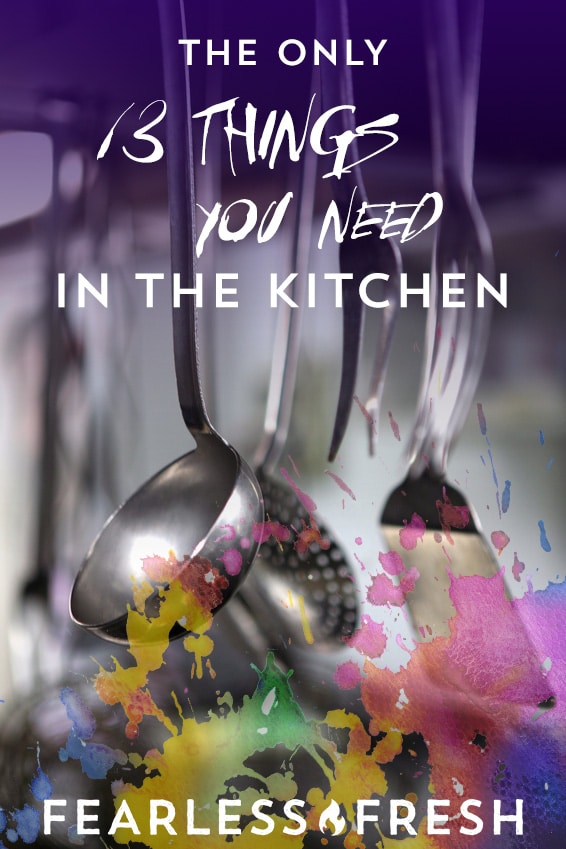 Let's talk about the concept of the Minimal Viable Cook (MVC). You might be familiar with the concept of a Minimum Viable Product (MVP from business circles) and the concept makes a lot of sense when applied to any number of topics. In this context, minimum viable cook refers to what you need to create something delicious. That includes the minimum skills you'll need, the minimum ingredients you'll need, and the minimum tools you'll need to find success in the kitchen.
This is something I've been thinking about a lot as I teach more and more people to cook. My students have their eyes on the prize, and rightly so — that's where the inspiration is. But the truth is there's no getting out of the bullpen unless you earn your way out. Reining in your attention now will drastically decrease the amount of time and effort it takes to become an incredible cook.
Why this topic? Why now?
Someone recently emailed me to say she was putting together her new kitchen after a bad breakup, where her former beau kept all of the cooking equipment. First of all, fail, I'm so sorry. Your story made me stabby. ??? Second of all, I have lots of thoughts on this topic, because I'm one of those people who totally nerds out on cooking equipment and has one of everything. It creates a hassle for storage, and don't even get me started on how much drama it adds when I have to move. (And let's not EVEN get into what it's like to move with over 1,000 cookbooks in tow.)
Because of all of this… baggage… I often think about the impracticality of having so many belongings. I was bumming around Europe for a while and had all of my kitchen equipment, etc., in storage, and I would fantasize that the storage unit would burn down and I'd be FREE of the weight of all that STUFF. Then a huge insurance check would show up (hey, it's my dream!) and I'd tra-la-la into the sunset unfettered by a literal ton of pots, pans, gadgets, accessories, and cookbooks.
But, I digress. The concept of minimum viable cook absolutely applies to cookware. You can accomplish great things with relatively few tools, and it may even be easier. (Isn't it ironic? Don't you think?)
Obviously, I'm a fan of cooking toys — sigh — but I'm writing this post because a lot of people outfit their kitchens with way too much stuff too early in the game. When you're still building your skills, too many gadgets can create a weird sense of overwhelm… especially if you're not 100% comfortable using a lot of the things you own. (I'm looking at you, fancy-ass blenders with 50 digital settings.) And using cooking implements incorrectly, or for the wrong task, makes cooking a whole lot harder than it needs to be.
The point of this post is to drive home the fact that you don't need a lot of stuff to be an epic cook. In fact, if I were to craft the perfect minimalist kitchen that would still get 99% of cooking jobs done admirably, everything would probably fit into a single box. This list is for anyone setting up a new kitchen: folks who live in shoebox apartment, former cohabiters suddenly living alone, parents setting up their newly-launched kids, or anyone who's trying to approach their kitchen with a minimalist mindset and needs a list of what to keep while getting rid of everything else. (Apologies for the last clause but I'm suddenly suffering from punctuation fatigue)
Here's a [relatively] short list of exactly what you need in your kitchen to cook like a freaking boss, somewhat in order of importance. Sure, there are other things that would be nice to have, but the scope of this list is to include only the most-needed items. Enjoy!
Don't forget, you can get all of this stuff for CHEAP at the restaurant supply store, otherwise known as cookware Mecca.
8-inch chef's knife – This is the most important thing in your kitchen. If you're going to splurge on one item, let it be this. Your chef's knife will cut almost anything, without needing much else.
3-inch paring knife – A smaller knife is handy for doing things like peeling apples and coring strawberries + a few smaller jobs that your 8″ chef's knife might be too unwieldy for.
12-inch cutting board – When it comes to cutting boards, get a larger one because nothing will make your brain cramp like trying to chop food on a cutting board that's halfway covered with other stuff. I prefer wooden cutting boards, which are actually more anti-bacterial than plastic cutting boards. (Yup — that's a university science-proven fact!)
Heavy-bottom 3-quart saucepan with lid x 2 – Having a few pots around is super important, because without them, you're not making much of anything. If you want to see how important pots are, or how much you rely on them, try hiding all of the pots in your house and watch whomever you live with curse you to high heaven. Get a thicker-bottomed pot that will protect your food from your stove's too-close heating element and allow for even cooking.
Heavy-bottom stainless steel pan with lid – A frying pan is a necessity in any kitchen, and everyone needs one without a nonstick coating. This bad boy will help you sauté mushrooms, sear chicken, toast spices, and countless other things. A stainless-steel pan is the only way to get any sort of browning out of your food (and browning = flavor). I recommend a 11- or 12-inch with a thick bottom. Thinner-bottomed pans will not only heat unevenly, they increase the chances that you'll burn your food since there's no protection from the heat source. Check your local restaurant supply store for frying pans that will last and not cost you a small fortune.
Heavy-bottom nonstick pan – For the love of all that is holy, DO NOT try to cook eggs in a stainless-steel pan, lest you spent the next 3 days trying to scrape the leftover residue out of your pan. For eggs and other similar items, nonstick is the way to go. Try to get a good brand (check the reviews) that won't lose its coating in six months. Again, 11- to 12-inch is a good side to shoot for.
8-quart stock pot, with lid, which doubles as a perfect pasta pot – This is one item that a lot of people think is unnecessary, but a good one does SO many things: it makes soup, washes greens, makes chili, cooks beans, processes jars for making jam, and boils pasta without the noodles sticking together. 8-quart is a good size.
Half-size (18″ x 13″) baking sheet, x2 – You can make anything with these babies. Cookies, baked French fries, even a roast turkey in a pinch. I recommend having two at hand because they have so many uses and you'll often need more than one.
8-inch square glass baking dish – I make everything in my square baking dish: casseroles, brownies, roast chicken, roast vegetables… you name it. This is probably one of the biggest workhorses in my kitchen.
Measuring spoons – Ever tried to bake without measuring spoons? What does 1 teaspoon of baking soda look like in your hand? Yeah, exactly. That's why you need these.
Measuring cups (for both liquid and dry ingredients) – A liquid measuring cup is one that you can see through and has gradations on the side, so you can pour liquid into the cup and see how much you've got. I recommend a 2-cup minimum, with a 4-cup being the ideal. For dry ingredients, you need a set of individual plastic or metal measuring cups that includes 1/4 cup, 1/3 cup, 1/2 cup, and 1 cup. Odd sizes are fine, but unnecessary if you've got the basics. (I.e., 3/4 cup = 1/2 cup + 1/4 cup)
10-inch strainer – Ok, this is something not a lot of people think about… until they go to strain their pasta or rinse a bowl of strawberries. There's a special deity somewhere whose entire super power consists of dreaming up new curse words for that moment when you realize you don't have a strainer. They're only $5, so grab one. And make sure you get a metal strainer, because pouring boiling pasta water into a plastic strainer is most certainly NOT good eats.
Electric hand mixer – I added this at the last minute because even though you can make whipped cream and beat egg whites by hand, I care about you and nerve damage in your elbow and shoulder SUCKS. (Speaking from experience here. :/) Sure, a big KitchenAid mixer is great, but you can totally get by with a $20 electric hand beater from Target… and you won't end up in physical therapy.
Ok, I lied. Here are a few more minor things:
Thankfully almost all of them will fit in one big crock in one utensil holder on the counter, so they really only count as one more thing, right? ???
Pot holders – Because picking up hot things without them is… not advised.
Silicon spatula – You'll need one or two of these for scraping things out of bowls.
Plastic flipper – You'll need a flipper for flipping things. Get a plastic one so you don't damage your pans.
Wooden spoon – Grandma was right! This is perfect for baking and using in a non-stick pan, because it won't scratch the bottom.
Balloon whisk – Baking without one of these will never yield more than 50% success. If you want lofty, fluffy anything, you'll need a whisk.
Nylon-tipped tongs – For picking hot things up and turning them over. Seriously, my tongs are usually the first thing I reach for in the kitchen. Get a set with nylon tips so they don't scratch your nonstick pan.
Can opener – Even tried to open a can without one? 'Nuff said.
Slotted spoon – Because a huge puddle of water under your food is no bueno.