– My peach jam recipe just got a whole lot more awesome with a little added champagne. – 
Hallelujah, it's PEACH SEASON! This is hands-down my favorite time of year for produce, that period between June and August where peaches are just bursting with color and flavor. When I go to the farmer's market, I can smell them halfway down the aisle. Between the strawberries I'm grabbing for making strawberry-cranberry jam, my little basket it pretty full every week.
Over the weekend I wanted a nice, summery drink that tasted like sunshine, and with so many peaches in my kitchen, they were the perfect candidate for drink-making. And my dream cocktail must contain bubbles. So I thought, how about a Bellini?
After sipping my Bellini for a few minutes while staring out into the cityscape, it occurred to me that I could easily turn this little concoction into the perfect peach jam recipe. And that's just what I did. On those mornings when you don't fancy a drink at 9 a.m., a swath of these preserves spread across a bagel or buttered baguette is the next best thing.
This wonderfully refreshing Bellini peach preserves recipe combines the sweetness of peaches with the giggly swagger of champagne. (Don't worry, a lot of the alcohol cooks off.) When high temperatures and a wave of humidity come knocking, can you think of a better way to perk yourself up than with summer fruit and a touch of booze? Like a fresh Bellini during a weekend brunch, these preserves smooth out the creases in life—only with no hangover.
Happy summer jam-making! (< julia>A little champagne for the jam, a little for me… < /julia>)
And in case you weren't in the know, a dab or fruit jam goes really well on top of real, homemade mac & cheese, to cut through the richness and add a level of refreshment that might surprise you. Don't believe me? Try it yourself!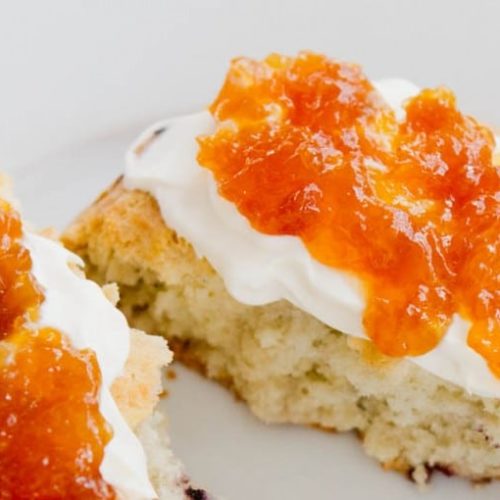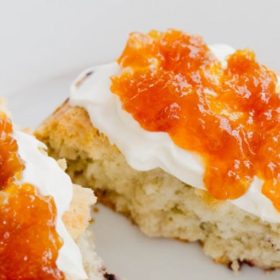 Bellini Peach Jam Recipe with Champagne
For this lovely peach jam recipe I zip my peaches in the food processor for a smoother texture, but you can chop them coarsely if you prefer your jam a little chunkier. It may be redundant to eat this jam while drinking a Bellini, so feel free to pour yourself a morning mimosa instead. I won't judge you if you don't judge me.
Print
Pin
Servings:
6
8-ounce jars of jam
Ingredients
4

pounds

very ripe peaches

peeled and chopped (or use frozen peaches, defrosted)

1

cup

decent quality champagne

1

pound

white sugar

divided

1/2

teaspoon

kosher salt

3

tablespoons

juice from 1 to 2 lemons

1

tablespoon

lemon zest

1/2

teaspoon

butter
Instructions
Place a small plate in the freezer so you can test the jam for proper thickness later. Sterilize jars and lids. In a food processor, pulse the peaches until they are chopped well, about five or six 1-second pulses. If you prefer a coarser jam, feel free to chop the fruit to a chunkier texture.

Pour the fruit into a deep, heavy-bottomed pot. Toss with champagne and 1/4 cup of white sugar. Cover and allow to sit for 1 hour.

Add remaining sugar, salt, lemon juice, lemon zest, and butter. Cook over medium heat, stirring occasionally, until the fruit begins to bubble and spit. Use a skimmer to skim off any foam that forms. Cook for about 20-25 minutes, stirring frequently to keep the fruit from sticking to the bottom of the pot.

Begin testing the peach preserves for doneness. Spread 1/2 teaspoon of cooked fruit on the cold plate and place it back in the freezer. Wait 30 seconds, then run your finger through the fruit. It should be thick enough to maintain a path when you run your finger through it. If you'd like thicker jam, place the plate back in the freezer and cook the fruit for another 4 minutes and test again. Repeat until desired thickness is achieved, but be careful about cooking too long or you will alter the taste of your jam.

Remove pot from heat and use a spoon to skim any foam from the surface of the preserves. Ladle jam into sterilized jars, leaving 1/2-inch of headroom, and process them in a hot water bath for 10 minutes. Unopened jars will keep at room temperature for up to 6 months. Opened peach jam should be refrigerated.
Notes
SPECIAL EQUIPMENT: 8-ounce sterilized mason jars, water bath for processing.
Nutrition
Serving:
2
tablespoons
|
Calories:
54
kcal
|
Carbohydrates:
13
g
|
Sodium:
220
mg
|
Potassium:
58
mg
|
Fiber:
1
g
|
Vitamin A:
150
IU
|
Vitamin C:
3.3
mg
This content was originally posted on FearlessFresh.com.