What's the best way to keep carrots fresh? That is a GREAT question. Carrots can be finicky buggers when they're left in the fridge, can't they?
The best way to keep carrots fresh so they stay crunchy for dinner tonight is something that, despite being simple, many folks don't seem to think about.
How many times have you gone to the store and bought a bunch of carrots or other vegetables, which sat in your fridge for a few days? And then, half a week later you go to use them when you've got an idea for dinner, and they're so weak and bendy you can almost tie them in a knot?
That's most certainly not good eats, and the idea of wasting food really stresses me out.
(Note: If you do end up with wimpy carrots, they're perfect for adding to a smoothie. You can also freeze vegetables, if you know how to store them properly.)
Sure, Gumby-like carrots and other vegetables can still be used and will probably taste ok, but they're not at their peak texture and eating them raw is pretty much out of the question.
You just need to learn how to store carrots properly. Learning the best way to keep carrots fresh, so that they retain their crunch, will make for a much better experience, regardless of what you're making.
With this method, I've stored carrots and kept them crunchy for over a week. Seriously. Then I know they'll be fresh and ready when they're part of what I want to cook for dinner.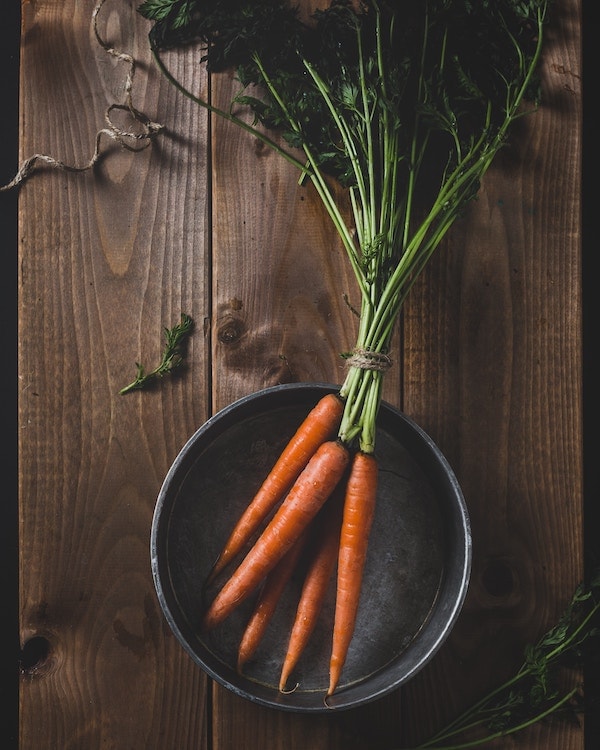 Thankfully, keeping carrots fresh is very easy. (The same goes for keeping celery fresh.) There's no expensive accessories involved. You don't need to buy any strange-looking humidifying devices for your refrigerator.
In fact, you only need two things you already have lying around your house.
Also, be sure to check out the best way to freeze blueberries and other berries, and why frozen berries can be even healthier than fresh berries!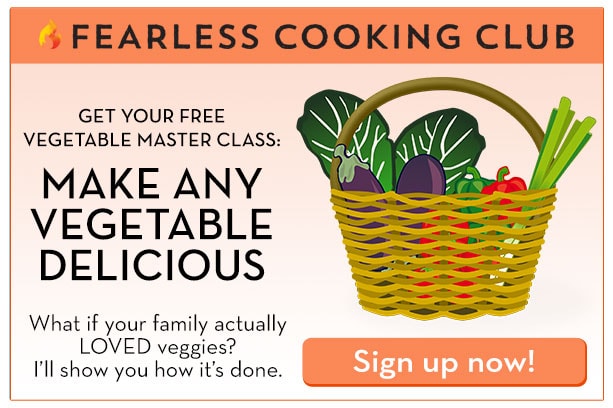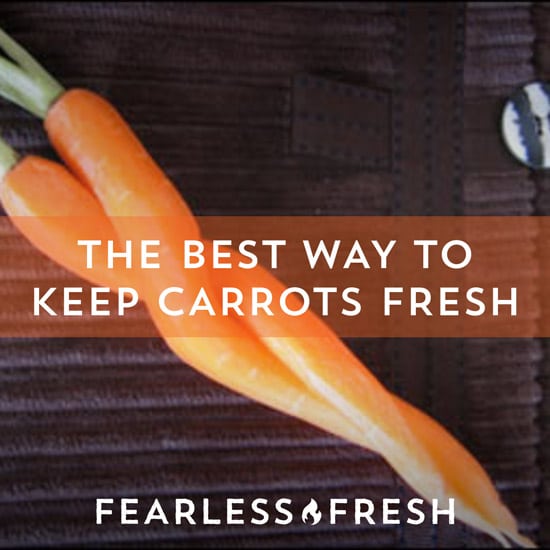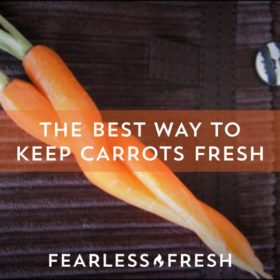 The Best Way to Keep Carrots Fresh
Keeping carrots fresh while you store them is super simple. You only need a few things and they'll last for WEEKS!
Print
Pin
Equipment
A large glass bowl or sealed plastic container
Instructions
Peel carrots and cut them in half so they are half as long. If you want to keep your carrots whole and unpeeled, that's fine. You'll just need a bowl or sealed container that can accommodate the entire bunch of carrots and some water.

Arrange the carrots in the receptacle so that there is at least 1-inch of headroom between the top of the carrots and the rim of the bowl.

Fill the bowl with clean (ideally filtered) water. Cover the bowl with plastic wrap or its sealable lid and place in the refrigerator.

Change out water once a day. Carrots will keep fresh and superbly crunchy for up to a week this way.

You can keep any root vegetable fresh and crispy this way -- try it with parsnips, beets, etc.
Video
Nutrition
Calories:
23.25
kcal
|
Carbohydrates:
5.43
g
|
Protein:
0.53
g
|
Fat:
0.14
g
|
Saturated Fat:
0.02
g
|
Sodium:
39.12
mg
|
Potassium:
181.44
mg
|
Fiber:
1.59
g
|
Sugar:
2.69
g
|
Vitamin A:
9472.14
IU
|
Vitamin C:
3.35
mg
|
Calcium:
18.71
mg
|
Iron:
0.17
mg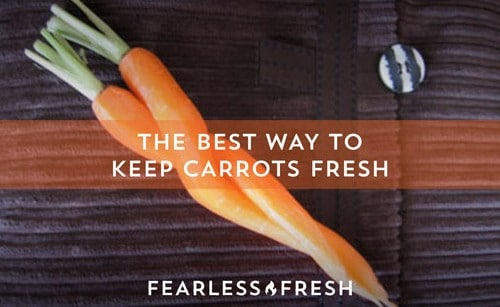 How to Save Limp Carrots
If you want to save your carrots after they've gone limp, this is the best way to do it. Your carrots will be super crispy and almost as good as new within just a few hours!
Print
Pin
Equipment
A sharp knife

1 large plastic container, with lid
Instructions
Cut off the carrot tops and remove any greens that may be attached. Peel the carrots and cut into roughly 4-inch lengths, or whatever size you need to fit in your plastic container.

Place the carrots in the plastic container and fill it most of the way with ice-cold water. Cool tap water will work if you don't have ice water, though it will take longer for the carrots to crisp up. Make sure the carrots are completely submerged under water.

Place the lid on the container to seal it completely and prevent spills. Place the container in the refrigerator for 3 to 4 hours. Test your carrots by taking a bite. If they're not crisp yet, let them sit a few more hours.

You can use the carrots immediately or keep them submerged in water for two weeks, but they will eventually split. If you're keeping them more than a few days, change out the water every other day.

Try to use the carrots within two weeks, but they will keep this way for up to a month with regular water changes.
Video
Nutrition
Calories:
1
kcal
|
Carbohydrates:
1
g
|
Protein:
1
g
|
Fat:
1
g
|
Saturated Fat:
1
g
|
Sodium:
4
mg
|
Potassium:
13
mg
|
Fiber:
1
g
|
Sugar:
1
g
|
Vitamin A:
22
IU
|
Vitamin C:
1
mg
|
Calcium:
2
mg
Now it's your turn.
Do you have another way of storing carrots and keeping them fresh? How does your family do it? What's your favorite way to use them for home cooked meals?
This content was originally posted on FearlessFresh.com.