What Katie Ate is a departure from the flurry of bright, cheerful, family-centric cookbooks that come across my desk on a regular basis. It has some attitude, cutting an artistic swath across the world of superficially happy culinary publications. It has a little edge to it, a slightly darker shadow. This unique and refreshing cookbook by Irish-turned-Australian food blogger and photographer Katie Quinn Davies, takes food imagery to an entirely new level, showing food's messy, brooding, emo side (sans eyeliner, of course). In this book, Davies' dishes rip open their shirts and expose themselves to the world, unapologetic in their gritty self-ness.
A former graphic designer, Davies made the jump to a more culinary life, starting her now-famous food blog which has steadily grown in popularity since its debut in 2009. The site's uncluttered white layout clears the way for what people really want to see: her lush, rich photos that on occasion grow so dark and moody that it looks like they've been plucked from Persefoni's own cookbook shelf. Gray leaden surfaces and tarnished flatware corral a color palette of deep reds, blacks, and greens. Even the photos containing food captured on white dishes look rustic and decidedly gritty, with the contrast and saturation pushed to the point that it might make the average food photograph squirm.
An aside: What I find really fascinating is to go back at look at her early work, from when Davies she was just finding her footing as a photographer. In 2009 she was an amateur, and it shows. She's come so far since then–it's really interested to watch the progression of her photography from start to present day.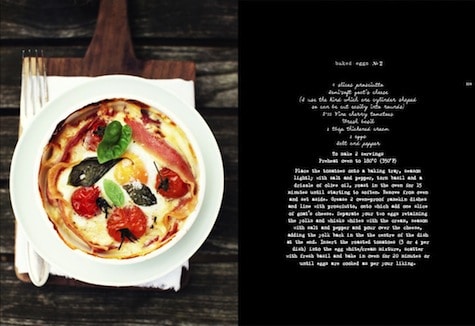 And how about the food? After perusing What Katie Ate, it's easy to almost forget that you're looking at a cookbook. Readers get lost in the visual stimulus of it all, turning from page to page in a stupor, drunk on color and tweaked planes of focus. Even the informational pages themselves–the text-based recipes–are heavily designed with stylized typefaces and an asylum's worth of backgrounds and textures, taken from a huge range of vintage props and seemingly found objects.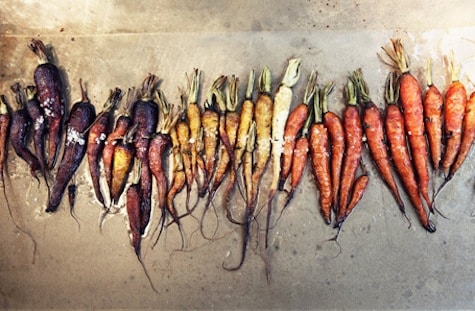 Oh right – the food. To tell you the truth, the food is good. Creative, smart, and lively, not nearly as dark as its visual representation. The food is real, tangible, something easily edible by any number of folks who might think that the photos convey a sense of complication that, in reality, doesn't exist here. At her core, Davies is an ardent home cook, a woman who loves her sautéed shrimp, her blood-orange bundt cake. So despite the dramatic emotions that her photography may invoke in the reader, her recipes remain accessible. Even downright simple in most cases.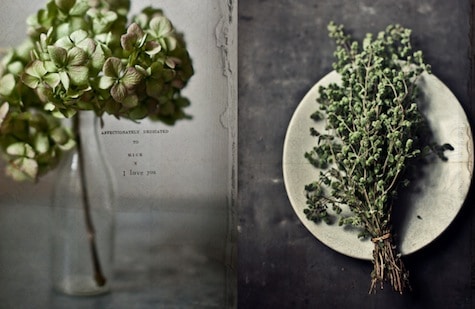 I recommend this book wholeheartedly. But while the recipes are a surge of Davies' talent in and of themselves, you might get so swept away by the visuals that you forget all about the food. Normally this would be a shame, but think of it this way: Katie's recipes are a delivery device for her photography, and you can re-decide which is more fun for you every time you open the book.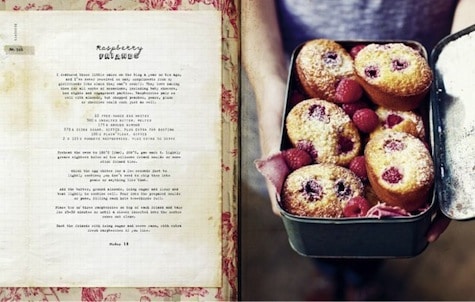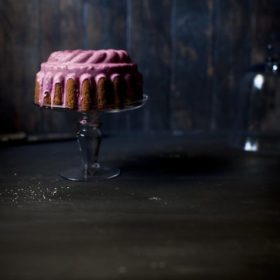 Blood Orange Rosemary Cake
Blood oranges go particularly well with rosemary. The juice from the blood oranges also makes for THE most gorgeous frosting. A tip: when the blood orange season is coming to an end, buy as many as you can, squeeze out the juice into an airtight container or into small freezer bags and freeze to use later on.
Print
Pin
Ingredients
2

sticks

unsalted butter

softened

1

cup

superfine sugar

2

teaspoons

Cointreau

3

large

free-range eggs

1

whole

blood orange

peeled, pith removed and cut into segments

1

whole

orange

peeled, pith removed and cut into segments

3

sprigs

rosemary

leaves picked

2

cups

all-purpose flour

sifted

2

teaspoons

baking powder

sifted
Blood orange syrup
2

whole

blood oranges

juiced

2

whole

oranges

juiced

1

tablespoon

superfine sugar
Blood orange frosting
1

whole

blood orange

juiced

2

cups

confectioners' sugar

sifted
Instructions
Make the cake
Preheat the oven to 400°F (204°C) and grease a 6 cup capacity bundt pan (alternatively, grease and line a 9 inch spring-form cake pan).

Use an electric mixer to cream the butter and sugar for 10 minutes until light and creamy.

Add the Cointreau and combine.

Whizz the blood orange, orange and rosemary in a food processor until the rosemary leaves are finely chopped and the oranges are blended to a pulp.

Add to the butter and sugar mixture and beat together on low speed until combined. Add the eggs, one at a time, and beat until incorporated.

In a separate bowl, mix together the flour and baking powder.

With the mixer on low speed, gradually add the flour mixture to the butter and sugar mixture, beating between additions, until everything is well incorporated. Pour the cake batter into the prepared pan.

Bake for 45–50 minutes or until the top is golden and a skewer inserted into the center comes out clean.
Make the blood orange syrup
Place the ingredients in a saucepan and bring to a boil, stirring constantly. Reduce the heat to medium and simmer, stirring occasionally, for 10–15 minutes or until the sugar has dissolved and the syrup has reduced by about a third. Keep warm until the cake is ready.

Leave the cake to cool a little before transferring it to a wire rack. Place a plate underneath the rack to catch any drips, then prick the top of the cake with a skewer, spoon the warm syrup over the cake and leave it to be absorbed.
Make the frosting
Combine the blood orange juice and confectioners' sugar until smooth. Drizzle the frosting all over the cooled cake, then chill the cake in the fridge for 20 minutes before serving.
Notes
A tip: when the blood orange season is coming to an end, buy as many as you can, squeeze out the juice into an airtight container or into small freezer bags and freeze to use later on. The frozen juice may separate a little when you thaw it, but it's still fine to use.
Nutrition
Calories:
490
kcal
|
Carbohydrates:
73
g
|
Protein:
5
g
|
Fat:
20
g
|
Saturated Fat:
12
g
|
Polyunsaturated Fat:
1
g
|
Monounsaturated Fat:
6
g
|
Cholesterol:
113
mg
|
Sodium:
122
mg
|
Potassium:
206
mg
|
Fiber:
3
g
|
Vitamin A:
950
IU
|
Vitamin C:
58.6
mg
|
Calcium:
120
mg
|
Iron:
2
mg
This content was originally posted on FearlessFresh.com.