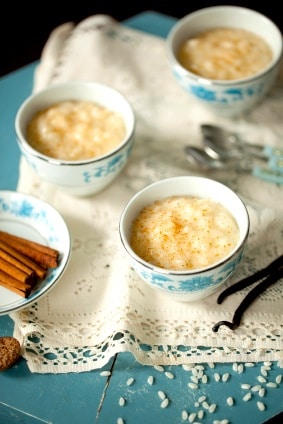 – Brown Betty's Custardy Rice Pudding Recipe –
Today I'm excited to post a recipe that embodies my idea of rice pudding recipe perfection. What occasion could merit the making of such a luscious dessert? Why, it's the release of The Brown Betty Cookbook, a lovely baking book if there ever was one. I adore this book so much, but not just for the recipes. Beyond the beauty that is the book itself–I mean, just look at the photos below–there's a wonderful story behind it.
In 2004, mother-daughter team Linda Hinton Brown and Norrinda Brown Hayat opened a tiny bake shop called Brown Betty in the Northern Liberties neighborhood of Philadelphia. Armed with nothing but a passion for baking and a collection of family recipes, Linda and Norrinda sweated through a difficult first year to eventually achieve success. It paid off! The Brown Betty Dessert Boutique now has three locations, all bustling with the foot traffic of devoted customers.
It was Norrinda's early years in her Grandmom Betty's kitchen that inspired the bakery, so it makes sense that the bakery was named after her. In fact, many of Betty's recipes are still in rotation at the bakery.
From Norrinda, in her own words:
"It was not until years later, after I moved to Washington, D.C., to practice law, that I reflected on how much richer my life had been because of my grandmom and her kitchen. It was during that time that I decided to open a bakery in Philadelphia with my mom, one that paid homage to my first "bestie," Grandmom Betty, and all the other women in our family, whose stories I heard while growing up."
More than just a collection of recipes, The Brown Betty Cookbook is a family album, telling the story of four generations of women through the baked goods they have shared for decades. In these pages you will, of course, find countless charming baked treats, but you'll also find a loving recollection of family stories and photos. It's a warm, comforting blanket of love, one that you'll enjoy reading for so much more than the cakes and puddings that jump out of the gorgeous photos.
"For as long as I can remember, my grandmom Betty made the same cake—a plain vanilla pound cake—every weekend. She learned how to make that pound cake as a small girl, in her grandmother's kitchen, and baked it as a new wife, a new grandmother, and well into her seventies until her hands and fingers became too tired to whip and stir anymore.

My mom, Linda, raised in that busy, abundant kitchen, took my grandmom's eighty-year-old recipe and made it a springboard for culinary experimentation, adding pineapple to the batter one time, substituting buttermilk for regular milk another, and over the years she amassed quite a collection of cake recipes of her own."
The dish below, Brown Betty's rice pudding recipe, is one of my favorites from the book. Creamy and rich with a touch of warming spices, this dessert takes a while to prepare but is well worth the wait. A touch of lemon zest brightens up the eggy custard, making this is one of those dishes that you'll love both fresh out of the oven and chilled for breakfast the next day.
If you love baking and are at all a fan of cookbooks that extend beyond just a collection of recipes and into something special, then I highly recommend The Brown Betty Cookbook. The divine imagery will inspire you into the kitchen, and everything else about it will make you want to call your mom to say hello.
Brown Betty's Custardy Rice Pudding Recipe
With its creamy top and perfectly cooked rice, this rice pudding recipe has just the right amount of cinnamon and nutmeg to make it perfectly addicting. This is a longer recipe to produce, but it's well worth the work! Be sure to make it when there are guests coming who can help polish it off in a day or two. Yield: serves 8 people
Print
Pin
Ingredients
6

tablespoons

unsalted butter

plus 1 tablespoon for pan

4 1/2

cups

whole milk

3/4

teaspoon

salt

3/4

cup

long-grain white rice

5

large

egg yolks

2

teaspoons

vanilla extract

1

cup

sugar

1 1/2

teaspoon

cornstarch

1

teaspoon

lemon zest

1/2

teaspoon

ground nutmeg

1/4

teaspoon

ground cinnamon

1

cup

heavy cream
Instructions
Preheat the oven to 350°F (176°C). Coat a 9x13x2-inch casserole dish with 1 tablespoon of the butter. Prepare a cool water bath.

Combine the milk and 1⁄2 teaspoon of the salt in the top of a double boiler (with simmering water in the bottom to prevent scorching) over medium heat.
Add the rice and cook, uncovered, for 20 minutes. Cover the double boiler and cook for an additional 25 minutes or until the rice is still tender yet firm. Set the top of the double boiler into the water bath and stir the rice to cool the mixture and stop the cooking process.

While the rice is cooking, in a medium bowl, whip the egg yolks briefly, then stir in the vanilla.

In another medium bowl, mix the sugar, cornstarch, lemon zest, nutmeg, cinnamon, and the remaining 1/4 teaspoon of salt. Add this spice mixture to the egg yolk mixture and stir until well blended.

Pour the cooked rice mixture into a large bowl. Add the egg mixture, heavy cream, and remaining 3⁄4 stick of butter and stir until well blended.

Pour the rice pudding mixture into the prepared casserole dish. Set the casserole dish in a larger roasting pan and add enough water to the roasting pan to come halfway up the sides of the casserole dish. Bake for 1 hour and 10 minutes.

Remove the roasting pan from the oven (with the casserole dish still in the roasting pan) and let stand for 10 minutes. Remove the casserole dish from
the roasting pan and set it on a cooling rack. Cool the pudding for 1 hour at room temperature, then refrigerate the pudding until it is completely chilled.
Nutrition
Calories:
479
kcal
|
Carbohydrates:
47
g
|
Protein:
8
g
|
Fat:
29
g
|
Saturated Fat:
17
g
|
Polyunsaturated Fat:
1
g
|
Monounsaturated Fat:
9
g
|
Cholesterol:
220
mg
|
Sodium:
285
mg
|
Potassium:
265
mg
|
Vitamin A:
1200
IU
|
Vitamin C:
2.5
mg
|
Calcium:
210
mg
|
Iron:
1.3
mg
This content was originally posted on FearlessFresh.com.