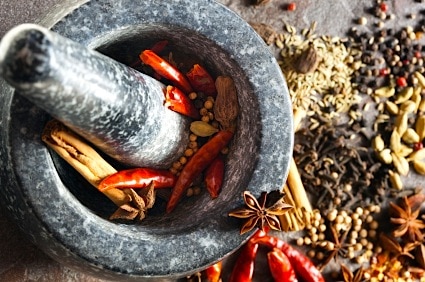 This week's guest post on Asian ingredients in a gluten-free kitchen is from Pat Tanumihardja, author of The Asian Grandmothers Cookbook: Home Cooking from Asian American Kitchens and the new iPhone/iPad app, The Asian Ingredients 101. Pat is an authority on all things related to Asian cooking, and I'm very excited to hear her take on how to prepare many of my favorite Asian foods with gluten-free ingredients! Please welcome Pat, and feel free to say hello in the comments.
Researching a cookbook can unearth many gems to be stored away for later projects. That's exactly what happened when I started working on my book, "The Asian Grandmothers Cookbook."
Many people I met along the way, including my recipe testers, related their struggles with Asian ingredients. Since I started eating smelly shrimp paste as a wee one, and my tongue has never tripped when asking for galangal, it never occurred to me how intimidating an Asian pantry might be for the uninitiated. Then it hit me. Why not devise a portable glossary complete with photos and descriptions that you can take to the Asian market or when you're traveling? Et voila, "Asian Ingredients 101" was born!
A few months ago, I was visiting my husband's aunt who was recently diagnosed with celiac disease. I cooked for her from my cookbook and she was pleasantly surprised at how many Asian meal options she had. I had already done a little research to help her with shopping, and I'm happy to share my list of gluten-free options for Asian ingredients with Wasabimon readers. While there are many gluten-free Asian products out there, pay attention and please please please read the labels! There are some sneaky ones that you'd never expect.
Shaoxing Rice Wine
This aromatic cooking wine adds flavor to Chinese stir-fries and braises. While it is made by fermenting glutinous rice, wheat is usually added. Pale dry sherry (I use Trader Joe's Tesoro brand) is a great substitute.
Dark Soy Sauce
To replicate dark soy sauce, add some molasses or dark brown sugar to a gluten-free tamari soy sauce (like San-J or Eden Foods) to thicken and sweeten the potion.
Hoisin
All the bottled hoisin sauces I've tried contain wheat flour. A quick online search revealed Premier Japan brand Organic Hoisin Sauce. Although this gluten-free sauce has some unorthodox ingredients (at least by Chinese standards) like apple cider vinegar, molasses and orange juice, it's worth a shot!
Mirin
True mirin (hon-mirin) is made by fermenting sweet rice and contains nothing else (besides the alcohol, of course). I have seen unfermented products labeled "mirin" containing Hydrolysed Vegetable Protein (HVP) which may be made from wheat. In this case, use sake or dry sherry with some sugar added.
Bean Sauce
Bottled black bean garlic sauce contains wheat but you can easily make your own with fermented black beans (they come in a cellophane bag). For a recipe, go here to learn about fermenting beans yourself.
Chinese yellow or brown bean sauces usually contain wheat as a thickener. Substitute with a gluten-free hatcho miso paste made only from soybeans. If you like it spicy, Yeo's brand hot bean sauce is gluten-free; but it contains MSG. Or you could mix miso with a chili paste like sambal oelek.
Noodles
Most dried rice noodles are made from just rice and water, but please read the labels as not all brands are created equal! The fresh rice sheets/noodles you find at Asian markets often contain wheat starch. So if you're at an Asian restaurant, avoid any dish containing wide rice noodles. Soba noodles, if made only with buckwheat, are gluten-free as well – but many brand of soba do contain wheat. Again, please be sure to read labels.
Instant Dashi Powder
Yes it's convenient, but this Japanese staple contains hydrolyzed wheat protein so make your own dashi. It's not difficult at all. All you need is some sheets of kombu, bonito (dried bonito fish flakes), patience and a watchful eye!
Oyster Sauce
Lee Kum Kee's Panda Brand Green Label Oyster Flavored Sauce and Choy Sun Oyster Flavored Sauce in glass bottles and metal cans are both gluten-free and MSG-free!
What are your favorite gluten-free substitutions for Asian ingredients that contain gluten?
This content was originally posted on FearlessFresh.com.