Chocolate peanut butter ganache is my new best friend. Seriously, this stuff is a game-changer.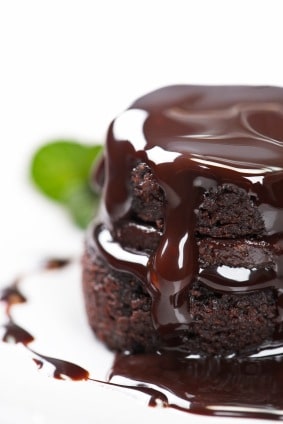 This chocolate peanut butter ganache recipe might just be my downfall. It's no secret that I love chocolate, and that I love love LOVE the combination of chocolate and peanut butter together.
I'm not sure why it never occurred to me to make a chocolate peanut butter ganache, but once the idea hit me, it had to happen. NOW.
Inspiration struck while I was sitting in a cafe in downtown Barcelona, staring at a counter full of perfect little pastries.
Some of the croissants were dipped in chocolate and some were covered with nuts. I asked the woman behind the counter is she has any that had both nuts and chocolate, and she shook her head no.
Just then, it was like a bolt of lightening struck my head. Could you imagine a pastry that was filled with a chocolate peanut butter ganache? Well, dear reader, very soon you won't have to just imagine it.
Below is my recipe for the ganache, and then in a few weeks I'll post the pastry recipe when I get to a kitchen to test it (I'm still in Spain, so access to a kitchen isn't as common as I'd like, though I did find time to test this recipe).
For now, I trust that you'll find a million uses for this incredibly rich, velvety, peanut buttery chocolate syrup. And when you do, please leave a comment and let me know what you're doing with it!
Allergy note: In this recipe you can easily substitute any nut butter you like, or in the case of a nut allergy, try soy or sunflower seed butter.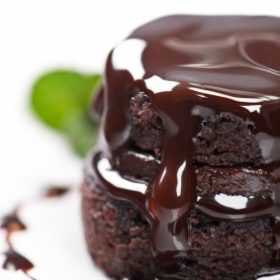 Chocolate Peanut Butter Ganache
This dark chocolate peanut butter ganache recipe has such a smooth, velvety texture that you'll want to eat it by the spoonful, right out of the pot. Yield: Makes about 2 cups of ganache, enough for an 8-inch cake.
Print
Pin
Ingredients
12

ounces

bittersweet chocolate

chopped finely

1 1/4

cup

heavy whipping cream

(or 1 cup light cream)

1 1/2

teaspoon

unsalted butter

1/4

cup

creamy peanut butter

1/4

teaspoon

salt
Instructions
Pour chopped chocolate (or chocolate chips) into a metal mixing bowl.

Stirring constantly over a low flame, heat whipping cream, butter, and peanut butter in a small saucepan until the peanut butter is completely incorporated into the milk. The sauce should just about reach the boiling point, but don't let it actually come to a boil. You should see bubbles forming around the edges of the pot. If you're using a thermometer, heat it to about 180°F (82°C).

Immediately pour hot cream mixture over chocolate. Let sit for 1 minute. Starting at the very center and making small circles, use a fork or small whisk to stir gently until the center becomes a glossy, completely smooth brown. Once the core of the ganache is formed, begin stirring in wider circles to incorporate the rest of the cream and chocolate.

Let ganache sit at room temperature for 3 hours to thicken up a bit. If you'll using it for something where you need a very thin consistency, you can use it immediately.

When it's a consistency you like, pour ganache over a cake, onto an ice cream sundae, or into what I'll argue is the best milkshake you've ever had.

Refrigerate ganache for up to a week, but make sure to seal it well to avoid it picking up strange flavors that are floating around your refrigerator. Bring to room temperature before using.
Video
Nutrition
Serving:
2
g
|
Calories:
202
kcal
|
Carbohydrates:
7
g
|
Protein:
4
g
|
Fat:
21
g
|
Saturated Fat:
12
g
|
Polyunsaturated Fat:
1
g
|
Monounsaturated Fat:
7
g
|
Cholesterol:
26
mg
|
Sodium:
62
mg
|
Potassium:
218
mg
|
Fiber:
4
g
|
Vitamin A:
300
IU
|
Calcium:
30
mg
|
Iron:
1.4
mg
If you like this chocolate peanut butter recipe, check out these other recipes:
This content was originally posted on FearlessFresh.com.