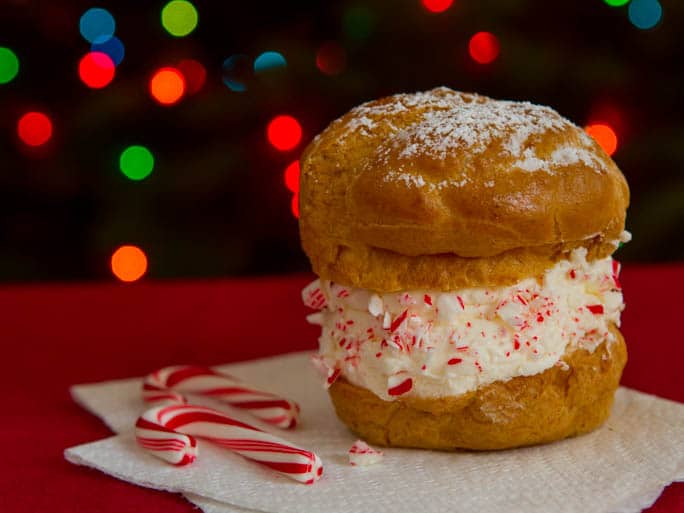 Have you had your fill of colorful, sprinkle-covered Christmas cookies yet? I'm beginning to long for something a little different, something that curls my toes like a decent pair of elf shoes (bells included). Something I can face plant into from a standing position, a mega-pillow of cream and sugar that will captivate my every waking thought until I get a second bite. Fancy-looking Linzer ookies are a great sugar-delivery device, but their generally diminutive nature makes it hard to get your fix quickly and efficiently. (Ok, clearly I've fallen off the wagon in my crusade to avoid holiday sugar overload.)
Solution: the monster Christmas candy cane cream puff. Not necessarily a holiday staple, cream puffs go sadly unnoticed this time of year. It's a shame, really, because cream puffs can be just as festive as any sparkle-flecked, snowflake-shaped, frosting-painted sugar cookie. And they're easier to make than you might think. Seriously, you don't need a culinary degree to make a puffy choux pastry.
You can also make a fancy chocolate holiday eclair recipe with choux pastry — it's pretty versatile and easy to make.
Christmas pastries – the ultimate holiday cream puffs recipe
The cream puff itself is simply made from a heated dough, which you can put together in under ten minutes. The pastry cream? Well, depending on the recipe you use, that can be just as simple. The pastry cream recipe below is as easy as they come. A touch of mint extract and a smattering of crushed candy cane bits make these enormous pastries perfect for the holiday season, and an impressive addition to your holiday party. Seriously, if you put these babies out, your guests will stop and gawk. Then they'll stuff themselves silly and pass out drooling on the couch, a sloppy grin on their faces. And that's before they hit the eggnog!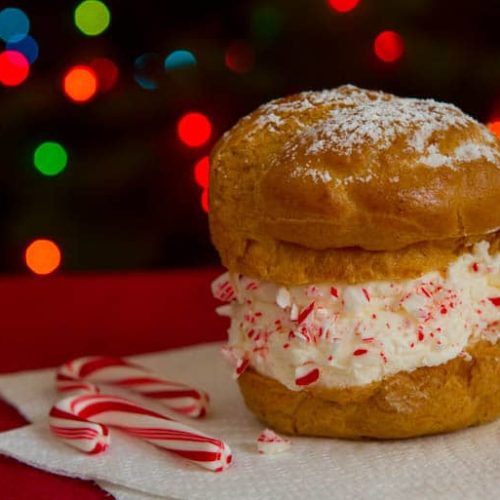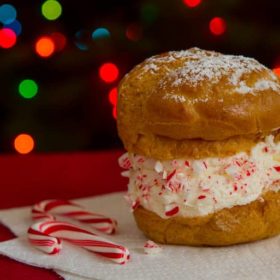 Candy Cane Cream Puffs
A touch of mint extract and a smattering of crushed candy cane bits make these huge holiday cream puffs perfect for the holiday season. Celebrate by going big!
Print
Pin
Servings:
8
monster cream puffs
Ingredients
For the Pastry
1/2

cup

butter

cut into 1-inch slices

1

cup

water

2

teaspoons

sugar

1/4

teaspoon

salt

1

cup (5 ounces)

flour

4

large

eggs
For the Pastry Cream
2

cups

whole milk

4

egg yolks

2

tablespoons

flour

2

tablespoons

cornstarch

6

tablespoons

sugar

1/4

teaspoon

salt

1

tablespoon

unsalted butter

softened, cut into chunks

1/2

teaspoon

vanilla

1/2

teaspoon

mint extract

1/4

cup

crushed candy cane pieces -

about 8 large candy canes

1/4

cup

powdered sugar
Instructions
For the Pastry:
Center two racks in the middle of the oven and preheat to 425°F (218°C). Line 2 baking sheets with parchment paper. Prepare a pastry bag with a large, round tip. If you don't have a pastry bag, use a zipper-lock bag with the corner cut off.

Combine butter, water, sugar, and salt in a pot and bring to boil over medium heat. Sprinkle in the flour and stir quickly with a wooden spoon. Stirring constantly, cook until the dough forms a ball and pulls away from the sides of the pan and there is no more water pooled at the bottom, about 2 minutes. Remove from heat and let sit for 2 minutes, stirring four or five times to keep the dough from sticking to the bottom of the hot pan.

Transfer the dough to a large bowl. Using an electric mixer, beat in the eggs one at a time. After all eggs are added, keep beating until the dough is a uniform consistency; it should be sticky and form soft peaks.

Spoon the dough into a pastry bag or large zip-top bag with a big corner snipped off. Pipe the dough onto the prepared baking sheet in 3-inch round mounds, standing about 2-inches tall. Make sure to leave 2-inches of space between the pastries. You should have enough dough for 6 to 8 puffs.

Slide the baking sheet into the oven and bake for 15 minutes, then reduce the heat to 375°F (190°C) and bake until pastries puff up and are golden brown, about 30 minutes longer. Remove from oven and let cool completely on the baking sheet. Once completely cool, cut the puffs in half length-wise using a serrated bread knife.
For the Pastry Cream:
In a heavy-bottomed 3-quart pot, whisk the milk and egg yolks together. Set aside. In a small bowl, sift together the flour, cornstarch, sugar, and salt.

Cook milk and egg mixture over medium heat, stirring constantly, just until bubbles form around the edges and the surface starts to steam. Sprinkle in the flour mixture, whisking quickly to break up any lumps. Bring the pastry cream just to a boil, stirring constantly and scraping bottom to ensure it is not burning. Reduce heat to low. Cook until the cream thickens and heavily coats the back of a spoon, about 2 minutes. Remove from heat.

Stir in the butter, vanilla, and mint extract, mixing until fully incorporated. Let pastry cream cool completely before proceeding.
Constructing the Cream Puffs:
Remove the top half of the pastries and spoon pastry cream into the bottom portion of the puff pastry, filling it up as much as you can without it spilling over the sides. You can also use a pastry bag fitted with a very large star tip to pipe the cream into the pastry in a tall, spiraling tower. Sprinkle the top and sides of the pastry cream with candy cane bits. Replace the top of the cream puff and dust the top with powdered sugar. Serve immediately, or store in the refrigerator, covered, for up to 3 hours.
Notes
Special Equipment: electric mixer, piping bag or plastic bag
Nutrition
Serving:
1
cream puff
|
Calories:
374
kcal
|
Carbohydrates:
40
g
|
Protein:
8
g
|
Fat:
20
g
|
Saturated Fat:
11
g
|
Polyunsaturated Fat:
1
g
|
Monounsaturated Fat:
6
g
|
Cholesterol:
256
mg
|
Sodium:
323
mg
|
Potassium:
157
mg
|
Fiber:
1
g
|
Vitamin A:
850
IU
|
Vitamin C:
0.8
mg
|
Calcium:
110
mg
|
Iron:
1.6
mg
This content was originally posted on FearlessFresh.com.