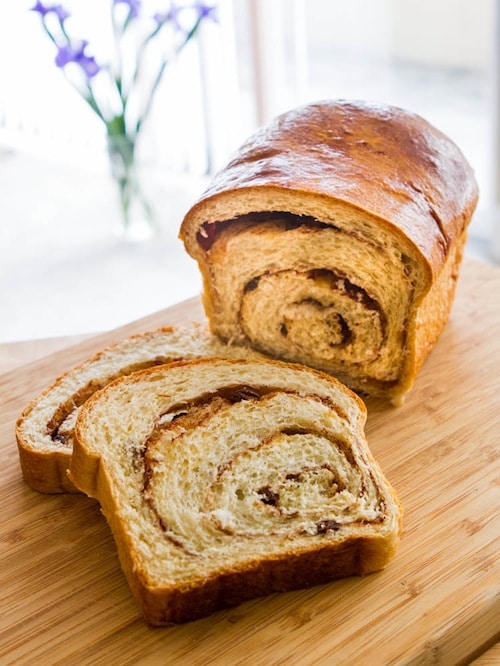 – My favorite cinnamon swirl bread recipe is the bomb. –
This cinnamon swirl bread recipe has earned a permanent place in the pantheon of comfort food, right up there with my baked morning oatmeal with berries, coconut, and walnuts. Why? Because cinnamon is comfort.
Cinnamon photobombs a vast array of recipes, especially in winter, appearing in countless cookies, pies, and other blissfully warming dishes. I've developed more cinnamon recipes than I can possibly count, but my personal favorite remains this simple cinnamon swirl bread, mostly because there's not a lot competing with the primary flavor component.
Tasting this cinnamon bread goes something like this: Cinnamon! Honey! Delicious!!
This Cinnamon Swirl Bread Recipe is Magic!
I didn't grow up with a cinnamon swirl bread recipe in my repertoire. Rather, I found it as an adult, once my tastes had refined and I'd stopped lusting after anything with enough sugar to fly an elephant to the moon. As a result, this recipe is less a sugary treat than it is an amiably sweet, delicately spiced bread.
In my opinion, most versions of the standard cinnamon swirl bread recipe taste good for the first few bites, until you've gotten a few tablespoons of gooey saccharine filling under your belt and the sudden urge kicks in to reach for an insulin shot. In this recipe I opted to decrease the amount of sugar in the filling by over half, and added a touch of nutmeg and salt to round out the cinnamon's quick, heady personality.
The result of this cinnamon bread is less dessert-y and more breakfast-worthy, which is exactly how I prefer my baked goodies these days. If you want a sweeter experience, a swath of maple butter is a perfect something-something to take each slice to the next level. Or if you're feeling really fancy, homemade clotted cream or DIY crème fraîche knocks it out of the park.
Another thing I've noticed in a lot of cinnamon swirl bread recipes is that the filling is incredibly flavorful, but the bread itself is relatively bland. To me, this always seemed like a waste of 75% of the loaf's bulk. Is the bread simply a delivery device for the filling? In my little corner of the culinary world, no.
So, in an effort to balance out the bread's overall flavor, I removed some of the cinnamon from the filling and added it to the dough itself, giving the entire loaf a warm glow of winter spice. In this dish you won't have to wait for a bite of filling before the cinnamon starts to work its spell—you get a gentle kiss right away.
This bread begs to be sliced thick, toasted crisp, and blanketed in plenty of salted butter (or the afore-mentioned clotted cream or crème fraîche). Given how much sugar I've taken out of the bread, feel free to go overboard with the dairy.
Cinnamon Swirl Bread Recipe
My favorite cinnamon swirl bread recipe, this gently-sweet bread is warm and spicy without being overpowering. A little sour cream boosts the cinnamon flavor, and honey brings it all home with a little added sweetness.
Print
Pin
Ingredients
Bread:
3/4

cup

warm milk

(100°–110°F/38°–43°C)

1

packet (2 1/2 teaspoons)

active dry yeast

3 1/2

cups

all-purpose flour

sifted

1

teaspoon

salt

1/2

teaspoon

cinnamon

5

tablespoons

unsalted butter

at room temperature

1/4

cup

sour cream

at room temperature

3

tablespoons

honey

1/4

cup

granulated sugar

2

large

eggs

beaten, and at room temperature

1/2

teaspoon

pure vanilla extract

Softened butter for greasing
Filling:
3

tablespoons

brown sugar

1

tablespoon

cinnamon

1

teaspoon

nutmeg

1/2

teaspoon

salt

1

pinch

cayenne

3

tablespoons

unsalted butter

at room temperature

1/2

cup

raisins
Egg Wash:
1

large

egg

beaten

1

tablespoon

milk
Instructions
In a small bowl, combine the milk and yeast. Let the mixture rest for 10 minutes, until a faint froth appears on the surface of the milk.

In a medium bowl, stir together the flour, salt, and cinnamon. Set aside.

Add the 5 tablespoons butter, sour cream, honey, and granulated sugar to the bowl of a stand mixer. Using the paddle attachment, mix on medium until the mixture is creamy. Beat in the eggs, one at a time, until they are incorporated into the batter. Add the vanilla and beat on low for 2 minutes.

With the mixer still running on low, beat in the yeast-milk mixture. Add half of the flour mixture and beat on medium until combined. Add the rest of the flour and again beat until combined.

Remove the paddle attachment from the mixer and switch to a dough hook. Set the mixer to low and knead the dough with the dough hook for 10 minutes, stopping occasionally to scrape the sides of the bowl.

Lightly grease a large bowl with softened butter. Remove the dough from the mixer bowl and shape it into a ball. Set the dough ball in the bowl and cover lightly with a piece of plastic wrap. Set the bowl in a warm place and allow to rise until the dough has doubled in bulk, about 2 hours.

In a small bowl, combine the dry ingredients for the filling: brown sugar, cinnamon, nutmeg, salt, and just the tiniest pinch of cayenne. Stir together and set aside.

Once the dough has risen, turn it out onto a floured surface. Use a rolling pin to roll the dough into a rectangle 9 inches wide and about 20 inches long—use the length of your loaf pan as a guide for how wide to make your rectangle of dough. Smear the surface of the rectangle with the 3 tablespoons butter, sprinkle evenly with the brown sugar–cinnamon mixture, and dot with raisins. Tightly roll the dough into a log that is about 9 inches long, making sure to not stretch out the middle of the dough as you roll. Pinch the seam with your fingers to seal it.

Rub a 9-by-5-inch loaf pan generously with softened butter. Set the roll of dough in the pan, seam side down, making sure to fill the pan evenly (try to avoid creating a "sway back," or a dip in thickness in the middle of the dough). Cover with a kitchen towel and set in a warm place to rise until doubled in size, about 2 hours.

Place an oven rack in the bottom third of the oven. Preheat the oven to 350°F/180°C.

In a small bowl, mix the egg and milk for the egg wash. Use a pastry brush to lightly coat the top of the loaf with egg wash. Bake the loaf on the lower rack of the oven until the top is a deep bronze and the loaf sounds hollow when gently rapped with a knuckle, 30 to 35 minutes.

Cool for 10 minutes in the pan, then turn out the loaf onto a wire rack to cool completely, about 1 hour. Once cool, wrap well in plastic and store at room temperature for up to a week.
Nutrition
Serving:
1
slice
|
Calories:
93
kcal
|
Carbohydrates:
12
g
|
Protein:
1
g
|
Fat:
5
g
|
Saturated Fat:
3
g
|
Monounsaturated Fat:
2
g
|
Cholesterol:
38
mg
|
Sodium:
146
mg
|
Potassium:
98
mg
|
Fiber:
1
g
|
Vitamin A:
200
IU
|
Vitamin C:
0.8
mg
|
Calcium:
30
mg
|
Iron:
0.7
mg
This content was originally posted on FearlessFresh.com.