– Copycat Stacks Pancakes: Best Granola Pancakes Recipe –
I've been on a pancake kick lately. I want pancakes all the time, and not just in the morning. Over the past few weeks I've made soufflé pancakes, sour cream pancakes, Dutch Babies with apples, Dutch Babies without apples, buttermilk pancakes, and baking soda griddle cakes. I think it must be Thad's influence, because I've never devoured carb-laden breakfast foods like I have since we got together.
While we usually make breakfast at home, Thad and I occasionally walk down to the local pancakes house, Stacks, after visiting the Sunday farmers market. He always gets the same thing: granola pancakes. At first I thought the idea was ridiculous. Granola? In pancakes? Why? Then I realized these pancakes must be a product of the Borg, because once they arrived at the table, I was assimilated.
These Stacks pancakes made with granola, which looked odd at first, were actually incredibly rich and satisfying. I didn't think the fluffiness of Stacks' perfect buttermilk pancakes could be topped, but the added nuttiness and crunch of the granola really added something to the experience. After making them at home, it turns out that they pair well with anything you would normally mix with your granola: try piling on blueberries, honey, yogurt, bananas, whatever you like.
I'll warn you: these copycat Stacks pancakes are super filling and addicting. The texture takes a second to get used to, but once you've accepted that, the sweet nuttiness of the granola fills your senses with a wholeness that exceeds my greatest pancakes expectations.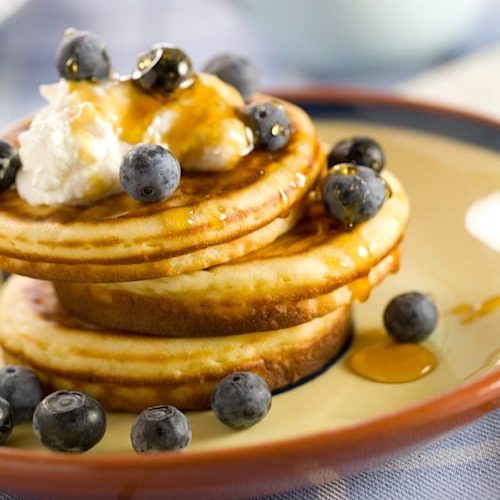 Copycat Stacks Pancakes: Best Granola Pancakes Recipe
This recipe for Stacks pancakes is addicting. The sweet nuttiness of the granola fills your senses and exceed your greatest pancakes expectations.
Print
Pin
Ingredients
1

cup plus 1 tablespoon

flour

1

tablespoon

sugar

1

teaspoon

baking powder

1/2

teaspoon

baking soda

1/4

teaspoon

salt

1

large

egg

1

egg white

3/4

cup

buttermilk

1/2

cup

milk

1/4

teaspoon

vanilla

2

tablespoons

unsalted butter

melted

2

cups

granola

any huge chunks broken up

Fruit

for garnish
Instructions
In a large bowl combine flour, sugar, baking powder, baking soda, and salt. Mix well to distribute leaveners, lest you end up with a bite of pancake that tastes of baking powder.

In a small bowl, beat together the egg, egg white, buttermilk, milk, vanilla, and melted butter until well blended. Add the granola and mix, allowing to sit for 5 minutes so the granola will soak up some of the moisture. While the granola is soaking, heat a griddle or heavy skillet over medium heat.

Once the skillet it almost up to temperature, pour the wet ingredients into the dry and mix until all dry lumps of flour are broken up. (thank you to Bette Kroening for her advice to not mix wet and dry ingredients until you're ready to pour the batter onto the griddle!)

Pour batter onto griddle in 1/3 cup increments. When the edges of the pancake look dry and have lost their shine, poke a spatula under the edge of the pancake to see if it is golden brown. Once the pancake has reached a nice golden color, flip it and cook for another 2-3 minutes. Serve hot, with anything you'd mix with granola: blueberries, bananas, nuts, strawberries, you name it!
Nutrition
Calories:
361
kcal
|
Carbohydrates:
44
g
|
Protein:
11
g
|
Fat:
17
g
|
Saturated Fat:
5
g
|
Polyunsaturated Fat:
6
g
|
Monounsaturated Fat:
5
g
|
Cholesterol:
50
mg
|
Sodium:
343
mg
|
Potassium:
326
mg
|
Fiber:
5
g
|
Vitamin A:
250
IU
|
Vitamin C:
0.8
mg
|
Calcium:
140
mg
|
Iron:
2.9
mg
This content was originally posted on FearlessFresh.com.