Last year I posted a gluten free version of Laurie Colwin's fried chicken, and since then, I've been tinkering with my crispy fried chicken recipe to try and get that perfectly crunchy skin we all love so much. After many hours spend in the kitchen (and countless pounds of poultry eaten) I've come up with some cardinal rules that will all but guarantee perfectly crispy fried chicken.
The perfect crispy fried chicken recipe:
Dry your chicken with a paper towel before dipping. I know this sounds counterintuitive, but there's a difference between sticky residual moisture left on the skin and the kind of moisture that won't cause your crispy coating to get soggy.
Before coating your chicken in flour, roll it in a non-fatty liquid to help the flour to stick. Avoid using fatty liquids, like buttermilk or yogurt, as these will make your chicken greasy. I use egg whites that have been beaten for a minute by hand, and they work really well. Here's a hint: for even drier egg whites, leave them out overnight, uncovered. This is an old trick from making macarons – if you leave them out, the water in the whites will evaporate and stabilize the albumin in the whites. And unlike fatty yolks, whites won't go bad if left out for a few days.
When coating your chicken with flour, really pack it on there. I'm a member of the Laurie Colwin fried chicken camp when it comes to flour – she recommend that you "pack the flour on a if you were a child making sand pies. Any excess flour should be packed between the layers." And she's right! This extra flour turns into crispy goodness in a hot fryer.
Flour your chicken just as the oil is getting to temperature – you don't want your coated chicken parts sitting around, which allows the flour to soak up moisture from the meat. Better yet, flour the chicken in batches just big enough to fit in your fryer, and then flour the next batch just before the previous fried chicken batch is ready to leave the hot oil.
Fry your bird pieces at a high temperature. I'm talking 380 degrees F. It will fry faster and the outside will be crispier for it. And keep that temp up – you don't want the oil to dip below 340 the entire time the chicken is in there.
When lowering the chicken pieces into the hot oil, submerge each piece halfway beneath the surface of the oil and count to five before lowering it the rest of the way. This will prevent a flat, soggy spot from developing where the chicken sits in contact with the pan.
Don't overcrowd your pan, which will lower the temperature of your oil much faster than the burner on your stove can reheat it. Longer frying time = soggy, greasy fried chicken.
Let your chicken fry for 8 minutes, turning once around the 4 minute mark. Keep the flame under the pan at medium.
Cool fried chicken on a cooling rack, not on a plate. Having the chicken in contact with a hard surface will cause condensation to form, which contributes to soggy skin.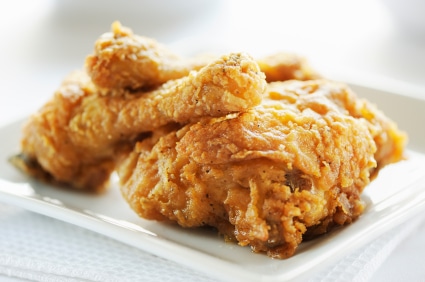 If you like this crispy fried chicken recipe, check out these others:
Dianne's Gluten Free Fried Chicken
This content was originally posted on FearlessFresh.com.