Thad Jones is back with his favorite easy banana bread recipe, another one of the lovely treats he's cooked for me over the past few months (be sure to check out his cucumber salad and Bavarian torte with nectarines). I'm one spoiled girl, I tell ya! Having a boy in my life that cooks for me just leaves me breathless.
Thad quickly is becoming a weekly contributor here on Fearless Fresh and I'm very glad to have him (and his amazing dishes!).
Coffee. That magical bean that must be roasted to unlock it's flavour, aroma and that specialness we call caffeine. All around the world at any given moment, you can walk into a cafe and see countless people frantically typing away on their computers, no doubt jazzed by any number of caffeine-related drinks. What interests me, though, are the quality of the snacks you can get at a cafe… or the kind you can make at home, like this recipe for vanilla-lemon sour cream coffee cake.
Gone are the days when just a scone would suffice. Now there are macaroons, high end cupcakes, small torts, salads, super-gourmet paninis, and just about anything else you can think of. Along with those treats comes high prices, and I'm just not willing to shell out three dollars or more for one small little item.
If I do buy a snack, I want something that is going to sate my appetite as well as my sweet tooth. The only items in cafes that do that are pound cake, slices of marble cake, or some sort of nut bread. I really love banana bread the most, but once again the cost makes me cringe when for a few dollars more I can make an entire loaf at home. That's what I've been doing lately; making my own easy banana bread recipe. I can smuggle a few pieces anywhere I want — movie theaters, coffee shops, or just use it as something that will quickly fill my stomach up when I need it.
Banana bread has long been an American staple and there are so many ways of making it, so it can be downright impossible to figure out which to make. From nuts, to pieces of fruit, to a drizzled glaze on the top, it's a veritable Wild West out there when you are looking for recipes.
As for myself, I look to what my grandmother used to make for my mom when she was little, and what my mom used to make when I was little. When I was young, the smell wafting throughout our place in Germany reminded me of America, though to be fair, the time I spent in America when I was young was so long ago that I don't remember it. That's the magic of banana bread; it reminds us of family, simpler times, and the long-forgotten places where we were scarfing down slices of this classic dish. It doesn't matter if they were toasted for breakfast with butter, in my brown bag lunch for a snack, or just plain for a simple dessert.
The past few weeks I've been making this easy banana bread recipe on the weekends because Steph and I have been visiting the park in Los Gatos, laying out on the grass while eating some fruit from the weekly farmers market and indulging in freshly-baked banana bread. Since this is my grandmothers recipe, it is VERBOTEN to change any ingredient at all. However, I found that forgoing the banana extract she called for and using almond extract instead put an incredible twist on this classic. So incredible, in fact, that we often munch a bit too much at the park, and we barely come around to making dinner!
Now butter it up, toast it, or just eat it plain. Your childhood memories may vary, but it certainly rewinds the clock to a simpler time.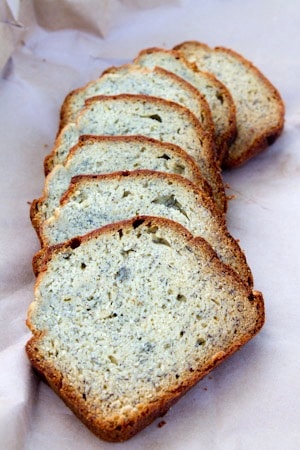 Easy Banana Bread Recipe
This easy banana bread recipe is quick, moist and simple to make. Tender with a touch of almond flavoring, this bread will take you back to childhood. Makes one loaf of bread.
Print
Pin
Ingredients
1/2

cup

butter

at room temperature

2

large

eggs

beaten

1

cup

sugar

1 1/4

teaspoon

almond extract

1/2

teaspoon

vanilla extract

1 1/2

teaspoon

ground cinnamon

4

medium

ripe bananas

mashed

2

cups

flour

1

teaspoon

baking soda

1 1/2

teaspoon

baking powder

1/2

teaspoon

salt

1/2

cup

chopped almonds

(optional)
Instructions
Preheat oven to 350°F (176°C). Generously grease a large loaf pan with butter and coat with flour.

Wish an electric beater or stand mixer, mix butter, eggs, sugar, almond extract, vanilla extract, cinnamon, and mashed bananas.

In a separate bowl mix flour, baking soda, baking powder, and salt. Add dry ingredients to wet ingredients, mixing well. If using nuts, add them now.

Pour into a greased and floured loaf pan, filling until 3/4 full. Bake at 350ºF (176°C) for 55 minutes, or until the crust is a deep, dark brown color (but not burnt!). When done, loosen bread from pan and lay on it's side on cooling rack. Once cool, put in plastic bag and refrigerate for up to 1 week.
Nutrition
Calories:
441
kcal
|
Carbohydrates:
65
g
|
Protein:
7
g
|
Fat:
18
g
|
Saturated Fat:
8
g
|
Polyunsaturated Fat:
2
g
|
Monounsaturated Fat:
7
g
|
Cholesterol:
84
mg
|
Sodium:
519
mg
|
Potassium:
358
mg
|
Fiber:
3
g
|
Vitamin A:
550
IU
|
Vitamin C:
7.4
mg
|
Calcium:
100
mg
|
Iron:
2.5
mg
If you like this banana bread recipe, check out these others:
This content was originally posted on FearlessFresh.com.