– An easy caprese salad recipe for your late summer tomato bumper crop. –
Living in California, we're fortunate enough to have a very late growing season, sometimes extending into November. This often puts us a little outside the same seasonal produce cycle as the rest of the country, where fruit and other fresh summer foods seem to dry up by the beginning of September. Here in the Bay Area, we're still awash with blushing nectarines and a bevy of strawberries – and this week I was also gifted with a huge helping of late-season heirloom tomatoes. (And a handful of cucumbers, which became this wonderful pickled cucumber salad.)
Can I ask you a question? Please answer in the comments, if you will: Who here has never had a fresh, organic, heirloom tomato? The reason I ask is this – I took some of these plush tomatoes, so full of juice they resembled overfilled water balloons, to work so I could share them with my coworkers. More than one person tried a slice and was totally blown away by the level of sweet, gorgeous flavor that flooded their tastebuds upon biting down. Like, these people had never had an heirloom tomato before. These folks live smack in the middle of Bay Area produce-central. Some of these people even grow tomatoes in their yards, but they stick to the standard, garden variety (heh…) selection that you essentially find at Safeway. How is that such a simple food remains a mystery?
When I learned that a surprisingly large percentage of my coworkers had never had a real heirloom tomato, I decided I had to share with them the best possible way to enjoy the flavor of these little treasures. A caprese salad recipe seemed like the perfect idea that required no cooking. I walked down to Whole Foods, grabbed some basil, balsamico, and fresh mozzarella, and presented my colleagues with a simple salad where the tomatoes would shine above all else. They were impressed. Thank god for kitchens at work.
The next day I still had a few pounds of tomatoes left, but I couldn't rightly serve them the exact same dish, could I? So I spiced up my caprese a bit by adding chopped pine nuts, a little parsley, avocado oil for richness, reduced the balsamico to give it a little more cling, and tossed in a touch of red pepper flakes for extra personality. Holy cow, was that an easy caprese salad for the record books – and it didn't require any cooking beyond thickening the balsamic vinegar, which is entirely optional.
I have no idea if you've still got tomatoes hanging around this late in the season – but if you do, I implore you to please, please, please try this caprese salad recipe (or this one, if you've got cherry tomatoes by the mini-bushel). Even if you can only find standard grocery-store tomatoes, this salad will still sing as your supper.  It's super easy to make, and if you want a heartier version of this dish, try tossing it with some spiral pasta and an extra tablespoon of oil for a quick and easy dinner. You can keep or jettison the red pepper flakes if that's just too much going on in a caprese, but you might be surprised at how lovely a little bit of heat can be where you might not otherwise expect it.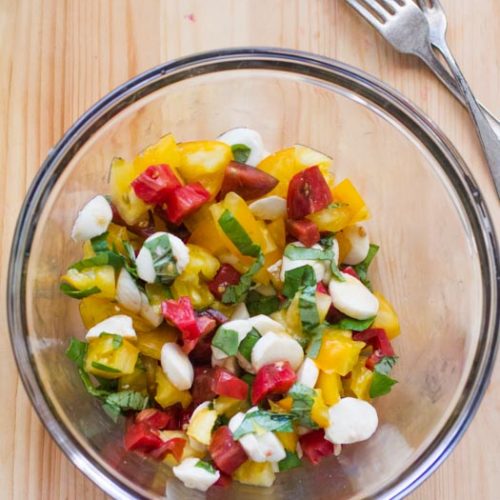 Easy Caprese Salad Recipe, the Ultimate Late Summer Dinner
This simple, colorful caprese salad recipe isn't your standard lunchtime snack - a few unique ingredients will make this salad sing on your palate like no other. Super easy to make - and if you want a hearty version of this dish, try tossing it with some spiral pasta for a quick and easy dinner. Seasonal food at its best.
Print
Pin
Ingredients
1/4

cup

balsamic vinegar

2

large

yellow heirloom tomatoes

deseeded and chopped

1

large

Brandywine heirloom tomato

deseeded and chopped

1/2

cup

Boconccini

or little mozzarella balls about 1-inch in diameter

6

large

basil leaves

chopped

3

tablespoons

chopped parsley

2

tablespoons

chopped pine nuts

1

teaspoon

red pepper flakes

(optional)

2

tablespoons

avocado oil

Sea salt and fresh ground black pepper

to taste
Instructions
In a small pot, heat the balsamic vinegar over medium-low heat. Simmer until it reduces by half. Remove from heat and allow to cool completely.

In a large bowl toss tomatoes, Boconccini, basil, parsley, pine nuts, and red pepper flakes, if using. Toss well until completely mixed.

Drizzle in avocado oil and toss well. Stir in a little of the reduced balsamic vinegar - start with just a teaspoon - and taste. Add more in very small quantities until it's tart enough for your liking. Add salt and pepper to taste. Serve at room temperature.
Nutrition
Calories:
153
kcal
|
Carbohydrates:
6
g
|
Protein:
5
g
|
Fat:
13
g
|
Saturated Fat:
3
g
|
Polyunsaturated Fat:
2
g
|
Monounsaturated Fat:
7
g
|
Cholesterol:
13
mg
|
Sodium:
99
mg
|
Potassium:
278
mg
|
Fiber:
1
g
|
Vitamin A:
900
IU
|
Vitamin C:
30.5
mg
|
Calcium:
90
mg
|
Iron:
1.1
mg