– I'd like to introduce you to my favorite California cheese plate. –
California is a cheese-lover's state. As a state packed with rolling hills and blessed with temperate weather, our livestock grows fat and strong on rich coastal grasses and a nearly year-long grazing period. The milk from our cattle, sheep, and goats is some of the highest quality in the country, which makes for a dizzying range of superlative cheeses and many an epic cheese plate. Our mixed-milk cheeses are some of the best in the world.
While some cheesemakers revered for being the crème de la crème of California cheeses – think Cowgirl Creamery and Cyprus Grove – a few others are smaller, more local favorites that should also be enjoyed regularly and with great fanfare. Below you'll find four firm and semi-firm California cheeses that you should seek out right now, right this very second, and savor every last bite.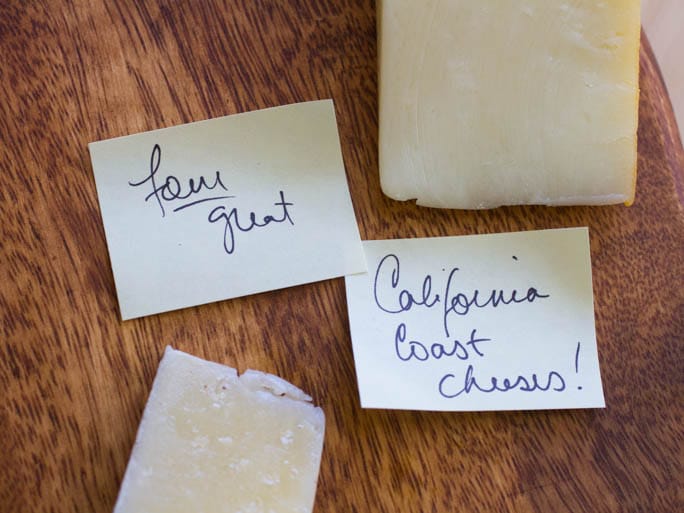 So without further ado, I give you four of my favorite California cheeses in a fun regional cheese plate, all of the semi-firm to downright gratable textures. These cheeses go great on a cheese plate, shredded over a salad, or even sliced over a perfect burger.
Ok, what are your favorite California cheeses? I'd love to hear from you.
Seascape: Central Coast Creamery, Paso Robles CA – Salty and tangy, this firm little cow-goat blend lingers on your tongue in a wash of luscious fat. For me, Seascape is meaty above all else, with a bold manliness that makes me think of afternoons spent grilling medium-rare trip tips while munching on olive oil crackers. There's a breathy sweetness on the followup, too, making this a sure-fire winner for anyone who wants a cheese that pleases without being a tease.
Special Select Dry Jack: Vella Cheese Co., Sonoma CA – Solid and grate-able, Vella's Special Select Dry Jack is miles ahead of your standard supermarket Monterey Jack cheese. Aged for up to two years, this beauty is both stout and subtle, serving you with an initial slap of heady Guinness before whispering into the lactic bite of coastal cow's milk. Nuttier than all get out with a touch of sweet at the tip of its tail, you can eat this cheese straight or grate it over anything that you think needs a little something-something. I prefer it over a frittata. Yes, ma'am!
Big Rock Blue: Central Coast Creamery, Paso Robles CA – Normally I wouldn't put two cheeses from the same creamery in a regional roundup, I'm listing Central Coast's Big Rock Blue alongside Seascape because they pair so well together. On its own, this blue has a lot of personality and kick, with a good dose of sweet milk and Penicillium spice. You'll find an tantalizing fudge texture here, paired with a link of salt and a yeasty layer that makes me dream of Ritz crackers. When paired on a cheese plate with Seascape, the two sing a duet of epic proportions.
San Joaquin Gold: Fiscalini Cheese Company, Modesto CA – Big and cheddary, Fiscalini wasn't kidding when they called their raw cow's milk cheese "gold." This cheese is an exercise in salty bliss, sharp enough to hold your interest before it melts away into a memory of Ritz Crackers with a snippet of cheddar. Sweet layers tease your palate, then bathes you in buttery nuttiness. Crunchy crystals round out the crumbly texture, making San Joaquin Gold a winner across the board.
This content was originally posted on FearlessFresh.com.