– How about a fresh strawberry peach cobbler recipe to celebrate the end of summer? –
It's been a whirlwind around here lately. A hurricane of family business has brought my world to a grinding halt in some ways, yet in other areas there must be progress, no matter what. Like the cookbook, which comes out in less than two months. How the hell did that happen?! Just a year ago Garrett and I were furiously mixing, stirring, and baking, consumed by the final push of recipe testing before our deadline. Now we're mere months away from the release. We've just received our authors' copies, and I have to say, this book is beautiful. Our photographer and designer went all out in creating a gorgeous visual canvas for our recipes, and the end result is nothing short of stunning.
With everything else going on, planning a book tour has been complicated. It's hard to give your all to family while still spending X hours a day looking for event venues and pitching for media appearances, on top of, you know, WORK and everything else that life entails. So here's a request I have for you:
Is there an awesome cheese shop in your town or somewhere else that we simply must come visit? A local magazine, newspaper, television, or radio show that you think would love to host a couple of intrepid cookbook authors? Please leave a comment and let me know! I'd love your support and suggestions – you really are the reason I'm doing all of this. And if your suggestion works out, there's a signed copy of the book in your future!
Book stuff aside, I still need to eat.  Oddly, I'm more compelled to bake than I have been in years, despite the fact that I'm exhausted and each minute of the day is viciously guarded by countless tasks, meetings, and family arguments. Late at night, when I finally have a little time to myself, I quietly bring down the flour from the cupboard and dig up a nub of butter from the fridge. A few eggs magically appear on the table, almost without me realizing it, followed by a handful of fruit, a tin of baking powder, and an enormous bag of sugar that I've been chipping away at for the past year.
Tonight, there will be cobbler. A lusciously fresh strawberry peach cobbler recipe, in fact.
– After pulsing, the dough should resemble soft bread crumbs. –
I haven't made cobbler in years. I turn to my old friend Nigel Slater, whose book Ripe: A Cook in the Orchard has becomes not only a favorite cookbook, but also a comforting presence in my library. I love to flip through it, along with its sister volume Tender: A Cook and His Vegetable Patch, just to let Slater's writing wash over me like a zen meditation. His ascetic use of words, like his ability to construct a simple recipe using only a few perfectly selected ingredients, quiet the rumbling in my head while creating a very different rumble in my stomach. Good stuff, his books are.
– Peaches and strawberries mixed with lemon, sugar, and flour. –
Slater's recipe for blueberry peach cobbler is simple enough for even the greenest baker to complete with little opportunity for shenanigans. It's a straightforward dish with a fluffy biscuit topping so light, so perfect, that I'm thinking of cannibalizing it for a strawberry shortcake recipe. Or, given the fact that strawberry season is all but over, perhaps a polite little serving of biscuits with blood orange marmalade and Devonshire cream.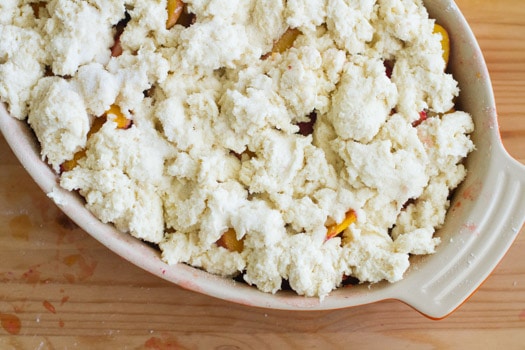 – Topping all set, ready for the oven. –
I didn't have any blueberries, because for some reason California puts a premium on these little blue balls of joy well beyond what I can afford these days. (Really? $10 for a pint of non-organic berries? Are you kidding me?) I had just raided the farmers market for strawberries, so that was my sweet of choice. Paired with fresh organic yellow peaches, a vision of sweet-tart love filled my head and made my palate tingle like I'd French-kissed a 9-volt battery.
I've altered this recipe to increase the loft of the biscuit topping, and added a little more flour to the filling so that it would thicken more than the original recipe called for. I also sprinkled a touch of cinnamon into the crust for warmth. I think you'll like the result, a soft topping that crisps while baking but maintains the tender biscuit texture that I adore. This loftier crust mingles with the fruit while still maintaining enough structure to stand on its own.
– Perfectly browned strawberry peach cobbler, fresh out of the oven. –
Making this dish was a revelation. The quiet act of mixing the dough – with my fingers, mind you, and not a spoon – and then tossing the fruit with a light helping of lemon and sugar – also by hand –  all of the day's crazy disappeared for a while. The misguided thoughts of family members, the overflowing inbox full of book tour business, even the tap tap tap of the leaky shower spigot in the other room. They all went away for one delicious hour. At that point I almost didn't need to eat the cobbler. My silent mind was more than worth the price of admission.
But of course, eat it I did. :)
– Cobbler is hot when it's fresh! Allow it to cool and thicken a bit. –
Finally, a question, and I hope you'll respond in the comments: Cobblers seem to be falling out of favor lately. I don't see many cobbler recipes popping up in my news feed, which is a shame. Do you still make cobbler? What sort of fruit do you use, and how do you make yours extra special?
– Peach cobbler with a twist. Just look at that crisped-on madness… –
– Such color, such a light biscuit-y topping. Be still my beating heart. –
Fresh Strawberry Peach Cobbler Recipe
Looking for a fabulous end-of-summer fruit dessert? This fresh strawberry peach cobbler recipe is tart and colorful, all the things you want before the weather starts to turn cold again. A warm dish for the darkening evenings. Don't worry about peeling the peaches. Serves 8.
Print
Pin
Ingredients
For the cobbler topping:
1 1/2

cup

flour

1/4

teaspoon

salt

1/4

teaspoon

cinnamon

2

teaspoons

baking powder

2

tablespoons

sugar

5

tablespoons

unsalted butter

at room temperature

3/4

cup

sour cream
For the cobbler filling:
3

large

tart yellow peaches

pits removed, sliced

1

pound

strawberries

cored and quartered

1

teaspoons

lemon zest

1

tablespoon

lemon juice

1/4

cup

sugar

2

tablespoons

flour

Additional sugar for topping
Instructions
For the cobbler topping:
To the bowl of a food processor add flour, salt, cinnamon, baking powder, and butter. Pulse a few times until the mixture resembles breadcrumbs. (Image above.) Pour the dough into a medium-sized bowl. Add sour cream and mix with your hands, if you're willing - otherwise a wooden spoon will work fine. Do not over-mix. You should have a nice soft dough by the end. Place dough in the refrigerator while preparing the filling, but don't let it chill to the point of getting hard.
For the cobbler filling:
Preheat oven to 400°F (204°C).

In a large bowl combine peaches, strawberries, lemon zest, and lemon juice. Toss well to coat the fruit with lemon. Add sugar and flour, stirring well to make sure the fruit is well coated. Pour the fruit into an 8- by 8-inch baking dish or a ~3-quart casserole dish.

Break off walnut sized pieces of dough and flatten them slightly before setting them on top of the fruit. Sprinkle the top with a little more sugar and slide the cobbler into the oven. Bake for 25 to 30 minutes, or until the top is golden brown and the fruit is bubbling heartily. Allow to cool at least 20 minutes - or ideally an hour - before serving. Serve topped with whipped cream.
Notes
Nutritional analysis does not include whipped cream for serving.
Nutrition
Calories:
272
kcal
|
Carbohydrates:
38
g
|
Protein:
4
g
|
Fat:
12
g
|
Saturated Fat:
7
g
|
Polyunsaturated Fat:
1
g
|
Monounsaturated Fat:
3
g
|
Cholesterol:
29
mg
|
Sodium:
202
mg
|
Potassium:
225
mg
|
Fiber:
3
g
|
Vitamin A:
650
IU
|
Vitamin C:
47
mg
|
Calcium:
110
mg
|
Iron:
1.6
mg
This content was originally posted on FearlessFresh.com.