– I give you Girl Hunter, by Georgia Pellegrini – 
Lately I've been running on empty in the dreams department. Not that I'm not blessed every single day of my life; in fact, I'm swimming in good fortune and gratitude a lot of the time. But I'm still missing some important elements that are tantamount to maintaining my own satisfied sense of self. There are so many things I want to do, and I'm beginning to really, truly understand what it means when people say "Life is short. Live for now." You know, typical birthday thoughts once you hit your mid-30s.
And so, in an attempt to push myself a little (ok, a lot) out of my comfort zone and make myself more accountable for the culinary decisions I make, I signed up for a women's hunter training course this fall. I've been wanting to join my dear friends  Hank and Holly on their hunting adventures for years, but I've always found a convenient excuse to stay home, where it's warm, comfortable, and I don't have to drag myself out of bed at 3am or look my dinner square in the face before I turn it into something delicious.
Thankfully I'm not the first person to face this existential culinary crisis after living a long, privileged life in Corporate America, and the universe has a way of pointing you in the direction of the support you need, right when you need it. The day after I registered for the training camp, I happened to glance over and see a book winking at me from the dusty shadows of my bookshelf. It was Girl Hunter: Revolutionizing the Way We Eat, One Hunt at A Time , by Georgia Pellegrini. The book had been sitting in my apartment since I received it last year, but I could not have planned a more perfect time to finally crack it open.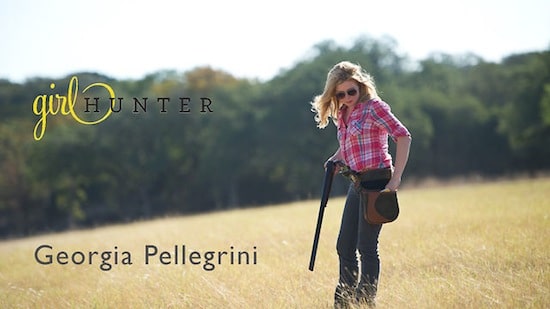 – Click for Georgia Pellegrini's most excellent "Girl Hunter" video trailer –
– Image by Todd Porter and Diane Cu –
As you might imagine, Georgia Pellegrini's experiences as a woman in a very male-dominated hunting world are intriguing. Of course there's the occasional story of an inappropriate ass-pat and plenty of instances of her drinking whiskey with men twice her age, but what I find most valuable about this book is her hunting philosophy. As a woman in the field, she brings to the very real "kill" a certain sensitivity and integrity that I connect with. There is no abstraction in her hunting ideology, for which I am grateful. My main reason for putting off this hunters' training for so many years is that I'm intimidated by the idea of killing something, but I consume a good amount of meat and really, I need to put that meat consumption into a clearer perspective if I'm going to truly enjoy my meal. Getting closer to your food is never a bad thing.
Georgia spends a good amount of time thinking about mankind's primal urge to hunt, to kill, to scout out one's food and attach a deeper meaning to it. She does this by personally escorting her dinner through the food chain, much more closely than the average American whose most intimate experience with meat is selecting which celo-wrapped package to buy at the grocery store. As a lapsed vegan who struggles with the morality of eating another living thing, I can sleep better at night knowing the object of my carnivorous cravings lead a happy life and died as God intended: in a fair fight of reflex and intellect, and not at the end of the line in a stinking, manure-covered feed lot.
 – This chicken putach recipe will follow in the next post! –
One thing I was hoping for in  Girl Hunter was a little more comedy – I mean, come on… an attractive, New York woman loose in the hunting world just begs for at least few shenanigans – but it appears that Georgia is more a philosophical writer than humorist. She's a solid storyteller, and I enjoy her writing style, which is patently un-hunter-esque and  verges on the flowery sort. This writing style works well for her purpose, which I'm assuming is to share her poignant thoughts in a feminine way without coming across as too girly.
As a classically trained chef, Georgia also includes a handful of recipes after each chapter. The recipes are not contrived at all; rather they're luscious and tempting, and each includes a full list of meat alternatives if you don't have any, say, grouse hiding in your freezer. One could just as easily make the recipes in this book with meat from a local butcher and have a perfectly wonderful experience. In fact, that's what I'm doing until I bag my first whatever-it-happens-to-be.
So, yes, please read Girl Hunter. I heartily recommend it for anyone who's thinking about hunting – for reals or on a conceptual level – or otherwise enjoys reading about the girly-girl archetype loose in the wilds of America.
This content was originally posted on FearlessFresh.com.