– Gluten-free chocolate brioch buns, for your guilty pleasure. – If there's one thing that I miss from my pre-gluten free days, it's being able to enjoy fresh, tender baked goods. I miss morning walks to the coffee shop, where I'd stand before counter and gaze out over the fresh buns and rolls as they steamed up the glass display case. What should I have today? The chocolate croissant? The cream cheese danish? You know, I think I'll take the strawberry crème fraiche scone.Yup, those day are gone. Sigh.To add insult to injury, I recently moved to a new neighborhood, within walking (and smelling) distance of Arizmendi Bakery, purveyor of some of the Bay Area's most delectable – and very not gluten free – baked goodies. Every damn morning I have to wake up and smell their cheese horns and blueberry coffee cakes. Their chocolate buns and cinnamon rolls. This weekend I sat in my office chair, awash in early morning bakery aromas, and thought to myself, ENOUGH!How much temptation can one girl take?!
So I set out to make use of all my built up bread-angst: I made something at home.
Arizmendi has one particular treat that taunts me – something called the "chocolate thing." Their vague-sounding thing is actually a very specific brioche roll that's specked with thick chunks of dark chocolate. Armed with this recipe for gluten free brioche, I set to work creating my own version of this, well, thing.
The resulting gluten free recipe is absolutely wonderful. While there's no substitute for real brioche, but this recipe – compliments of Healthy Bread in Five Minutes a Day by Zoë François and Jeff Hertzberg – is a lovely stand in. Light and airy, these gluten free brioche rolls make for a breakfast to remember, and guests will have a tough time noticing that they're sans gluten.
So, I present to you my new favorite gluten free breakfast bun recipe. This is cause for celebration! Pack them up for meetings, conferences and road trips, and you'll never again feel that tug of longing for a a table full of gluten-y baked treat again. You'll have something infinitely more special, thankyouverymuch.
Note: gluten free bread doughs are notoriously sticky, so when the recipe says to dust with cornstarch, save yourself a lot of trouble and just layer it on; otherwise you'll end up with dough everywhere but in your breakfast rolls.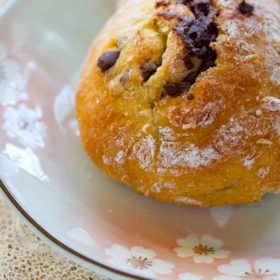 Heavenly Gluten Free Brioche Buns
This recipe was inspired by Arizmendi Bakery's Chocolate Things, large brioche rolls filled with chocolate. So, so good. Based on a recipe from "Healthy Bread in 5 Minutes a Day," by Zoe François and Jeff Hertzberg.
Print
Pin
Ingredients
1/2

cup

brown rice flour

1/2

cup

tapioca starch

(tapioca flour)

2

cups minus 2 tablespoons

cornstarch

1

tablespoon

granulated yeast

1 1/2

teaspoons

kosher salt

1

tablespoon

xanthan gum

1 1/4

cups

milk

1/2

cup

honey

2

large

eggs

1/2

cup

vegetable oil

1

teaspoon

vanilla extract

Several more cups of cornstarch for rolling and dusting

4

ounces

dark chocolate

chopped
Instructions
Whisk together the brown rice flour, tapioca starch, cornstarch, yeast, salt and xanthan gum in a 5-quart bowl, or a lidded (not airtight) food container.

Combine the liquid ingredients and gradually mix them into the dry ingredients using one of the following: a spoon, a food processor (with dough attachment) or a stand mixer with a paddle attachment. Mix just until there are no dry bits of flour. You might need to use wet hands to get the last bits of flour to incorporate if you are not using a machine.

Cover (not airtight!) and allow the dough to rest at room temperature for 2 hours.

Coat your hands and a flat surface liberally with corn starch, and I mean liberally. Trust me – this dough sticks to everything, even parchment paper.

Turn the dough out onto starched surface, then spread and press with your hands until it isabout 1 inch thick and roughly square shaped. Coat a rolling pin with cornstarch and sprinkle a little more on the surface of your dough. Roll the dough until it is 1/2 inch thick.

Using a knife dipped in cornstarch, cut the edges of the dough so it's relatively close to square-shaped. Sprinkle chopped chocolate around the dough square, not heavily coating it but spreading chocolate chunks evenly around. As tightly as you can without breaking it, roll the dough into a thick log. Cut into 6 equal-sized rolls with a very sharp knife. Coat your hands with a little more cornstarch and gently form the rolls into rough ball shapes.

Set a piece of parchment on a baking sheet (don't worry – with the amount of cornstarch you used by now, nothing will stick at this point) and place the rolls at least two inches apart. Cover loosely and allow dough to rest for 45 minutes. Preheat oven to 350°F (176°C) while you're waiting, allowing the full 45 minutes so that the oven heats properly.

Bake in the center of the oven for about 22 minutes. The rolls are done once they start to brown nicely and are firm to the touch.

Let rolls cool on the baking sheet for two minutes, then remove from the pan and allow to cool on a rack before eating. Eat hot, right out of the oven, or allow them to cool fully before storing them in an airtight container for up to four days. If wrapped up tightly, these rolls can be frozen for up to a month.
Nutrition
Calories:
464
kcal
|
Carbohydrates:
67
g
|
Protein:
5
g
|
Fat:
21
g
|
Saturated Fat:
3
g
|
Polyunsaturated Fat:
3
g
|
Monounsaturated Fat:
9
g
|
Cholesterol:
58
mg
|
Sodium:
395
mg
|
Potassium:
193
mg
|
Fiber:
3
g
|
Vitamin A:
100
IU
|
Vitamin C:
0.8
mg
|
Calcium:
60
mg
|
Iron:
1.3
mg
This content was originally posted on FearlessFresh.com.