I've been trying to avoid sugar lately (trying being the operative word here), which means I haven't been baking very much. Let me tell you what a bitter irony it is to discover that your most beloved hobby is hazardous to your health. While I've been mostly good about gorging myself on the white stuff – and if you think about it, sugar really is similar to any other white powder out there – I occasionally just need to BAKE SOMETHING.
I mean, come on – you know what I mean, right? Don't you ever have the undying urge to just bake? To watch the satisfying flow of batter into a pan? To cover something with velvety layers of brightly colored icing? To see the look of gratitude and ecstasy on your loved ones' faces? These, my friends, are all reasons why I love baking. That and I have this friggin $400 KitchenAid mixer that I bought literally a week before I discovered I couldn't have gluten. >_<
But, I digress. I recently had the urge to create something beautiful, and while I can fix a steak that will make you cry, I wanted curved and colors that only baking could provide. As luck would have it, I had also just interviewed Chef Richard Coppedge of the CIA, who wrote the most amazing gluten free baking book I've ever read. Seriously folks, if you're sans-gluten and have a hankering for gorgeous pastries, you must have this book. It inspired me out of my rut, and I can't recommend it enough.
Below you'll find Chef Coppedge's recipes for gluten free vanilla sponge cake, which converts easily into a cupcake batter. Now, keep in mind that Chef Coppedge is a classically trained pastry chef, and his recipe isn't just mix and go. Listen to the man, follow his directions and your cakes will turn out lovely. When he says sift, sift. When he says stream while folding, for the love of god, do it. Don't just throw a bunch of junk in a bowl and call it done. It's not hard to get good results with gluten free baking, but you do have to read the directions.
Enjoy!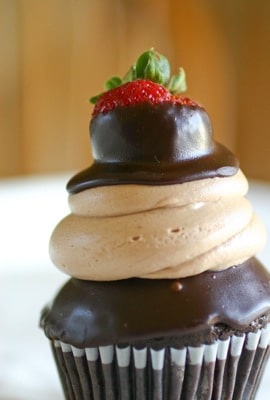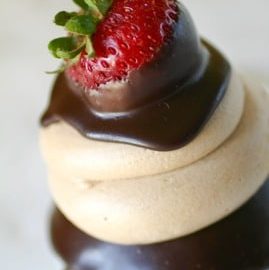 Chocolate Dipped Strawberry Cupcakes (Gluten Free!)
Do you love chocolate dipped strawberries? Then this gluten free cupcake recipe will have you baking up a storm.
Print
Pin
Ingredients
Gluten Free Vanilla Cupcakes:
9

large

eggs

1

cup plus 2 tablespoons

sugar

1 1/2

cups

Flour Blend #3

(below)

4

tablespoons

butter

melted, (or vegetable oil)

1/2

teaspoon

vanilla extract
Chef Coppedge's Gluten Free Flour Blend #3:
3/4

cup (5.25 ounces)

white rice flour

4

cups (14.25 ounces)

potato starch

5

tablespoons (1.25 ounces)

guar gum

1/2

cup (3.38 ounces)

albumen
Instructions
Gluten Free Vanilla Cupcakes:
Preheat oven to 325°F (163°C).

Grease a cupcake pan and insert paper cups.

Combine eggs and sugar in a mixing bowl and heat over a hot water bath until eggs and sugar are warm, about 120°F (49°C).

Whip egg mixture on high speed to maximum volume. Stabilize mixture by whipping at second speed for ten more seconds.

Sift the flour blend and gradually fold into wet mixture. Stream in melted butter while folding and add vanilla extract.

Fill prepared pans two-thirds full.

Bake until set, about 15-20 minutes. The cakes should spring back when you press the center and a toothpick inserted in the middle should come away clean.

Let the cupcakes cool for five minutes in the pan. Finish cooling on rack (I love these). Once they have cooled completely, frost and top with a chocolate covered strawberry.

Variations: To make chocolate cupcakes, replace 2/3 cup of flour with 3/4 cup of Dutch-process cocoa powder.
Chef Coppedge's Gluten Free Flour Blend #3
Blend flours until well mixed. Sift three times before using.
Construct the Chocolate Dipped Strawberries:
For these particular cupcakes I dipped the cake tops and berries in a chocolate ganache, because it's easier to eat than hard chocolate. Just

mix up your ganache

, dip the top of all of your cupcakes and let them set up for a few minutes before topping with a

nice swirl of mocha buttercream frosting

. Let the buttercream set up for about half an hour before you add the fruit.

Tip: when you dip the berries in the ganache, dip them heavily so that there's actually enough to keep it steadily attached to the top of the cupcake! You might to set down a dollop of ganache before attaching the berry to make sure you get the nice overflow effect.
Notes
For nutritional analysis Bob's Red Mills G-F all-purpose baking mix was used.
Nutrition
Serving:
1
g
|
Calories:
244
kcal
|
Carbohydrates:
29
g
|
Protein:
7
g
|
Fat:
11
g
|
Saturated Fat:
5
g
|
Polyunsaturated Fat:
1
g
|
Monounsaturated Fat:
4
g
|
Cholesterol:
254
mg
|
Sodium:
138
mg
|
Potassium:
78
mg
|
Vitamin A:
500
IU
|
Calcium:
30
mg
|
Iron:
1.1
mg
 This content was originally posted on FearlessFresh.com.