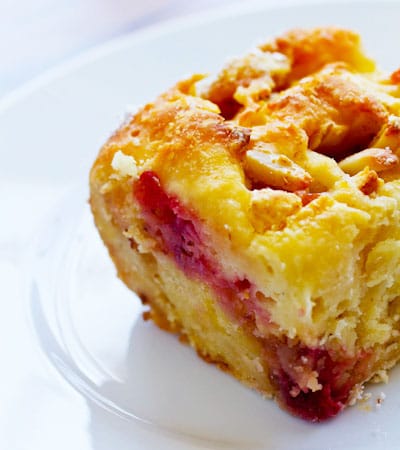 Who doesn't love a good pastry? Those of us who can't just walk into a coffee shop and buy a lovely croissant or cinnamon roll are acutely aware of how special a baked treat can be. Many shops are popping up that make pastries just for us, though gluten free bakeries are still not a mainstay in most cities and towns.
So, what are we supposed to do when we want something tender? Something flaky? Something dripping with ooey-gooey pastry cream that's light enough to make even the most devout pastry-hater drop their eyes and blush? We set out to make out own, that's what.
The gluten free bakers I know are some of the most driven, determined people I know. They're working without a thousand years of baking history and science behind them, paving the way to a flavorful future through pure experimentation. We owe the world to these folks, because without them, we'd still be gnawing on adobe-like rice bread for breakfast.
These gluten free strawberry pecan pastries are tender and dense, filled with fluffy pastry cream and spiced with just a touch of cardamom. I think you'll love the combination of the sweet berries, the crunchy nuts, the lush pastry cream, and the spicy cardamom. Well, everyone here loved them, at least, so I'd be surprised if these weren't met with a stone-silence of awe upon the first warm bite.
Gluten-Free Strawberry Pecan Pastries with Cardamom
These gluten free strawberry pecan pastries are touched with a kiss of cardamom for a rich, gently spiced treat. Based on a recipe from "Healthy Bread in 5 Minutes a Day" by Zoe François and Jeff Hertzberg.
Print
Pin
Ingredients
1/2

cup

brown rice flour

1/2

cup

tapioca starch

(tapioca flour)

2

cups minus 2 tablespoons

cornstarch

1

tablespoon

granulated yeast

1 1/2

teaspoons

kosher salt

1

tablespoon

xanthan gum

1 1/4

cups

milk

1/2

cup

honey

2

large

eggs

1/2

cup

vegetable oil

1

teaspoon

vanilla extract

3/4

cup

chopped pecans

Several more cups of cornstarch for rolling and dusting

2

cups

pastry cream

1 1/2

cups

quartered strawberries

3

tablespoons

ground cardamom

divided
Instructions
Whisk together the brown rice flour, tapioca starch, cornstarch, yeast, salt and xanthan gum in a 5-quart bowl, or a lidded (not airtight) food container.

Combine the liquid ingredients and gradually mix them into the dry ingredients using one of the following: a spoon, a food processor (with dough attachment) or a stand mixer with a paddle attachment. Mix just until there are no dry bits of flour. You might need to use wet hands to get the last bits of flour to incorporate if you are not using a machine.

Cover (not airtight!) and allow the dough to rest at room temperature for 2 hours.

While the dough is resting, toast your chopped pecans in a frying pan over medium heat. Roast them until they begin to turn a darker brown and emanate a lovely nutty aroma, about 2 minutes. Remove from heat and set aside to cool.

Coat your hands and a flat surface liberally with corn starch, and I mean liberally. Trust me – this dough sticks to everything, even parchment paper.

Turn the dough out onto starched surface, then spread and press with your hands until it is about 1 inch thick and roughly square shaped. Coat a rolling pin with cornstarch and sprinkle a little more on the surface of your dough. Roll the dough until it is 1/2 inch thick.

Using a knife dipped in cornstarch, cut the edges of the dough so it's relatively rectangular. Spread pastry cream around the dough, leaving a 1 inch frame around the edges for sealing.

Sprinkle strawberries around the dough square, making sure to layer evenly. Sprinkle the chopped pecans around as well, layering evenly, followed by 2 tablespoons of the cardamom (reserve the remaining tablespoon).

As tightly as you can without breaking it, roll the dough into a thick log. Cut into 6 equal-sized rolls with a very sharp knife. Coat your hands with a little more cornstarch and gently form the pastries into rough ball shapes.

Set a piece of parchment on a baking sheet (don't worry – with the amount of cornstarch you used by now, nothing will stick at this point) and place the rolls at least two inches apart. Cover loosely and allow dough to rest for 45 minutes. Preheat oven to 350°F while you're waiting, allowing the full 45 minutes so that the oven heats properly.

Sprinkled the tops of the pastries with remaining cardamom and bake in the center of the oven for about 22 minutes. The pastries are done once they start to brown nicely and are firm to the touch.

Let pastries cool on the baking sheet for two minutes, then remove from the pan and allow to cool on a rack before eating. Eat hot, right out of the oven, or allow them to cool fully before storing them in an airtight container for up to four days. I recommend reheating before eating, which will loosen up the gluten free bread in the rolls. If wrapped up tightly, these pastries can be frozen for up to a month.
Nutrition
Calories:
650
kcal
|
Carbohydrates:
85
g
|
Protein:
7
g
|
Fat:
32
g
|
Saturated Fat:
5
g
|
Polyunsaturated Fat:
7
g
|
Monounsaturated Fat:
18
g
|
Cholesterol:
78
mg
|
Sodium:
527
mg
|
Potassium:
353
mg
|
Fiber:
6
g
|
Vitamin A:
200
IU
|
Vitamin C:
34.7
mg
|
Calcium:
100
mg
|
Iron:
2.2
mg
This content was originally posted on FearlessFresh.com.