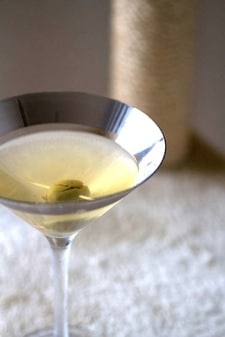 Today's guest post on the Golden Cafe cocktail recipes is from the ever-inebriated Josh Kirkpatrick, AKA Formica, who you've seen here in the past sharing his perfect chocolate martini and righteous beef stroganoff. He's back today bringing you not one, not two, not even three drink recipes – try four! Below you'll find four cocktails to keep you warm this winter (or spring or fall or whenever you're hankering for a stiff drink).
Bartending in Fantasy Land: The Golden Cafe 2010
Some people go to Hawaii. Others, the far east. Still others, Europe.
I go to Burning Man.
Black Rock City is an ephemeral place that emerges from the dust for a week or so every year. This year I was welcomed into the arms of my favorite bar on the playa, the Golden Cafe. As a fan of ethanol, I've generally felt I shouldn't be a bartender as a profession; it'd take something away from my enjoyment of drink. But at Burning Man, fantasy jobs aren't work, they're play. And play I did.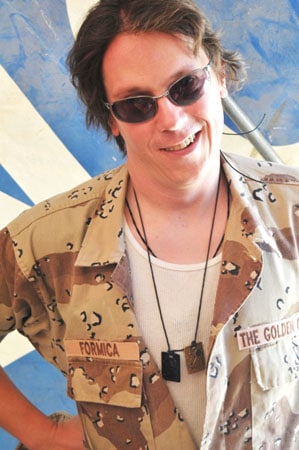 The Golden Cafe started in 2003 and has returned to Black Rock City each year hence. Their claims to fame include:
All cocktails are served in real glassware (most bars in BRC prefer that you bring your own cup)
A massive collection of top shelf liquor stands behind the bar for friends of the Café to choose from
Elegant supper clubs held after sundown offer a fantastic gastronomic experience on-playa
Live, original music is underway whenever the Café is open
Having been a friend of the Golden Cafe for a number of years, when the time came for me to find a new home on the playa, seeking them out was a no-brainer. Welcomed with open arms, I threw myself into preparing for the event with the Café. The experience was, in a word, extraordinary.
So Say We All
As some readers may already know, I am a nerd. A big one. 2010 has been a year to celebrate this like no other, and so I made myself a cosplay outfit from Battlestar Galactica.
And so it was that Lieutenant Formica found himself behind his favorite bar, facing down thirsty masses and attempting to figure out who was a cylon. Drinks were needed, but something more than an old standby or typical shot. I created two Battlestar Galactica-themed drinks and began serving them. I ran into capacity problems, abandoning shaking with ice for stirring with a bar spoon. Out of a normal liter-size shaker I could get 10 or more shots depending on how things came together. This made it easier to satisfy visitors, friends, and compatriots in short order.
Battlestar Galactica Cocktail Recipes at the Golden Cafe
The first cocktail recipe is called a "New Caprica", referring to the planet settled by the survivors of the cylon attack at the end of Battlestar Galactica Season 2.
New Caprica
One part cranberry juice cocktail
One part grenadine
One part lemon juice
Two parts vodka
One part of The blood of the fall of humanity (optional, hard to find outside Colonial space)
Combine all ingredients over ice and stir vigorously; the grenadine can get thick and not dissolve if it doesn't get well-agitated with the ice.
Strain into shot glasses and serve as a shot, or into a martini glass as a cocktail.
The second cocktail recipe is called an "Olympic Carrier", named for a rogue ship from the show's first episode, "33". The drink was the result of a donation to the Golden Cafe; someone gave us a half-gallon of guava nectar. Derivative of the New Caprica, an Olympic Carrier approaches sour candy territory with the addition of new juices.
Olympic Carrier
One part cranberry juice cocktail
One part grenadine
One part lemon juice
One part lime juice
One part guava nectar
Three parts vodka
One part radiological alarm (contact your local NBC response unit for more information)
Combine, stir, strain into shot glasses and serve as a shot, or into a martini glass as a cocktail.
Inkwell, Ginger Vodka, and Dust
Friday night, Inkwell and I trekked to the Temple. As it happens, we did it during what was by far the worst dust storm of the event. Rain early in the week had kept things cool and dust free for days, but by Friday the surface moisture was gone and the dust kicked up something fierce. It was fantastic and wondrous and it's probably a miracle we didn't get run over by an art car.
Upon our return to the Café, Inkwell asked me to fix her something with the ginger vodka she kept in her flask. I tasted it, ruminated, and started pacing behind the bar. I found a bottle of homemade apfelkorn, a German apple liquor, sitting there looking forlorn. I sipped the apfelkorn, contemplated it, deemed it a good idea, and went to find some ice.
There wasn't any.
This isn't exactly unexpected on a Friday night after serving Black Rock City's thirsty residents all day, but I'd hoped that some ice had survived.
And so it was, I mixed some ginger vodka with some apfelkorn in a Collins glass and filled the rest with some flattening soda water. This is Burning Man, and sometimes you make due with what you have.
Inkwell, Sati, and myself all sampled the cocktail recipe and determined that, if it tastes this good warm and flat it'd probably be dynamite with ice and fresh soda. Named for the woman who requested it, an Inkwell is an unusual synergy of flavors that plays out very well.
Inkwell
One part ginger vodka
One part apfelkorn
Ice
Soda water
Combine the vodka, apfelkorn, and ice in a shaker. Shake vigorously.
Pour into a Collins glass (with the ice) and top off with soda water.
I have considered garnishing with mint or basil as well, but I need to get some ginger vodka and apfelkorn first.
Gimlets
A good Gimlet on a hot day is a refreshing, delicious cocktail recipe. Unfortunately, many Gimlets are made poorly, and by poorly I mean with "sweetened lime juice" that's mostly high fructose corn syrup and industrial grade citric acid. One can also make a gimlet with simple syrup and fresh lime juice… but preparing a lime cordial is the way to go if you want a proper drink.
I made two quarts of lime cordial and brought a handle of Beefeater gin with me to the Golden Cafe. The first quart was gone Monday, and the second on Tuesday. To call it a hit is a bit of an understatement; these cocktails went quickly. Normally I would serve a Gimlet neat in a bucket, about half full, no ice. But in the interests of serving as many people as possible, I served them once more in shot glasses, and christened these mini-Gimlets "Gimmes".
Lime Cordial
For the Gimlet Cocktail Recipe (below)
(original recipe by Colleen Graham, modified by Josh Kirkpatrick)
1 1/2 cups water
3/4 cup plus one tablespoon of sugar
3/4 teaspoon citric acid (1 1/2 – 500mg non-chewable Vitamin C pills will do the trick; you can grind it like a spice in a coffee or spice grinder)
1/2 teaspoon tartaric acid (available from homebrew and home winery shops; cream of tartar from the grocery store works fine too)
Juice of 5 limes
Rind of 3 limes, cut into pieces
Thoroughly wash the limes, juice them, and cut up the rinds.
Combine the sugar and acid powders together. Bring the water just to a boil and dissolve the sugar and acids completely. You may have some residue from the outside of the Vitamin C pill if that's what you used; this is normal and will be strained out later.
When the sugar is completely dissolved, turn off the heat and add the lime juice and lime rinds. Turn the heat back on, stirring constantly, until the mixture just comes back to a boil. Once it's boiling, cover with a tight-fitting lid and remove the mixture from the heat.
Allow the mixture to steep, covered, for six hours. Sanitize a fine mesh strainer (boiling water or grain alcohol) and strain the mixture into a clean quart mason jar. For extra preservation, pour a splash of grain alcohol into the mason jar first, cap it, and shake vigorously to coat the inside with alcohol before filling. Keep refrigerated; if prepared correctly, the cordial will keep very well for months. Once you make a Gimlet with it however, I doubt it'll last that long.
Gimlet Cocktail Recipe
One part lime cordial
One part gin
Ice
Fresh lime wedge
Combine all ingredients, shake vigorously, strain and serve. Garnish with a lime wedge.
Two shots of each makes for a half-bucket's worth of Gimlet; just about right.
If you like these cocktail recipes, check out these others:
This content was originally posted on FearlessFresh.com.