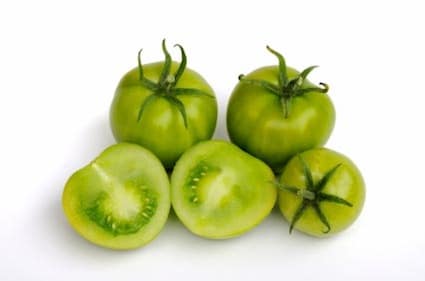 – Fried green tomato recipes have met their match. –
Not having a garden, I haven't made a green tomato recipe in years. A few weeks ago my friend Dennis gave me a huge bag of end-of-season produce, which included about five pounds of hard green 'maters. While I had originally planned on frying them, he talked about this wonderful stew he'd made by braising pork cubes in white wine along with chopped green tomatoes. A retired fireman who's generally difficult to impress and not prone to hyperbole, my ears perked up when he uttered the words, "one of the best things I've ever cooked." Sorry, fried green tomatoes, we're making stew.
One of the interesting things about cooking with under ripe tomatoes is that their texture is very different. They're very firm and don't have that squishy seed problem that ripe tomatoes have, so when you chop them, feel free to leaves the seeds. Also, green tomatoes are much lower in sugar and harder to digest than their ripe siblings, so eating them raw might not be a good idea if you're at all weak in the digestion. They go great in soups, though!
Note: This green tomato recipe can also be made in a slow cooker. Once you've deglazed the onion pan with white wine, combine all ingredients in the crock of your slow cooker, set it on low, and cook for 6-8 hours.
Green Tomato Stew with Pork Loin
This green tomato recipe is the easiest, most delicious stew you'll ever taste. Made with tender cubes of pork loin, this flavorful soup is a keeper.
Print
Pin
Ingredients
2

tablespoons

extra-virgin olive oil

1

small

onion

diced

1

whole

shallot

diced

2

cloves

garlic

diced

1

pound

pork loin

but into 1-inch cubes

1

cup

dry white wine

2

pounds

green unripe tomatoes

chopped

2

cups

chicken stock

1

whole

bay leaf

5-6

leaves

fresh sage

1

teaspoon

marjoram

1

teaspoon

salt

1

teaspoon

black pepper

1/4

cup

freshly chopped parsley for garnish
Instructions
Preheat oven to 225°F (107°C).

Heat olive oil in a small saucepan over medium-low heat and cook onions until they are tender and just beginning to brown, about 8-10 minutes, stirring occasionally to keep them from burning. Add shallot and garlic and cook for 1 minute, stirring constantly. Remove from heat.

Heat a Dutch oven over medium-high flame and sear pork cubes on all sides. Remove pork from Dutch oven and pour in white wine. Lower heat to medium-low and cook for 1 minute, scraping up all the good meaty bits on the bottom with a spatula.

Pour cooked onions and seared pork into white wine, then add tomatoes, chicken stock, bay leaf, sage, marjoram, salt and pepper. Cover Dutch oven and slide it into the oven. Cook for 3 to 5 hours, depending on how long you've got, stirring well once every hour. The longer the stew cooks, the more tender the pork will be. If necessary, add a little water or stock here and there, in 1/2 cup increments, to keep the stew from burning.

Serve hot, topped with freshly chopped parsley, or freeze for up to four months.
Nutrition
Calories:
289
kcal
|
Carbohydrates:
18
g
|
Protein:
18
g
|
Fat:
12
g
|
Saturated Fat:
3
g
|
Polyunsaturated Fat:
1
g
|
Monounsaturated Fat:
7
g
|
Cholesterol:
36
mg
|
Sodium:
1672
mg
|
Potassium:
945
mg
|
Fiber:
5
g
|
Vitamin A:
2150
IU
|
Vitamin C:
85
mg
|
Calcium:
120
mg
|
Iron:
4
mg
If you like this green tomato recipe, check out these others:
This content was originally posted on FearlessFresh.com.