I've been wanting to make homemade marshmallows for ages now, but being an avid baker, I've never really had a reason. I love marshmallow fluff, but don't eat the stuff very often — store-bought Stay-Pufts (or their generic counterparts) never really did much for me, with their weird, dry texture and powdery coating (though they were good in a cup of freshly made hot cocoa). And believe it or not, I'd never had a non-store-bought marshmallow in my life.
With the holidays rolling around, I was looking for a sweet cooking or baking project that I could take with me to my family's house on Christmas. After flipping through a handful of my favorite food blogs, past a billion fudge and holiday cake pop recipes, I came across a tutorial for Peppermint marshmallows on my friend Jun's site. That little feeling stirred in my gut, the one that tells me that something is going to be fun. I'd found my project.
So I set about researching the art of making marshmallows. The recipes were all similar, for the most part, but there were some variances. Most importantly, some contained egg whites. Having never made homemade marshmallows, I'm certainly not an expert — but I'd never heard of adding egg whites to marshmallows. I decided to make two marshmallow recipes, one with whites, one without, to see if there was a big difference.
A Tale of Two Recipes: DIY Marshmallows
The first dish I made was Alton Brown's from the Food Network which did not use egg whites. This recipe was super sticky and I got marshmallow fluff everywhere, but the finished product was tender and puffy; not as springy as the ones you get from the store, but I'm not a huge fan of those anyways. What I liked best about this particular recipe is that the marshmallows were moist, not like the parched, cottony ones I'd grown up with.
The second making marshmallows recipe I tried was from Gourmet Magazine, which used egg whites to add a little more airiness to the finished product. The reviews on this recipe promised fluffy, flavorful marshmallows and it delivered. Adding egg whites didn't make a huge difference to the level of puffiness in my marshmallows, but they were very good regardless. These too were tender and moist.
Which Recipe Reigned Supreme?
If I had to pick a favorite from these two recipes for making marshmallows, I liked Gourmet's the best. It wasn't necessarily more light and airy, but with the addition of the egg whites, these fluffy squares had a better, firmer texture, and were less sticky than Alton's version. If you're not careful when making marshmallows, it gets everywhere in your kitchen. You'll find marshmallow fluff on your clothes, in your hair, and stuck to the counter, cabinets, and sink. There's no way around it, really, unless you've got some serious baking ninja skills. Clearly, I don't.
After playing around with a few other variations for making marshmallows, I came up with my own recipe using a healthier sweetener – brown rice syrup – instead of corn syrup, though you're free to use whichever you have on hand. Of course I favor my own over the two above, but I invite you to try them all and let me know which you like best.
Also, check out this later post for a luscious chocolate marshmallow recipe.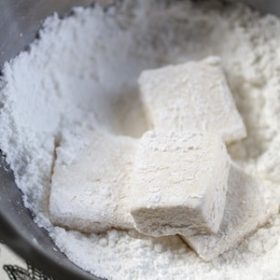 Fluffy, Tender Homemade Marshmallows
This homemade marshmallow recipe is light, airy, and easy as pie to make. A secret ingredient in the recipe makes them perfectly fluffy! Who knew making marshmallows was so easy? Yield: about 36 marshmallows
Print
Pin
Ingredients
2

tablespoons

vegetable oil

1

cup

powdered sugar

1

cup

cornstarch

3

tablespoons

unflavored gelatin

(just under four envelopes)

1/2

cup

very cold water

1 1/2

cups

granulated sugar

3/4

cups

brown rice syrup or corn syrup

1/2

cup

warm water

1/2

teaspoon

kosher salt

2

large

egg whites

at room temperature

1/2

teaspoon

vanilla
Instructions
Grease the inside of a 9″ x 9″ baking pan. In a bowl, mix powdered sugar and cornstarch until well blended. Coat the inside of the greased baking pan with 1/2 cup of the sugar and cornstarch, reserving the remaining amount for coating the finished homemade marshmallows.

Pour the cold water into the bowl of a stand mixer and sprinkle gelatin onto the surface of the water. Set aside.

In a heavy, high-sided pot, combine granulated sugar, brown rice or corn syrup, warm water, and kosher salt. Heat over a low flame and stir until sugar is completely dissolved. Turn heat up to medium and continue to cook, without stirring, until the mixture reaches 240°F (115°C) on a candy thermometer. The sugar will bubble up, but if you've got it in a pot with high sides, it shouldn't boil over. If it threatens to escape, remove the pot from the heat for a few seconds and stir the contents before returning to burner.

Once the sugar reaches 240°F (115°C), remove from heat. Immediately pour into gelatin and beat with a stand mixer using the whisk attachment until it becomes white, light and fluffy, about 10 minutes. You can use an electric hand beater, but it will take longer to fluff up, about 15-20 minutes. If you use a hand beater, be aware that the fluff will try to crawl up the beaters in its attempt to make a mess. Once done, the marshmallow fluff will have nearly tripled in bulk. Add vanilla and beat until well integrated into the fluff.

Beat egg whites in a small bowl until they reach stiff peaks. Scoop the whites into the marshmallow fluff and beat just until combined so that you don't flatten the whites.

Pour marshmallow fluff into the prepared pan and use a greased spatula to smooth out the top. Sift cornstarch and powdered sugar mixture onto the top to completely cover the marshmallows, and leave to sit over night, uncovered, to stiffen up.

Once the marshmallows have firmed up, cut them into 1″ x 1″ squares. Toss the individual marshmallows in a bowl of the remaining cornstarch and powdered sugar so that they are completely coated, otherwise they will stick to everything they come in contact with. You can also use sharp cookie cutters to cut out the marshmallows, like I did in the photo below.

Store in an airtight container for up to 3 weeks.
Notes
Nutritional analysis is based on using the corn syrup option.
Nutrition
Calories:
407
kcal
|
Carbohydrates:
96
g
|
Protein:
1
g
|
Fat:
3
g
|
Polyunsaturated Fat:
1
g
|
Monounsaturated Fat:
2
g
|
Sodium:
185
mg
|
Potassium:
15
mg
|
Iron:
0.2
mg
If you like this homemade marshmallow recipe, check out these others:
This content was originally posted on FearlessFresh.com.