Yes, you can make homemade ricotta cheese with nothing but milk, lemon juice, and an hour on your hands.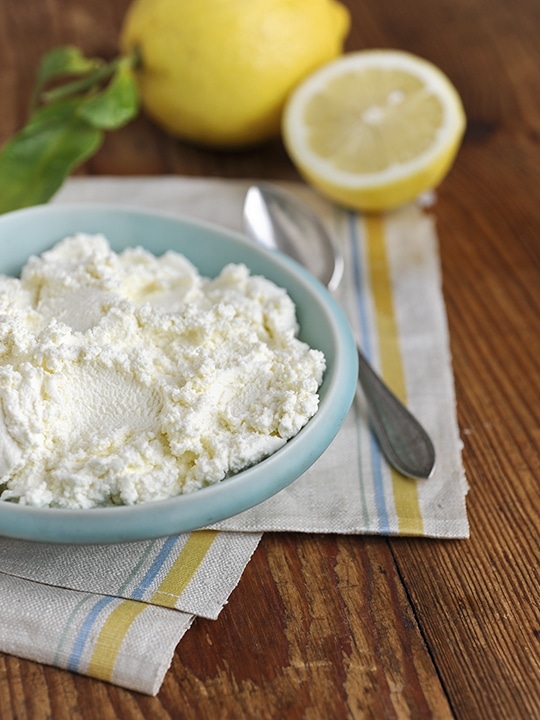 It's no secret that I'm a cheese fiend. Hell, I wrote a whole book on the topic of artisan cheese. You know you're passionate about something when you spend two years steeped in the process of writing about it! I also have a great recipe for learning how to make cottage cheese in five minutes, which is a super simple recipe.
How to make ricotta cheese at home
I recently discovered another person who is an excited about cheese as I am. Meet Claudia Lucero, another passionate cheese-ista. Claudia runs an Etsy store where she sells simple kits for making cheese at home. Her store has become so popular that she also wrote a book on cheese — and the best part is that it teaches everyday home cooks like you and me how to make homemade fresh cheese… in less than an hour.
Yup, you read that right. Her new book is called One Hour Cheese. This recipe for homemade ricotta cheese comes straight from her book. I highly recommend it.
Claudia was kind enough to answer a few questions on the craft of home cheese making, and I think you'll be surprised to find the whole process much simpler than you'd expect. Haloumi, chevré, fresh pepper Jack, mozzarella, paneer, and a few more. All without crazy specialized equipment.
One Hour Cheese also includes recipes for what to do with all these cheeses once you've made them, so be prepared to jump into a bunch of really easy sweet and savory recipes.
Homemade ricotta cheese with Meyer lemon
Further down the page you'll find a recipe for homemade ricotta cheese made with Meyer lemon, which you can use then to make a lusciously sweet cannoli filling (recipe forthcoming).
You can also stuff cookies or cupcakes with it, or do like I did and just eat it with a little silver spoon. Heh.
Please welcome Claudia and check out One Hour Cheese.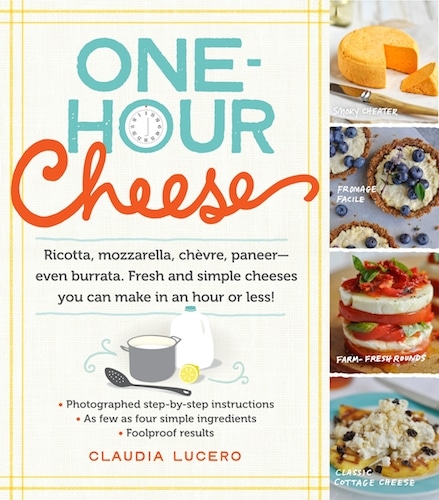 Your book is called One Hour Cheese. Is it really possible for the average person to make cheese in one hour? What kinds of cheese can you make in such a short time?
Yes! It really is possible. I'm hoping that most people are pleasantly shocked by this claim, and in fact these are the first words in the book. It is entirely possible for the average person in an average kitchen and that's why I wanted to write this book – to make it known, make it easy, and make it lighthearted!
The category of cheeses that I make in the book do not call for aging or culturing. They are fresh cheeses, so they are fast. All of the ones I detail in One Hour Cheese can be made in under an hour, some in half an hour.
Fresh cheeses like paneer, queso fresco, goat cheese, ricotta, and mozzarella can all be mastered, and from there you can mix up variations using different types of milk, such as cow's milk, goat's milk, whole, low fat etc.
You can also use different natural acids like lemon juice, vinegar, and even buttermilk to create endless variations. The customization and variety continues with fresh herbs, spices, even seeds or dried fruit! This homemade ricotta cheese is made with Meyer lemon.
What would you say to someone who believes they're too inexperienced in the kitchen or not a good enough cook to possibly make cheese?
I'd say, try it. Maybe it's the mystique behind making cheese that makes it feel different, but I believe the experience can feel different enough to encourage kitchen novices through the doubts.
It's not uncommon for me to see the non-cook in the family embrace cheesemaking as more of a science experiment. This homemade Meyer lemon recipe is a great example of an easy recipe to start with.
Sometimes just a simple shift in thinking can get us through mental blocks. If you can make a simple pasta dish, you can make these cheeses. Plus, I made sure that we included photos of everything from the spoons needed to the final look of a good curd, just to make sure I walk any nervous Nellies through every step. The recipes are labeled Easy, Easier, Easiest for a reason!
What are the benefits of making your own cheese, over buying it at the store? Is there a cost benefit?
I do see a cost benefit. Because the fresh cheeses in the book contain a lot of moisture (no aging/drying), the yield is generous. When you buy the milk and make your own, I'd say you get at least twice as much cheese for the same cost as most cheeses of the same quality.
Of course you have to figure in your time, but that is the reward of a skill and craft, a benefit that is beyond cost.
Once readers have mastered the cheeses in this book, what's the next step?
The next step is creating your own combinations using the base recipes I give. There is so much that can be done with them and testing will help readers learn more about how milk and curd behave when factors are tweaked. Like, you can add chopped herbs for a simple way to dress up this homemade ricotta cheese recipe.
Once that familiarity and confidence is built, they can move on to cultured and aged cheeses if they feel so inclined, but it's not needed.
These recipes are enough to work with, and you can expand on them as long as you have flavor ideas. I do include some book resources for those who are looking to move on to aging cheeses.
Curds and whey
As a fun aside, when you make this recipe you'll be making curds and whey, just like the nursery rhyme.
Homemade Ricotta Cheese with Meyer Lemon
Historically speaking, ricotta is made with whey—it's actually a by-product of other cheesemaking. But our batch uses less than a gallon of milk to make ricotta—versus the more typical 500 gallons—so if we used whey, we would only get a few measly teaspoons. Like many smaller operations, we will add milk for a larger yield! This whole milk and cream version will give the traditional whey recipe a run for its money. Further, we will use sweeter Meyer lemons for our acid, imparting a faint, sweet essence that will leave folks guessing.

Its delicate flavor and texture make this ricotta especially wonderful for desserts (cheesecake!) and breakfast favorites (blintzes!) but it also blends nicely in savory dishes with rich sauces. Experiment with half of your batch and add tidbits like herbs, cracked pepper, seeds, dried fruit, and so on, to create a snacking cheese that goes well with crisp veggies or crostini.
Print
Pin
Ingredients
For the cheese
3

whole

Meyer lemons

(1/4 cup Meyer lemon juice)

1

quart (4 cups)

whole cow's milk - not ultra-pasteurized!

1

pint (2 cups)

cream

1/4

teaspoon

flake salt

or to taste
Supplies
Citrus juicer

1/4

cup

measuring cup

Small mesh strainer

2-

quart

stockpot

Large mixing spoon

Cooking thermometer

Large colander or mesh strainer

Fine cheesecloth

Large heat-resistant bowl

(optional, for whey collection)

1/4

teaspoon

measuring spoon

1-

quart

bowl
Instructions
Measure out 1/4 cup of lemon juice. Squeeze the lemons and strain for pulp.

Pour the milk and cream into the pot.

Pour the lemon juice into the pot and stir thoroughly. Set to medium heat.

You may already see some curds forming within seconds. Stay close and monitor the heat, stirring every few minutes to prevent a skin from forming on the milk's surface and to check for sticking milk at the bottom. (Reduce the heat if needed.)

Check the temperature once you see steam rising from the pot as well as little foam bubbles forming around the edge. Curds will form rapidly as the milk approaches the target temperature of 190°F, and it will look more like thin oatmeal.

This is coagulation! Keep checking the temperature, and continue to stir, very gently this time, so that the newly formed curds are not broken up. Turn off the heat when it reaches 190°F.

Take the pot off the burner and allow the curds and whey to sit undisturbed for 10 minutes. The curds will release more whey during this time.

While you wait, line the colander with cheesecloth. Optional: Place a bowl under the colander to collect the whey (highly recommended—see "Uses for One-Hour Whey," page 31, for ideas). Otherwise, place the lined colander in the sink.

Pour the curds and whey through the cloth.

Allow the whey to drain for about 10 minutes or until you get the creamy texture of smooth mashed potatoes.

Gather the cloth into a bundle and give it a gentle squeeze to strain out that last bit of whey. The whey from this creamy cheese is somewhat milky in appearance. (Compare that to whey for mozzarella, which will be more clear.)

Place the cloth full of drained cheese back in the colander, and add the salt.

Stir just until the salt is mixed in thoroughly. Salt helps release more whey, and air dries out cheese, so if you stir longer than necessary, the cheese will be crumbly instead of creamy.

Stir minimally for the creamiest ricotta! While warm, the consistency will be loose and creamy.

It's ready to eat! Scoop it into a bowl for eating right away or chill it for a firmer texture.
Video
Nutrition
Calories:
307
kcal
|
Carbohydrates:
12
g
|
Protein:
7
g
|
Fat:
25
g
|
Saturated Fat:
16
g
|
Polyunsaturated Fat:
1
g
|
Monounsaturated Fat:
7
g
|
Cholesterol:
92
mg
|
Sodium:
188
mg
|
Potassium:
390
mg
|
Vitamin A:
950
IU
|
Vitamin C:
10.7
mg
|
Calcium:
280
mg
|
Iron:
0.2
mg
This content was originally posted on FearlessFresh.com.