– A French cheese plate that channels cheerful little hoofbeats. –
The dark weeks after the holidays always seem harder than the weeks before, don't you think? For me January comes in like a freezing wet blanket, with its biting chill and blank, bewildered skies. The frenetic pleasure run of December is gone now. Maybe what I'm feeling is an activity hangover, or perhaps it's grief over the sudden loss of holiday cheer. The world has traded its vivacious reds and greens for a more muted palette: dark gray, light gray, and that indescribably depressing color of dirty snow.
I'm not one to linger in apathy, though. I subscribe to the "feed a cold" line of thinking, and I treat bouts of seasonal lethargy the same way. And can you think of a better way to dispel the winter doldrums than with an inspired cheese plate?
These four French goat cheeses make up a lively cheese plate, each in their own individual way. Some are tart, others are more subdued. At least one prances between both camps, leaving little hoof prints across both your palate and your heart. If you're feeling down, I recommend digging up a handful of almonds, a few fresh apples, and a bowl of dried cranberries — then faceplant straight into the middle of this cheese plate, no holds barred.
Just what the doctor ordered.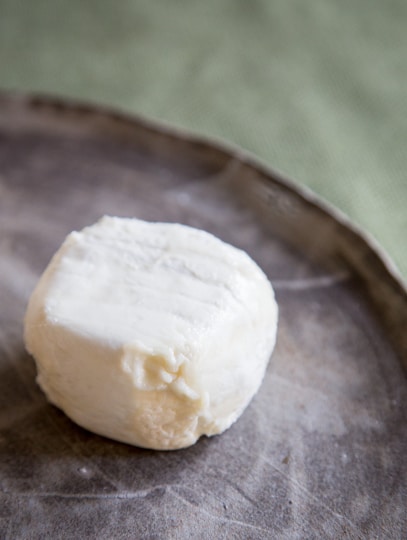 Crottin de Chavignol – France, Goat
A creamy little puck of fresh goat cheese, Crottin Chavignol is nothing if not alive. Tart and sour, with a fresh lactic nip, this is goat's milk at its throaty, most minerally best. Faint whispers of sweet grassy fields and Loire breezes wind their way through this cheese's squarely goaty persona, but in the end it's the texture that won me over, both creamy and chalky, growing more compelling as you eat your way through the small wheel. A nub of lively love if there ever was one.
Bethmale – France, Goat
Semi-firm and gently fatty, this Bethmale is a more assertive version of its generally cow-centric cousin of the same name. Smooth and pocked with endearing little holes, Bethmale is understated with hardly a hint of goaty pungency. Instead you're presented with a lightly buttery cheese, a kiss of lactic zing followed by a touch of gold on the tongue. I sense grassy, almost vegetal layers, with what I swear was a hint of asparagus (though I suspect that these green notes will be reinterpreted widely by every person who tastes it). This mild cheese is a good one for folks who don't like being bowled over by strong flavors. It's happy to smile and nod, a polite guest at your party.
Chabichou – French, Goat
This is a complex little goat cheese if there ever was one. Profoundly meaty while still grassy and nutty, Chabichou gives up the goods in a variety of ways; its chalky core is firm and stout, tart and awake, while the delicate creamline is perhaps the meatiest part of the whole cheese. A breathe of umami envelopes your palate, nearly as savory as a bowl of fresh, hot chicken soup. Drop this little unassuming little guy into the middle of your cheese selection and he will be the talk of the plate.
Florette – French, Goat
Another goat's milk brie in a long line of them, Florette is robust at first, with initial meaty notes that come on like a high school wrestler. But after that first fisty handshake, you'll find this cheese has a somewhat complex inner beauty: sweet as honey, with an fanciful Rico Suave smoothness. There's a little goaty personality here to be sure, but the layers of sweet cream resonate with a nearly bovine influence. A curious little cheese that may be a good gateway for those not terribly enamored with the ways of the goat.
This content was originally posted on FearlessFresh.com.