There's a lot of debate over how long to roast a chicken, and what's the "right way" to do it. What's the ideal temperature? How do you get the crispiest skin? How do you keep the breast from overcooking when the things might be undercooked? Is basting a waste of time? What sort of knife do you need to carve it?
I've roasted a lot of chickens in my lifetime, and after a good deal of trial and error, I've come up with some solid conclusions.
But there's one thing you need to do to make sure you don't overcook your chicken, and it's not something you may have considered before: salting ahead of time.
Time and Salt = Chicken Roasting Magic
If you salt your chicken 12 to 24 hours ahead of time, something magical happens: the salt permeates the chicken meat, all the way down to the bone, and that salted meat becomes a lot more forgiving when it comes to overcooking.
That's not to say you can go waaaay over in your chicken roasting time — because a pre-salted chicken can and will definitely still overcook — but if you do salt it ahead of time, the meat will stay moist for a few degrees higher than it would have had you not salted it early. Basically, it gives you more wiggle room.
And, a pre-salted bird tastes better, no matter how long you roast your chicken. This is because instead of just carrying salt on the surface of the meat, the salt seasons the bird all the way through to the middle, so each bite has a nice, even lightly salty flavor. It basically seasons the chicken from within.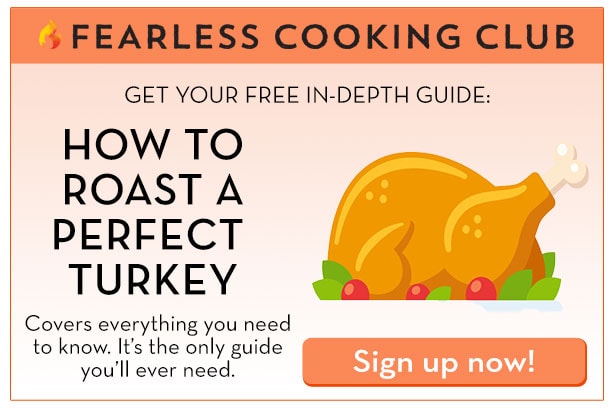 (All of these instructions work for chicken, too!)
How long do you roast for?
Now, down to the nitty-gritty of time, temperature, and everything else. If you want to know how long to roast a chicken, I've got a list of advice below that will show you how to take your whole chicken and roast it to perfection.
Of course the amount of time depends on a few factors, such as how big your chicken is and how long it's been out of the fridge. But overall, it's a super easy process and the advice below will guide you through without any drama. You can even print it out and stick it on your fridge.
Also! If you're trying to learn how to roast chicken, you should know that meat safety is a big issue. I've added a free meat safety guide this post, which you can download by clicking the image below.
How long to roast a chicken in the oven?
It's super simple to figure out how long to roast a chicken, but people still get hung up on it. Seriously, roasting chickens is one of the top things I get asked about as a cooking teacher.
The number one problem people have is having the breast dry out, and the second problem people have is that the thighs are too raw. What's a well-meaning home cook to do with such a puzzle? Well, I've included all the advice you'll ever need in the list below.
Because I love you guys, I've also got a great guide here on how to roast a turkey so that it comes out tender and evenly cooked every time.
I promise, perfect roast chicken is not difficult. It just takes a little practice and help along the way. The tips below will help you hone your technique so that you're roasting perfect chickens every single time.
And here are two quick videos that talk about some of the finer points of how to roast a chicken:
How Long to Roast A Chicken
If you want to learn how long to roast a chicken, the tips below will show you how to roast a perfectly tender whole bird.
Print
Pin
Cook Time:
1
hour
30
minutes
Total Time:
1
hour
35
minutes
Instructions
Larger birds meant for roasting have a heartier taste, while smaller fryers tend to be less flavorful. Organic chickens taste a little better to me, though most people won't be able to tell the difference.

The jury is in: 400°F (204°C) is the perfect temperature for cooking a whole chicken. You'll get crispy skin and a fairly quick dinner without compromising tenderness.

The proper cooking time depends on the size of your chicken. A 4-pound chicken should take about 1 to 1-1/2 hours to roast at 400°F (204°C). I highly recommend a meat thermometer, one that stays in the chicken while it cooks and lets you set an alarm for when it reaches the proper temperature. This keeps you from continually opening the oven door, which will greatly increase your cooking time.

Basting the bird won't give you crispier skin. In fact, you'll get limp, soggy skin and it only marginally affects the flavor.

Some argue that rubbing the entire bird with fat, inside and out, doesn't affect the flavor, but I disagree. It depends on the fat, though – olive oil won't give you a flavor boost, but butter mixed with a heaping dose of salt and herbs will yield a tasty dish indeed. I didn't notice that it makes the skin much crispier, but Sunset thinks it does.

When learning how to roast a chicken, you should know that it doesn't matter what orientation you roast the bird in. Breast up, breast down, or flipped over halfway through – no position will make the breast more moist.

Stuffing some flavored fat (such as butter with salt and herbs) under the skin will help flavor meat, but don't go overboard. Too much fat will just just make the meat greasy. A dab under the skin of each drumstick, thigh, and side of the breast is all you need.

They (whoever "they" are) say that you're supposed to cook a whole chicken to 180°F (82°C), but I find that 170°F (77°C) yields a perfectly moist bird that's still cooked completely through. Make sure to measure in the thickest part of the breast.

Let your bird rest for a few minutes after you take it out of the oven. A good ten minute nap will let everything settle and keep the moisture where it belongs: in the meat.

The easiest way to guarantee that pieces of breast will be moist is to let them soak in the chicken's juices for a few minutes after they've been cut. This includes the fatty runoff from what you've rubbed over the surface or stuffed under the skin.

You want the entire bird to roast evenly and have crispy skin all over, so consider elevating it off the surface of the roasting pan. A small roasting rack will do the trick, which allows air to circulate under the bird – crisping it all the way around. Or get

one of those pokey racks

that holds the chicken upright, crisping all possible skin. (YES!!!)

GET A DECENT OVEN THERMOMETER. 'Nuff said.

Don't waste the juices in the bottom of the pan! Reduce in a saucepan with a little white wine, and you've got an amazing sauce.
Nutrition
Calories:
667
kcal
|
Protein:
57
g
|
Fat:
46
g
|
Saturated Fat:
13
g
|
Polyunsaturated Fat:
10
g
|
Monounsaturated Fat:
19
g
|
Cholesterol:
282
mg
|
Sodium:
219
mg
|
Potassium:
592
mg
|
Vitamin A:
2400
IU
|
Vitamin C:
11.6
mg
|
Calcium:
30
mg
|
Iron:
0.7
mg
And I've even got two posts on how to make perfect pork chops:
This content was originally posted on FearlessFresh.com.