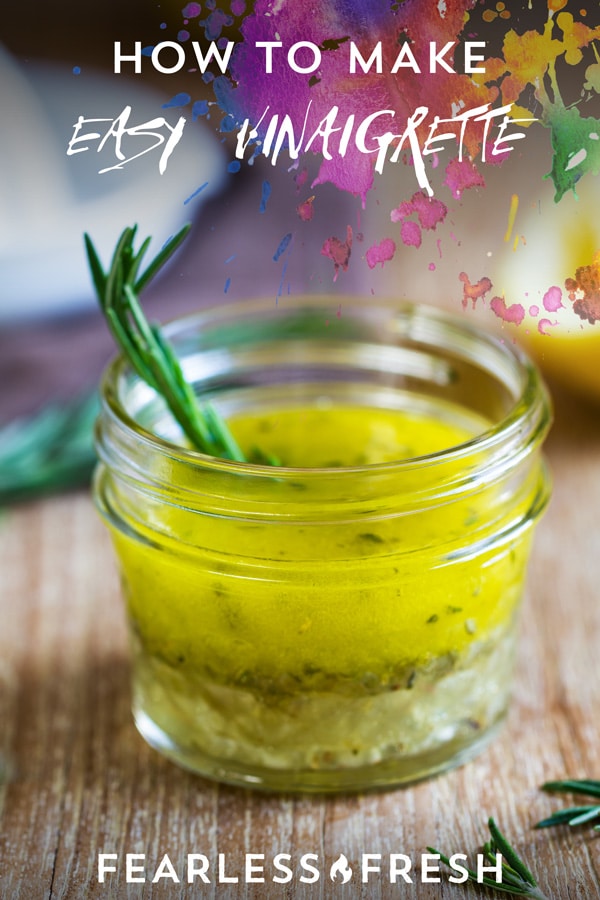 Learning how to make salad dressing — even a really easy vinaigrette — is NOT on my priority list.
I'll be honest. I'm not a salad person and I will probably NEVER be a salad person. (Except for non-standard versions like this watermelon-feta salad recipe…) I came from a family where "salad" meant wilted brown iceberg lettuce and waxy pink tomatoes that tasted more like plastic than anything that came from the ground. Even as a modern adult, in a world where salads are piled high with all sorts of delicious things, I still have a hard thing thinking of salad as food.
Instead, my thoughts are more along the lines of, "Fine, I'll eat it if I have to… but only if you guarantee it will keep me from dying a slow, horrible death." And I'm not the only one that feels this way. (Warning: There are hilarious curse words at the other end of that link. ? <3 Kelsey.)
Really, that's not a great way to think of salad. We need greens to, you know, stay alive and sh*t. So how can we make salad tempting? Or even, daresay, a feast you would actually want to eat?
The first step is learning how to make salad dressing… and the easiest kind of salad dressing to make is a vinaigrette. And here are some other tips for making epically flavorful salads.
How to make salad dressing – easy vinaigrette method
There are a million different ways to learn how to make salad dressing. You've seen row after row of dressings at the grocery store: Ranch, Italian, Russian, Caesar, bleu cheese, thousand island… there are literally thousands to choose from. (And FYI, the term "French dressing" is just a fancy name for vinaigrette.) I'll eventually show you how to make all of these crazy salad dressings, but first we're going to start with the easiest: How to make a vinaigrette.
Vinaigrette is literally four or five ingredients, added to a jar and shaken. That's it. Now do you see why I'm starting here? ?
Also, vinaigrettes have a disproportionately high flavor to effort ratio, meaning they add a whole lot of awesome and require almost no work. In my book that gets an A+++++ WOULD BUY AGAIN. [sic]
How it works
When learning how to make salad dressing, what exactly goes into a vinaigrette? Well, only two things are mandatory: Oil and acid. (Oh, and a little salt… because salad without salt tastes like licking the bottom of your green waste bin.) Here's the master vinaigrette ratio:
3 parts base oil + 1 part simple acid + flavoring
Like I said above, you add these goodies to a jar, shake, and voila — instant salad dressing. That's literally all you need to do. (What, no applause of the proper use of the word literally?) Now let's go through each component step-by-step:
Base oils to start your vinaigrette
Let's start with the easiest part, the oil. What kind of oil should you use as the base for your vinaigrette? Here's a list of the most commons oils most people use:
Vegetable oil
Sunflower oil
Grapeseed oil
Olive oil (extra virgin works great here, if it's mildly flavored)
Now, here's the important thing about base oils: They need to be relatively subtle or neutral, or they'll overpower your vinaigrette. Even a really strong olive oil can beat you over the head if it's not balanced with a new neutral oil. So stick with a neutral oil for your base and read below for more on how to use stronger flavored oils. ⬇️
Simple acids to boost your vinaigrette
This is where you can really go crazy and use almost anything you want. When it comes to simple acids to add to your salad dressing, you can use whatever you think tastes good. The sky's the limit. (Having difficulty restraining my use of literally here…) Also, here's a quick factoid: If you use citrus juice in your vinaigrette, then you've actually made a citronette.
Check out these acid options:
Balsamic vinegar
Champagne vinegar
Sherry vinegar
Malt vinegar
Apple cider vinegar (also crazy strong)
White wine vinegar
Rice wine/rice vinegar/mirin
Red wine vinegar (careful, this one is SUPER strong)
Lemon juice
Orange juice
If you're just learning how to make salad dressing, stick with one kind of vinegar to start. Once you've gotten the feel of how to make a vinaigrette, feel free to mix and match your acids. But REMEMBER: but don't go over the 25% acid standard ratio. Remember, 3 parts oil to 1 part acid. That means don't add any more vinegar until you've completely mixed your vinaigrette, tasted it, and decided it needs more acid.
Salt and pepper
There's no solid amount of salt and pepper that you should add to salad dressing, but I usually add BARE MINIMUM 1/4 teaspoon of each, and that's for a small amount of vinaigrette. I recommend starting with 1/4 teaspoon, shaking up the jar, and then adding a little more salt and pepper to taste.
A note on emulsifiers
Here's a little helpful food science if you're new to making salad dressing. When you shake up a vinaigrette, you're creating a simple emulsion. What the hell am I even saying? Here's a quick explanation: oil and water obviously don't like to mix. When you do manage to mix them — such as when you make mayonnaise — you've created an emulsion. An emulsion is basically an even dispersion of tiny droplets of oil into liquid (or liquid into oil).
Now, there are a couple different kinds of emulsions: permanent and temporary.
A permanent, stable emulsion stays mixed (obvs). Stable emulsions include mayonnaise, cheese (!), and even chocolate (!!!). Mind blown?
A temporary, unstable emulsion separates after a few minutes. It will mix again once agitated, then separate again. Unstable emulsions include… your vinaigrette.
What does this mean? It means your vinaigrette will separate once you've stopped shaking the jar, and within a few minutes will return to several layers of oil-and-vinegar stubbornness. BUT! There's a trick that will help it stay mixed together for longer!
Enter everyday emulsifiers. Mustard and egg yolks* contain natural emulsifiers, which will hold your salad dressing together longer. Just add a small spoonful of either one to your jar and shake as usual. The longer you shake the jar, the longer the emulsion will hold.
*Raw egg yolks are obviously one of those "eat at your own risk" things. I eat them on occasion, but I buy farm-fresh eggs where I know the chickens personally. That said, I would never serve raw eggs to children, the elderly, or the infirmed. (It's not cool to kill people, y0.) You might consider buying pasteurized egg yolks, which would be safer.
Stop here or keep going?
Now, at this point you can shake up your vinaigrette and serve it as-is, with just oil, vinegar, salt, and pepper. If you're just learning how to make salad dressing, you might want to stop here the first time and see what a clean, basic vinaigrette tastes like. OR! You can continue down the path to ninja-ness, and add a few more elements to boost the flavor. In which case…. continue.
How to make salad dressing: FLAVOR BOMBS
Adding flavor to vinaigrette takes only another 3 minutes, and you might be surprised at how some of these simple goodies will blast your taste buds through the roof. This is where we get into the really good stuff — like mind-blowing flavor that beats the pants off store-bought dressings… for WAY cheaper.
Adding fresh or dry herbs
Next, you'll want to consider adding a few freshly chopped herbs (check out my best advice for working with fresh herbs). Fresh herbs add a TON of flavor to salad dressing without added effort or cost. You can use dry herbs as well, if that's what you've got. I add 1 teaspoon of fresh herbs (or 1/2 teaspoon of dry) per 1 cup of vinaigrette. Here are some of my favorites:
Chives
Oregano
Rosemary
Thyme
Marjoram
Tarragon
Mint
Other flavorings that will smack you in the face
So, what other extras can you add to a vinaigrette for even more flavor? Oh, my dear friend. Let me show you ALL THE THINGS you might add to your vinaigrette. You can add any one of these things, using about 1 teaspoon per 1 cup of vinaigrette:
Mustard -> a little Dijon will change your life here
Mayonnaise or aïoli
Red pepper flakes ??
Crumbled bacon — YAAASSSSSS
Grated Parmesan cheese ?
Sour cream or plain yogurt
Honey ?
Brown sugar
Garlic or shallots (minced)
Capers (minced)
Cornichons (minced)
Anchovies ? (minced) –> don't twitch, I promise they're really good.
Secondary oils
Also, you might have noticed that I used to term "base oil" above, which indicates there may be some other kind of secondary oil involved. (Gold star for noticing: ⭐️) There are many oils out there that are stronger in flavor, so you don't want to use them as your base oil, lest you be overpowered by GACK.* But they're perfectly happy being used as an additional flavoring, so you can add 1 or 2 teaspoons to 1 cup of vinaigrette for a little extra BLAMMO.
Sesame oil
Coconut oil
Walnut oil
Avocado oil
Almond oil
Peanut oil
SHAKE LIKE THE DICKENS
Once you've got all your ingredients in a jar, slap the lid on tightly and shake that jar like your life depended on it. The longer you shake the longer the emulsion will hold, especially if you've added a little mustard or egg yolk (see above for a note on emulsifiers). You can go ahead and serve your dressing now, but I like to add one more step.
Time for a disco nap
After all of this salad dressing excitement, I like to let my vinaigrette sit in the jar 5-10 minutes before I serve pour it over the salad, to let the flavors meld a little. Then just give it one final shake to re-mix, and dress your salad like a freaking pro! After this little rest, you can also strain out any bits if you prefer.
How to dress a salad
Now this might seem like a silly thing to explain, but I think it's important to mention that you don't just dump a bunch of dressing on a salad and call it a day. I mean, you CAN do it this way, but there's a much better way. Here's how the pros do it:
First, don't add dressing to the salad until right before you serve it, as the vinegar and salt will quickly wilt your greens and make them look really, really sad.
Add salad greens to a large metal bowl. Bigger than you might think, to keep from making a huge mess.
Use a large spoon to drizzle a couple spoonfuls of dressing over the greens. Using a spoon makes sure you don't add to much on accident (which can happen when you pour).
Use tongs, two forks, or your hands to toss the salad so that every leaf has a little vinaigrette on it. If you're adding cheese, seeds, nuts, or additional herbs, add them now. Add a little more dressing if you need to, and keep tossing until well dressed. And I mean, well dressed. Dry salads suck.
Now dish the dressed salad into individual bowls. Any excess dressing will stay in the large metal bowl and prevent over-dressing, so you'll end up with the perfect amount of vinaigrette in your salad. Yay!
How long will your vinaigrette keep?
If you don't finish your vinaigrette, just put the lid back on the jar and keep it in the fridge. Vinaigrette will hold up for up 3 days if kept sealed and chilled — the oil and vinegar won't go bad, but any additional items you added to your dressing (herbs, egg yolk, etc.) will start to spoil after the 3-day mark. And vinaigrette doesn't freeze very well, so I wouldn't even bother trying.
PHEW! Now what?
That was a WHOLE LOT of information, wasn't it? I'll make it easy for you. Below you'll find a simple recipe for learning how to make a salad dressing using the easy vinaigrette method, step by step.
*GACK = TFW you put something super overpowering in your mouth and panic while you decide if you want to spit it out or can force yourself to swallow it.
**TFW = That Feels When
How to Make Salad Dressing (Easy Vinaigrette)
When learning how to make salad dressing, a vinaigrette is maybe the easiest thing you can throw together in your kitchen -- you literally add 4 ingredients to a jar (one of them is salt/pepper) and shake the jar. That's it! You can get a little fancier if you want to add extra flavor, but that's just a matter of chopping some herbs and tossing them in the jar. Voila, instant delicious salad in 2 minutes.
Print
Pin
Ingredients
3/4

cup

vegetable oil

1/4

cup

balsamic vinegar

1

pinch

kosher salt

1

pinch

freshly ground black pepper

1

teaspoon

fresh herbs

chopped (optional)
Instructions
Add all ingredients to a jar. Tightly place the lid on the jar and shake well. Remove the lid and taste. Does it need more salt, pepper, or vinegar? Then add a little more. Shake and taste again.

Once the flavor balance is as you like it, let the salad dressing sit at least 5 minutes to let the flavors meld. Shake it again before pouring over your salad.
Notes
You can add almost anything to your vinaigrette to customize it to your preference. Click the image below to grab your free printable chart with instructions on how to make your own customized vinaigrette.  
This content was originally posted on FearlessFresh.com.
Nutrition
Calories:
364
kcal
|
Carbohydrates:
1
g
|
Fat:
41
g
|
Saturated Fat:
5
g
|
Polyunsaturated Fat:
9
g
|
Monounsaturated Fat:
24
g
|
Sodium:
30
mg
|
Potassium:
17
mg
|
Calcium:
10
mg