Learning how to make white rice is pretty easy, so why am I dedicating an entire post to recipes that use rice? There's no denying it, autumn is officially here. Summer produce has long-since waned and I've start digging out my scarves and fuzzy socks.
This time of year, right around Columbus Day, my culinary choices turn to more comfort-type foods: grains, meats, legumes, and root vegetables. I start contemplating beefy stews, dreaming of thick bean-based soups, and lazy Sunday spent wrapped up in a blanket on the couch.
But while these projects tug at my gastric yearnings, they are, after all, projects. All of them take hours to produce – worthwhile hours, I swear – and sometimes you just want something simple, easy, and comforting.
That's why fall is time to celebrate rice, the perfect autumn food. (And while white rice is great, I've also become a huge fan of brown rice lately because of its high fiber content. It's worth mentioning.)
How to Make White Rice – A Primer
Years ago, when I had no idea how to make white rice, I actually had to ask someone how to do it. (I had a big container of bulk rice with no instructions.) Then, once I knew how to cook the rice, I had to decide what I was going to do with it.
That long ago, I had to hunt all over to find recipes that used white rice in interesting ways, but the cooking gods have bestowed upon us this lovely thing called the internet, and it has quickly become the ultimate cooking tool. Don't get me wrong–I'm still a complete cookbook nerd; I literally have thousands of them, lining the walls of my apartment. While I still dig into them almost every day, this website had become a repository for some of my favorite recipes that can't be found in books.
In celebration of autumn, I'd like to present you with my favorite recipes from The Culinary Life archives, specially picked for when you learn how to make white rice. This humble little grain can be gussied up in all sorts of incredible ways, so take advantage of the stash you've inevitably got hiding in your pantry!
A Treasury of Recipes that Use Rice
Simple Mint Rice
– This incredibly tasty rice dish is packed with mint and cilantro, creating a fresh, green dish that will lighten up any dinner. A healthy dose of Indian spices add a little heat, bringing this recipe to perfect Ayurvedic balance.
Risotto Carbonara
–
Casey Barber's favorite pasta dish
turned into her new favorite risotto. The deeply browned pork fat on the bottom of the saucepan makes for a deep, almost beefy sauce, while the high-starch rice contributes crucial creaminess without adding a drop of heavy cream.
Easy Tilapia with Spiced Brown Rice
– Once you learn how to make white rice, it's time to master brown rice. An easy sautéed fish with an easy side of spiced rice. Can dinner get any better?
Congee, the Perfect Cold Season Soup
– Congee is quite possibly the most warming, comforting dish on the planet. White rice is slow cooked to cream perfection, then topped with savory accoutrements of your choice. WAY better than Chinese takeout.
Martha Stewart's Stuffed Cabbage Rolls Recipe
– Guest blogger Brette Sember presented us with a wonderfully rich rice and meat-filled stuffed cabbage recipe, compliments of Martha Stewart. There is nothing more wintery than a heaping plate of stuffed cabbage; you can almost picture yourself sitting in at a freezing cold table in Poland, enjoying your
gołąbki
.
Healthy Eating for the Weak and Weary: Tips for Cooking with Whole Grains – If you want to start eating healthier but don't have the time to invest in cooking all those whole grains, here are some tips to up your fiber intake while chiseling away at your hours spent in the kitchen.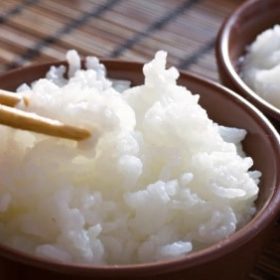 How to Make White Rice
Learn how to make white rice. This simple rice recipe makes for the tastiest white rice you've ever eaten, and if you like, add a few simple spices to take it to the next level!
Print
Pin
Ingredients
2

teaspoons

butter

or oil of your choice

1

cup

dry white rice

2

cups

water

1/2

teaspoon

salt

1/2

teaspoon

cumin

(optional)

1/4

teaspoon

cinnamon

(optional)

2

cardamom pods

(optional)
Instructions
In a pot with a snug fitting lid heat the butter or oil over medium heat until it shimmers. Add rice and fry, stirring constantly, for 2 minutes.

Add water and stir well. Allow water to come to a boil and add salt. Stir in spices, if using.

Turn heat to low and cover pot, leaving the lid slightly askew to keep it from boiling over. Let simmer for 7 minutes. Remove from heat and allow to sit, covered for another 7 minutes. Fluff rice gently with a fork and serve.
Notes
Nutritional analysis does not include optional spices.
Nutrition
Calories:
220
kcal
|
Carbohydrates:
37
g
|
Protein:
3
g
|
Fat:
6
g
|
Saturated Fat:
4
g
|
Monounsaturated Fat:
2
g
|
Cholesterol:
16
mg
|
Sodium:
327
mg
|
Potassium:
55
mg
|
Fiber:
1
g
|
Vitamin A:
200
IU
|
Calcium:
20
mg
|
Iron:
2
mg
This content was originally posted on FearlessFresh.com.