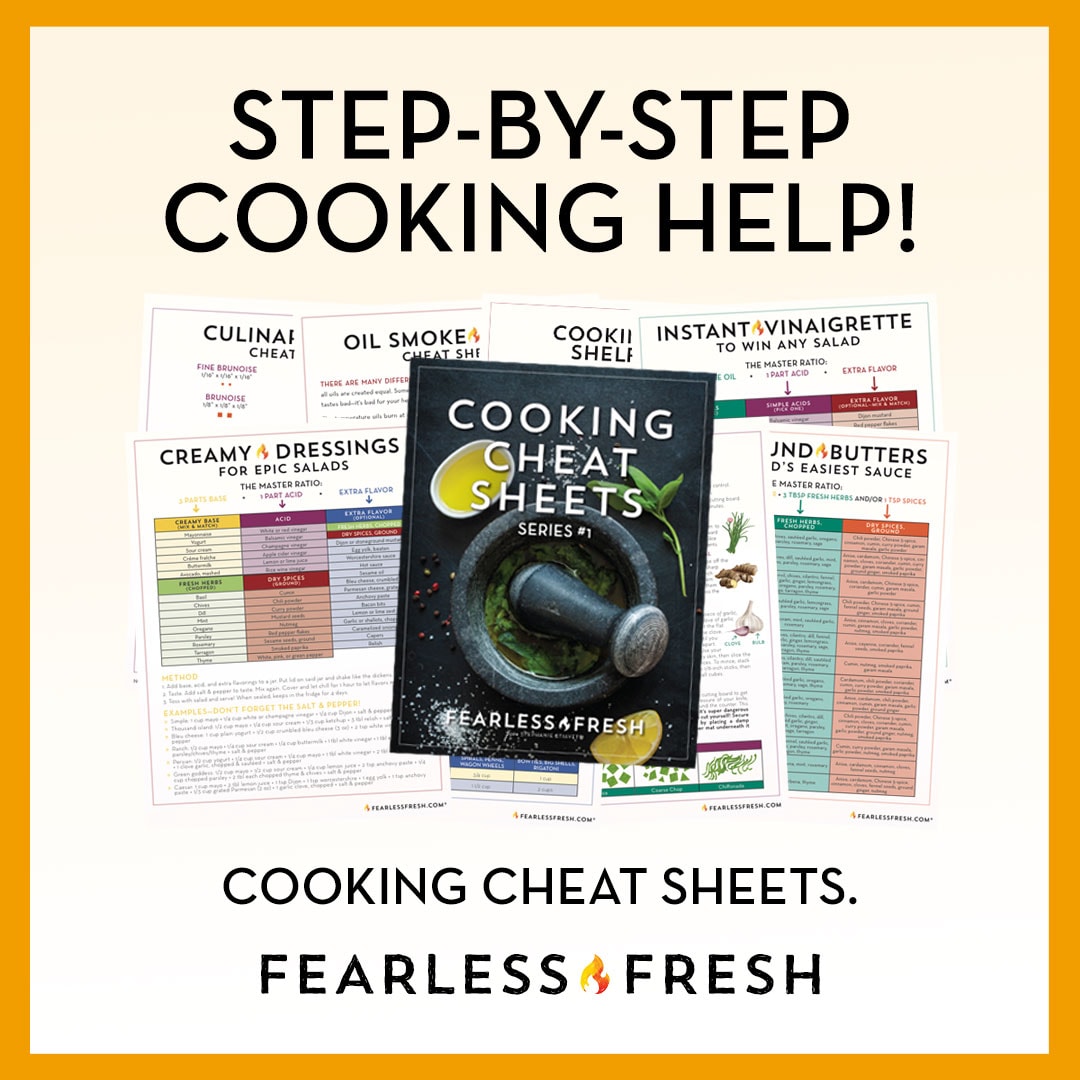 OMG, I am SO freaking excited. Like, I can barely sit still while writing this email.
I've shared a little of the journey with you in past emails, and now it's official: after days, weeks, MONTHS of work, the Fearless Fresh Cooking Cheat Sheets are finally done. I've crammed so much heart and soul into creating these guides for you, and I can't wait for you to see them.
Fearless Fresh Cooking Cheat Sheets are like having a cooking teacher right there in the kitchen with you. These colorful cooking guides are full of easy-to-read recipe tables that allow you to mix and match ingredients, so you can create flavorful dishes with complete ease.
I'm preselling the cheat sheets for a discount until October 20th. I'll be taking orders for the next two weeks and shipping them out the first week of November. Scroll down for a discount code!
If you want the whole story, check out the page where I lay out all the details. Otherwise scroll down for the highlight reel.
Now, take a peek at these beauties:
So, what exactly are Cooking Cheat Sheets? Instead of making this email a mile long (and I could with how excited I am about these things) I'll give you a quick rundown of why they're awesome.

First, I've created two separate sets of Cooking Cheat Sheets:

My inaugural set of cooking guides, Cheat Sheets Series #1, includes charts will guide you through making creamy salad dressings, chopping herbs and vegetables, making the world's easiest sauce, and more.

The Mega-Measurement Guide is full of done-for-you kitchen math, so you'll never have to convert measurements in your head again. 
Second, both sets are available in either physical laminated format or digital downloads.
The digital versions are in PDF format and compatible with any digital device.
The printed versions are full-color hand-held guides, printed on thick 100# cardstock, and covered with 10mil lamination for maximum durability. Three-hole punching through the lamination allow you to store your cheat sheets in a binder, so they're always at arm's reach when you need them.

Third, I designed Cooking Cheat Sheets with ease and creativity in mind. They'll teach you how to:
Easily cook dinner without a recipe

, with basic ratios where you just fill in the blank

Learn the in's and out's of ingredients, do you

know exactly what to expect

when you cook

Knock your knife skills into stratospheric levels, so you can chop like a freaking chefs while

your friends give you the jealous side-eye

Develop your palate by expanding your flavor memory, meaning that you'll instinctively know what flavors will go together,

allowing you to create epic recipes on your own

Make solid cooking decisions based on health, flavor, texture, and what you've got in the fridge
Limited Earlybird Discount!

For the next two weeks I'm offering all Cooking Cheat Sheets sets in a bundle at a discounted rate of 15% off + free shipping. If you order now, you will get the your cheat sheets will ship the first week of November.

If you're in the Facebook group, you'll find a 10% off code there. Hop into the group here.