– This Korean kimchi pancake recipe is my new favorite breakfast. –
A few weeks ago I shared about something totally new for me – how to ferment kimchi, which became a staple in our home once my roommate Eun-ji moved in. Eun-ji grew up in Korea and makes all sorts of interesting things with kimchi: soups, snacks, and my personal favorite, savory kimchi pancakes. It took me a few weeks to get used to having kimchi on the menu around the clock, but it finally grew on me and now I can't imagine life without it…. especially her kimchi pancake.
On lazy weekends while we lay around in our pajamas, Eun-ji sometimes makes kimchi pancakes for breakfast. They're also an easy side dish for dinner, and a perfect late night snack when we wander in at 1 am with a serious case of the munchies. Over time I became crazy addicted to Eun-ji's super simple kimchi pancake recipe, with its crispy edges, spicy heat, crunchy cabbage, and savory garlic flavor. It's the perfect example of quick and easy comfort food.
Coincidentally, this kimchi pancake parade began right after I had a chat with my amazing friend and naturopath Jean Layton, who told me that my recent lab work showed I had a distinct lack of stomach acid, which was preventing food from digesting properly (and causing all sorts of not-fun problems). Kimchi is a fermented food and contains a huge number of healthy compounds, including probiotics that aid digestion. Jean officially prescribed me a kimchi-heavy diet to help resolve my tummy issues. So far it's doing the job.
All hail this simple Korean kimchi pancake recipe
One day I told Eun-ji I wanted to learn how to make kimchi pancakes, so we sat down with all the ingredients and she showed me how to go about making it. She also told me a story about how her mom, Kwon-Hee, used to make kimchi pancakes for her, and how they always made them on rainy days because the pancake frying in the oil sounds like heavy rainfall on the ground.
Eun-ji uses the Ottogi Korean pancake mix, which costs about $4 at our local grocery store, but you can use any Korean pancake mix in the Asian section of your local supermarket. (The big chain store near our house carries four different varieties!) I've noticed that some Korean pancake mixes contain MSG, so it might be worth a look at the ingredients before picking one.
Now that I can make my own kimchi pancakes, it's my turn to share it with you. While they're perfect any time of day, I particularly love them on a rainy Saturday morning.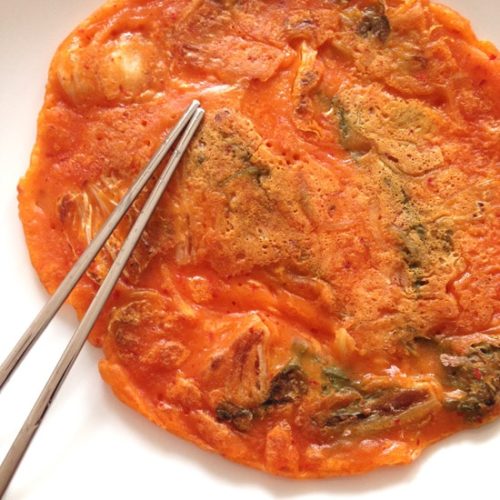 Korean Kimchi Pancake Recipe
This bright, garlicky, and slightly spicy Korean kimchi pancake recipe is probably the easiest recipe you can find on the internet. Great for breakfast or lunch, it takes literally 15 minutes to put together from beginning to end, and gives you an amazingly light but hearty meal.
Print
Pin
Servings:
3
8-inch pancakes
Ingredients
1 1/2

cups

Korean pancake mix

1 1/4

cups

water

add more as needed to adjust batter consistency

1

cup

kimchi

chopped, with juice

1/4

small

small onion

sliced into strings (or 2 chopped scallions)

3

tablespoon

hot sauce

(optional)

1

tablespoon

olive oil

Optional dipping sauce

(recipe below)
Instructions
Combine the pancake mix with the water in a medium-sized bowl and stir until well combined. Make sure you get out all the lumps. The batter should flow easily and have a relatively thin texture, like crepe batter or thin pancake batter, so you can add a little water here if you feel the batter is too thick. Stir in the kimchi with its juice, and hot sauce, if using. Stir in onions.

Heat a medium frying pan over medium heat-high heat. Add a small amount of olive oil to the pan and heat until it shimmers. You want the pan and the oil hot enough so that the pancake turns out crispy at the edges.

Pour just enough batter into the pan so that it covers the entire bottom without overfilling it, making sure to include the onions and kimchi bits. If the pancake is too thick, it won't cook through. It should be about 1/4-inch thick.

Cook the pancake for 2 minutes, or until you get a 1-inch border around the edges that looks dry. Flip the pancake over and cook another 2 minutes. Serve hot with dipping sauce.
Nutrition
Serving:
1
pancake
|
Calories:
46
kcal
|
Carbohydrates:
1
g
|
Fat:
5
g
|
Saturated Fat:
1
g
|
Monounsaturated Fat:
3
g
|
Sodium:
381
mg
|
Potassium:
35
mg
|
Vitamin A:
50
IU
|
Vitamin C:
15.7
mg
|
Iron:
0.2
mg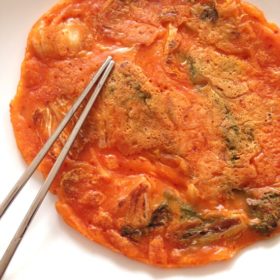 Korean Kimchi Pancake Dipping Sauce Recipe
This optional dipping sauce goes great with my Korean kimchi pancake recipe. It actually goes well on many korean pancakes - and even salads! - so make a bunch and store it in the fridge!
Print
Pin
Ingredients
1 1/2

tablespoon

sesame oil

1 1/2

tablespoon

rice vinegar or white vinegar

3

tablespoons

soy sauce

2

whole

chopped chili peppers

1

pinch

salt
Instructions
Add all ingredients to a jar and cover with a lid. Shake well until combined. Serve immediately or store in the fridge for up to a week.
Nutrition
Calories:
83
kcal
|
Carbohydrates:
5
g
|
Protein:
2
g
|
Fat:
7
g
|
Saturated Fat:
1
g
|
Polyunsaturated Fat:
3
g
|
Monounsaturated Fat:
3
g
|
Sodium:
1031
mg
|
Potassium:
142
mg
|
Fiber:
1
g
|
Vitamin A:
250
IU
|
Vitamin C:
99.8
mg
|
Calcium:
10
mg
|
Iron:
0.7
mg
This content was originally posted on FearlessFresh.com.