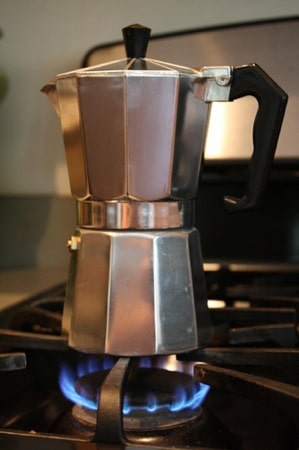 Today's post is compliments of Paula Jones, a food writer who blogs at bell'alimento. I love her site for many reasons – she's fun, lively, and the food is amazing! Plus her photography is gorgeous and she's constantly making me hungry. :)
I've asked her to write a guest post here at Wasabimon because I know you'll love her as much as I do. So without further ado…
Hi! My name is Paula and I am the recipe developer & food writer for bell'alimento. Bell'alimento (Italian for "beautiful food") is a fresh food blog specializing in Italian cuisine (but we do on occasion, venture outside of our box every now and then). Our philosophy is that beautiful food doesn't have to be complicated. Simple can be good, even extraordinary!
When Stephanie asked me if I would like to do a guest post on Wasabimon I was honored. I love the snappiness of her site & her recipes and stories always keep me coming back for more. I thought long and hard about what I wanted to write about, and settled on espresso! I've been quite a night owl lately and have been relying more and more on my morning espresso to get me going. I thought I'd share how you can enjoy the perfect cup of espresso each morning in your own kitchen. Yes, gasp! It's truly possible to have an amazing cup of espresso without going to Starbucks or the like.
So you might ask, is this going to cost me an arm and a leg to purchase a fancy schmanchy high tech machine that I'll have to hire a barista to use? Well you CAN purchase one of those machines, but the good news is you don't have to. All you'll need is a Moka Pot (here's a link), some water and coffee (preferably Italian, well what did you expect me to say? LOL).
Above is my Moka Pot that I brought back from when I lived in Italy many many many years ago. She's not as shiny as she used to be, but she still works like a champ!
To give you a little history: The Moka Pot was created in 1933 by Alfonso Bialetti. His stove top espresso maker revolutionized the preparation of espresso coffee, and is still the most popular way of making espresso at home. Especially in Europe. For those interested in the technical part: the coffee is prepared by creating steam pressure in the bottom chamber that forces hot water up through ground coffee and into the serving chamber. The steam pressure produces a smooth and creamy coffee with a distinctive frothy cap. Me, I just like to know that it makes an ah-mazing cup of coffee that even a novice can prepare!
Okay, if you've never used a Moka pot I'm sure you're thinking, this can't be as easy as that? Well it is and I'll show you.
Making Espresso in a Moka Pot
Making expresso have never been simpler! Learning how to use a moka pot is really easy, once you have a visual guide. And this is that guide!
Print
Pin
Servings:
2
cups of coffee
Ingredients
1-4

tablespoons

espresso-ground coffee

(amount varies depending on the size of your moka pot)

Water

(amount varies depending on the size of your moka pot)
Instructions
Unscrew the bottom chamber from your pot and remove the filter. Fill bottom chamber with cold water (to just below the steam release valve). Okay, so far not too complicated, right?

Replace filter back into bottom chamber and fill it with espresso GROUND coffee. Level it off (no need to pack it in) and screw the top chamber onto the bottom chamber.

Place the pot on the stove-top with low to medium heat. When the pot makes a sweet gurgling sound (this could take 10-15 minutes - but hey, give it a chance, it's so worth it) the brewing is complete.

Okay, I really don't recommend that you lift the top while it's working it's magic, but I wanted to show you. Ah, look at that espresso. I want you to know that I risked life, limb and lens for this photo. Okay, maybe not life LOL.

Now for the hard part. Okay not really, but do carefully remove the pot from the stove. It will be HOT so have a kitchen towel or oven mitt handy. Pour into your cute little espresso cups and serve! Espresso is usually served in 1-1/2 - 2 oz servings.
Notes
Nutritional analysis is based on using 4 tablespoons of espresso.
Nutrition
Calories:
3
kcal
|
Sodium:
4
mg
|
Potassium:
34
mg
I hope you'll agree that this is one ah-mazing cup of espresso! Here's a cup for you until you can run out and pick up a Moka Pot of your own!
Thanks again to Stephanie for letting me stop by! It was such a pleasure!
This content was originally posted on FearlessFresh.com.