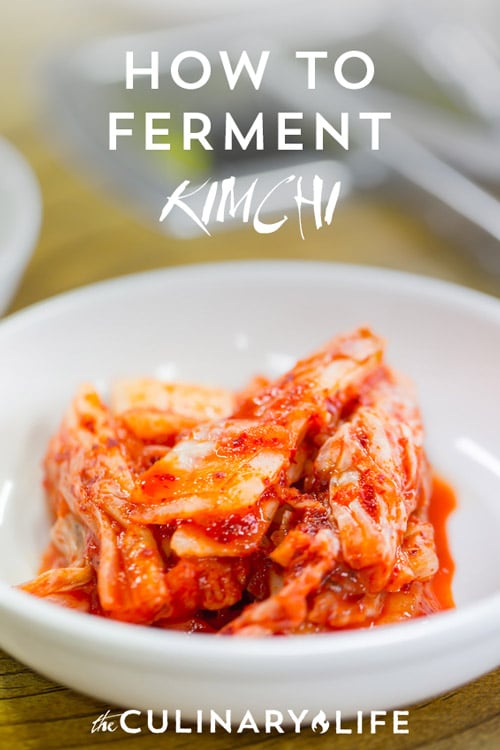 Five years ago I never thought I'd be asking myself how long to ferment kimchi. I consider myself an adventurous eater, but Korean food was something I'd never connected with. Kimchi in particular was tough for me, as it carried a bunch of flavors and smells I wasn't used to. I generally limited my cabbage intake to either my Russian beef and cabbage stew, or the occasional stuffed cabbage roll.
It didn't matter that several dieticians and naturopaths had recommended I eat kimchi – aka, fermented cabbage – regulary to help with some digestion problems I have. Kimchi is fermented, which provides all sorts of probiotic goodness to your gut and can help when you have low stomach acid or suffer from indigestion.
As a professional foodie at large, I don't consider myself a picky eater. In fact, picky eaters drive me nuts – so I doubly hate it when I realize that I'm avoid an entire swath of the culinary world. Over the years I'd tried to expose myself to more Korean foods, and while I was getting used to them, I still wasn't enjoying them.
Then a new roommate moved into my apartment, a smart, funny Korean girl named Eun-ji. Which means fermented cabbage became a part of my everyday life.
Eun-ji cooks with a lot of kimchi and she knows how long to ferment kimchi, so the smell is always around. When I walk in the door, and especially when I open the fridge, I'm met with the aroma of garlic and spice. Apparently a lot of Americans don't like the smell of kimchi, and there's a fair number of Koreans living in America that kibosh the stuff altogether to keep their American roommates from freaking out. In fact, in Korea, they sell specialized kimchi refrigerators to keep the smell contained.
Personally, I didn't mind the smell. And I eventually came to enjoy it.
(Shortly after moving in, Eun-ji told me a story about how she was talking to her mom, Kwon-hee, on the phone, and she told Eun-ji to get rid of the kimchi, because the smell would obviously upset me.)
Eun-ji and I became friends, so we're constantly sharing food. At first I had a hard time getting used to the new flavors she was creating, especially the kimchi. But over the period of a few months, I finally got used to kimchi – and I also noticed that when I ate something with kimchi in it, my stomach was the picture of perfection for the next 24-hours. Nice!
Finally, it got to the point that I was really, really digging this kimchi stuff. I was eating it plain, mixed into eggs, and in my very favorite Korean recipe ever, the kimchi pancake. As an American girl who was raised on the sweeter side of breakfast, who knew I could enjoy something so savory for my first meal of the day?
This week marked a milestone: for the first time, I bought my own jar of kimchi. I brought it home and sat there staring at the jar, with the lid bulging from the pressure inside. Honestly, I was a little concerned about opening it. I poked at the jar until Eun-ji came home, because I had no idea what to do with it.
The simple art of fermenting kimchi
According to Eun-ji, the key to getting kimchi to its signature sour flavor is to let it ferment a little more after you bring it home. All you need to do it open the jar, set the lid loosely back on top, and then let the jar sit out on the counter for the rest of the day. (Or in the sink, as the content of the jar can bubble out during fermentation, making a mess.)
Note: Taking the lid off your jar of kimchi before letting it sit out is really important, as I learned the hard way. 
Since kimchi is stored in the refrigerator section of the grocery store, the fermentation process has been slowed down by the cold. Fermentation starts again when you let the jar sit out at room temperature, creating pressure in the jar. If you let your kimchi sit out without taking off the lid, when you do open the jar you'll discover you've been fermenting a high-velocity kimchi volcano. Eun-ji cautions that if enough pressure builds up the jar will actually explode. So do yourself a favor and loosen the lid, mmmkay?
All that said, you don't have to ferment your kimchi at all, if you prefer the fresher flavor of raw kimchi. In fact, she says her dad prefers it this way, so they keep a separate jar of raw kimchi in the refrigerator for him.
So, how long to ferment kimchi, anyways?
When learning how to ferment kimchi, the amount of fermentation time can vary depending on a few factors:
How fermented was your kimchi when you brought it home? Open the jar are check it out. Does it smell sour? Does the contents of the jar bubble when you jostle it? Then you've already got some fermentation going, and you probably don't need to let it sit out more than a few hours (unless you like it really sour).  If it just smells like seasoned cabbage and doesn't bubble at all, you'll probably want to let it sit out for most of the day to get a more satisfying sour flavor.
How hot is the ambient temperature? Kimchi, like anything else, will ferment faster in a warm environment. So if it's summertime in Chicago, your kimchi will ferment a lot faster than it will during January in Vermont.
Your own personal taste are a big factor. If you like your kimchi super sour, then let it ferment longer. If you like it more mild, limit the fermentation time to just a couple of hours.
How do you know when your kimchi has fermented long enough? Smell it and taste it. If you're happy with the flavor, close the lid and out it back in the fridge. Then eat it over the next few weeks.
Happy fermenting! I found this handy kimchi taste test if you're curious about trying kimchi but don't know which brand to pick up. As always, buy one that doesn't have any weird preservatives in it. The one I have here contains only Napa cabbage, garlic, onion, spices, salt and a tiny bit of sugar to help the fermentation along (less than a gram per 1/4 cup serving). That's all you need!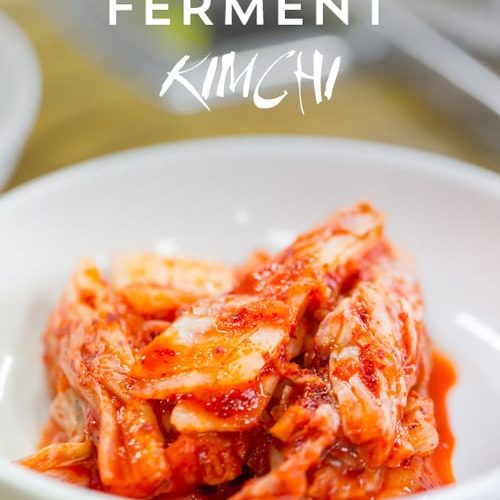 Making Kimchi: How Long to Ferment Kimchi
It's a very good question: how long to ferment kimchi at home? Thankfully it's a very simple answer - it depends!
Print
Pin
Total Time:
7
hours
5
minutes
Servings:
1
jar of kimchi
Instructions
Remove the lid from the jar (set a paper towel over the lid first, in case the kimchi bubbles out). Set the lid loosely on top of the jar so air can escape.

Set the jar of kimchi in the sink, in case it bubbles over while fermenting.

Let the jar sit at room temperature anywhere from 2 to 8 hours, depending on how sour you want it. Every few hours, smell and taste the kimchi. When it's at a level of sourness you like, replace the lid and store the jar in the refrigerator .
This content was originally posted on FearlessFresh.com.