Today's guest post for stuffed cabbage rolls comes from Brette Sember. I'll let her share the rest of the story, because it's really is a good one. Here's Brette – please make her feel welcome and say hello in the comments!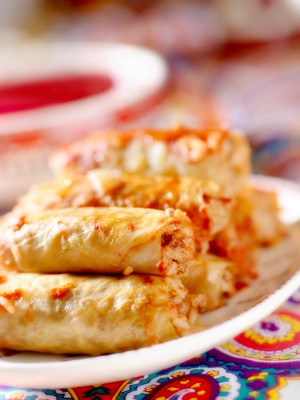 Inspired by Martha Stewart Recipes & Crafts
About a year ago, I started my blog MarthaAndMe as part of a quest. I was facing 40 and even though I have a happy life with kids, husband, dogs and work I love, something was missing.
Maybe it was a typical midlife crisis, but I was looking for something more – more exciting, more interesting, more engaging – to make the everyday rhythm of life a little less dull.
I'd been mulling this missing ingredient in my life when I ran into the Martha Stewart Living November 2008 magazine issue in the grocery store checkout line.
The turkey on the front lured me in (glistening, golden and perfect, I could almost smell it), but the interior of the magazine got me hooked. Everything Martha presented was so beautiful, fulfilling, and full of life.
And there were so many possibilities – table settings, handmade wreaths, amazing food, organized drawers.
What would happen, I wondered, if I tried to do one Martha Stewart project every day? Could I have an elegant, pristine home that smelled of homemade bread and was free of clutter?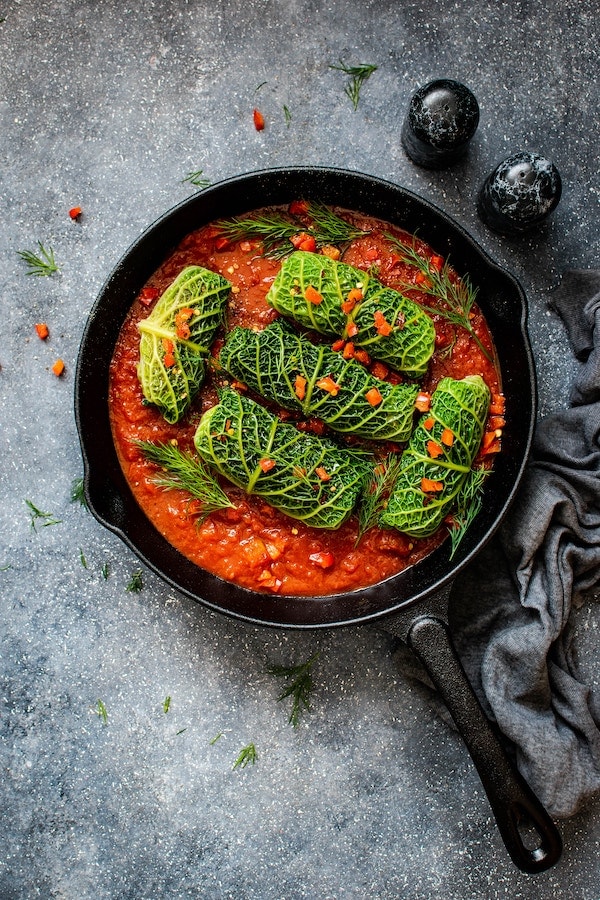 I committed to do one Martha project per day for an entire year. I don't think I quite realized what an undertaking that was, but one year later I can tell you I've learned a lot, tried things I never imagined I could do, and had my share of failures.
It's been like apprenticing to an unfamiliar career, going to cooking school, opening a shop on Etsy, and hiring myself as a cleaning service. It has changed my life in many ways.
I've learned so much about myself and have had my eyes opened to possibilities I didn't know existed.
I've come to appreciate the small things in life and have learned how to find small things I can do that make big differences in our lives.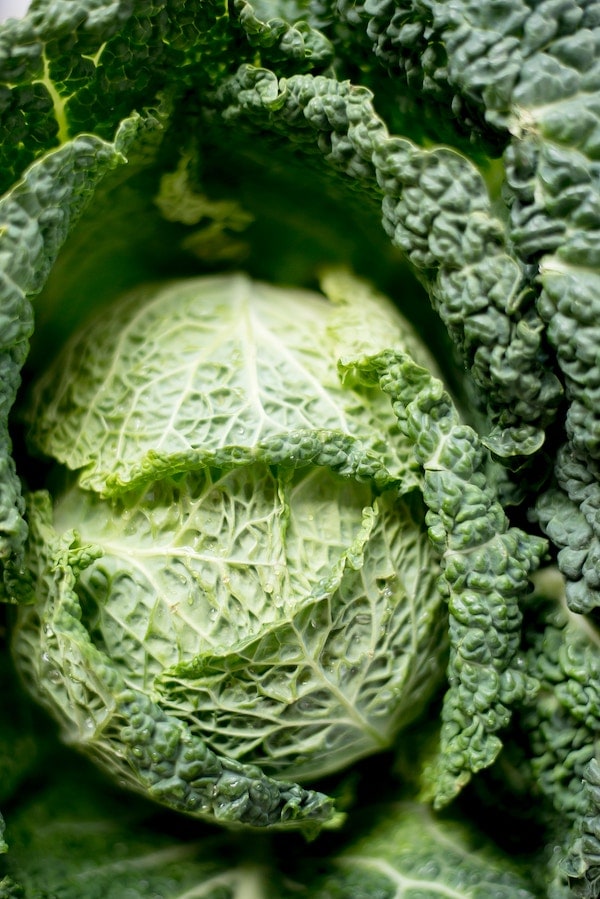 A Delicious Turkey Stuffed Cabbage Recipe
One of the fascinating things I've learned is that while many (more than I ever would have predicted) of Martha's recipes are duds, there are several that are true gems – some of which I would never have tried were it not for this project.
One of the biggest 'out on a limb' recipe I loved is Martha's stuffed cabbage rolls recipe (I was sure I was going to hate this!).
It's actually her mother's recipe. I watched Martha make this on her show last November and bravely tried it myself a few days later. I was shocked and stunned to find I loved it.
It's like a pasta dish, but without the pasta. The cabbage does not stink (cabbage really has a bad rap) and is instead tender and wonderful. I've made it a few times and have made some adjustments to the recipe so that it's now become part of my own family treasures.
I think you'll love the combination of ground meat and rice, hidden inside tender cabbage leaves and covered with tomato sauce.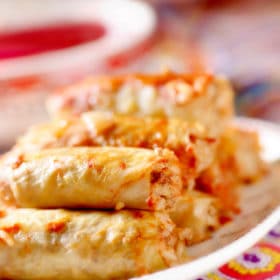 Martha Stewart's Healthy Turkey Stuffed Cabbage Rolls
This is the best stuffed cabbage rolls recipe you'll find. Rich and meaty, hearty and warm. One of the best Martha Stewart Recipes on the Internet.
Print
Pin
Ingredients
2

quarts

water

1

large

head of cabbage

2

tablespoons

butter

1

large

onion

chopped

1

clove

of garlic

finely chopped (or 1 tsp of jarred minced garlic)

2

cups

cooked brown rice

1

pound

ground turkey

(you can substitute a mixture of ground beef and pork if you prefer)

Salt and freshly ground black pepper

to taste

1

tablespoon

dried parsley flakes

2

whole

celery stalks

finely chopped

1

whole

green pepper

finely chopped

4

cups

tomato puree

1

whole

apple

peeled, cored, and chopped

1/2

cup

sour cream

plus more for garnish
Instructions
Remove the center core of the cabbage. Boil 2 quarts of the water in a stockpot that is not made of aluminum (aluminum will react with the cabbage, or so says Martha). Add the cabbage and cook for 2-3 minutes until the outer leaves are tender. Remove the outer leaves and continue cooking the rest, removing outer leaves and cooking the interior until all the leaves are cooked and removed. Reserve two cups of the cooking water.

Cut away the bottom of the center vein on each leaf. Place 4 large outer leaves at the bottom of the stockpot.

Melt the butter in a pan and add the onion and garlic, cooking until it is golden.

Mix onion/garlic mixture in a bowl with ground meat, rice, salt, pepper, parsley, green pepper, and celery.

Place 1/4 to 1/3 cup of the rice mixture on each cabbage leaf. To roll the leaves up, fold in the sides, then begin rolling from the bottom of the leaf, tucking the edge of the leaf under the finished roll. Place the rolled leaves in the stockpot and place the chopped apple on top.

Mix tomatoes and reserved cabbage water in a bowl. Pour enough into the stockpot to almost cover the cabbage. Bring to a boil, then reduce heat to low and cover and simmer for 1 hour until the cabbage is tender. Add more reserved tomato/water mix while cabbage cooks if the level drops too far.

Optional garnish: Mix sour cream with ¾ cup of the sauce from the stockpot. Return it to the pot and stir, being careful not to disturb the cabbage rolls. I've also discovered this is quite good with Parmesan cheese sprinkled on it. It fools me into thinking I'm eating pasta.

Substitution note: Feel free to swap out a jar of spaghetti sauce for the pureed tomatoes. Martha will never know, and you might enjoy having the additional herbs and spices in your dish. I've made it both ways.
Nutrition
Calories:
394
kcal
|
Carbohydrates:
47
g
|
Protein:
21
g
|
Fat:
15
g
|
Saturated Fat:
7
g
|
Polyunsaturated Fat:
2
g
|
Monounsaturated Fat:
5
g
|
Cholesterol:
79
mg
|
Sodium:
836
mg
|
Potassium:
1454
mg
|
Fiber:
10
g
|
Vitamin A:
2850
IU
|
Vitamin C:
120.5
mg
|
Calcium:
160
mg
|
Iron:
4.7
mg
This content was originally posted on FearlessFresh.com.