– A super easy lemon bars recipe with Meyer lemons and a gingersnap crust? That you don't have to bake? YES PLEASE! –
Baking can be hard work. You know it, I know it, the world knows it. Even impassioned bakers who bake for the sheer joy of it – and I am one of them! – know that between the heat, the exact measuring, and the seemingly random, ever-present  chance of abject failure, baking can be intense. But we keep at it, either because we love the process or the end product, or both. It's sort of like long-distance running — you do it because you're compelled to keep going.
During the summertime, though, the idea of turning the oven on makes me want to poke myself in the eye. When it's already 85°F in here, is the promise of something sweet and sultry worth upping temps to the mid-90s? Yes. Er no. Maybe.
I'm very pleased, dear reader, to let you know that you no longer need to decide between denying your sweet tooth and melting into a sad, sweaty puddle on the kitchen floor. And we have Faith Durand to thank for this.
I'd like to introduce you to Bakeless Sweets, a fun, gorgeously-designed book full of sweets recipes that don't require you to flip on the hot box. Yes, you too can have Chocolate and Vanilla Trifle with Caramel Sauce, Sour Cream Panna Cotta with Clementine Curd, and Double-Coconut Cream Pudding with Coconut Brittle. Or, if you prefer, how about an Easy and Light Peach Mousse? Or No-Bake Easy Lemon Bars (for which you'll find the recipe for below)?
Faith, who serves as executive editor of The Kitchn, has a lot of experience creating and testing recipes, a trait you'll really appreciate when cooking from one of her books. Her recipes are easy to follow, contain metric measurements where possible, and always, always work (in my experience, at least). I have yet to come up with a flop from Bakeless Sweets, which is at least partially due to the fact that her dishes are, for the most part, incredibly easy to make. Sure there are a few more intense recipes in this book, as there should be to challenge the more experienced bakers among us; but you'll find the bulk of the dishes in this book are four steps or fewer, involving actions more much more complicated than sprinkling gelatin onto a bowl of water or stirring a pot of warm milk.
– Blueberry Angel Food Trifle, from Bakeless Sweets (photo by Stacy Newgent) –
I was most excited about her chapter on icebox cakes, as I haven't enjoyed one in decades and, strangely, I have never actually made one myself. After flipping through the supremely tempting photos, I settled on the Blueberry Angel Food Trifle (page 200, photo above). I mean, look at that photo. Can't you just imagine yourself sinking your teeth into the creamy layers of angel food cake and vanilla cream pudding, with tart little blueberries popping on your palate like tiny blue fireworks? It was settled, this was my dish. And the finished dessert was every bit as heavenly as I imagined it would be, after only roughly ten minutes of work. (Assuming you can buy an angel food cake from your local grocery store, otherwise you'll need to bake one, which will obviously add time to the preparation process).
– Scarlet Rose and Berry Pudding, from Bakeless Sweets (photo by Stacy Newgent) –
What was I going to make next? Given I was not going to have to raise the ambient temperature of my apartment to make any of these baked desserts, the sky was the limit! I was nearly drunk on the idea that I could make most of these recipes in Bakeless Sweets in less time than it takes to drive to the bakery down the street, with the minor detail of waiting for my dessert to chill for a few hours. But when it's hot, that's all you want to do anyways, right? Sit around and fan yourself? Perfect.
I finally decided to make the recipe for Faith's No-Bake Meyer Lemon Bars with Gingersnap Crust, because well, I'm a sucker for an easy lemon bars recipe. I'll admit, lemon bars are one of my favorite things on earth. I've been known to stay up way past my bedtime while I wait for a fresh batch to cool after answering the call of an impromptu post-dinner baking impulse. Guess what? These little guys don't need to bake. All you have to do is press some buttery ginger snap crumbs into a pan, [literally] whip up some lemon curd on the stove, mix it with some gelatin, and then set the pan to cool in the refrigerator. And if you prefer, you're more than welcome to use your favorite store-bought lemon curd. Huzzah!

– Root Beer and Cream Soda Terrine, from Bakeless Sweets (photo by Stacy Newgent) –
Honestly, I can't think of a better book for summertime "baking" than Bakeless Sweets. The flavors are inspired, the recipes work, the images are lovely, and you won't end up suffering heat stoke for a few bites of cake. And being the recipes are so straightforward, a lot of these dishes would be great for little hands to help with, stirring and spreading and sprinkling with fun, delicious details. It's win-win for everyone in the family. Especially the baker!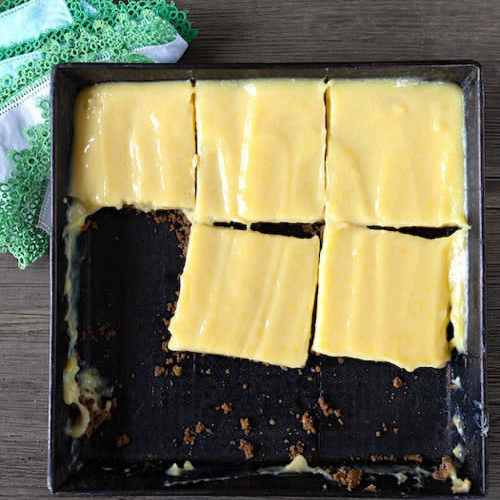 Decadent No Bake Easy Lemon Bars Recipe with Gingersnap Crust
Here's a chance to put to good use that lemon that's been hiding in your fridge, in tangy Meyer lemon bars with a spicy gingersnap base. Makes 9 bars.
Print
Pin
Ingredients
For Meyer lemon curd
1/2

cup

unsalted butter

very soft

1

cup

sugar

3 to 4

large

Meyer lemons

zested and juiced (about 1/2 cup of juice)

5

large

eggs
For easy lemon bars
2

cups

gingersnap crumbs

from 3 to 4 cups whole gingersnaps

2

tablespoons

granulated sugar

6

tablespoons

unsalted butter

melted

2

whole

lemons

zested and juiced, about 6 tablespoons

1

teaspoon

powdered gelatin

1

batch

Meyer lemon curd

Powdered sugar
Instructions
For Meyer lemon curd
Cream the butter in the bowl of a stand mixer (or in a large bowl, using a hand mixer) until soft and whipped. Beat in the sugar and the lemon zest until light and fluffy. Add the eggs, one at a time. Whip in the lemon juice and continue to whip until it is incorporated (the mixture may look curdled at this point, which is normal).

Pour the curd into a saucepan and cook over medium-low heat, stirring frequently and whisking occasionally, for 10 minutes, or until the curd thickens and coats the back of a spoon. (If you have a candy thermometer and want to track the temperature, the curd will thicken at about 170°F / 77°C.) Don't let the mixture boil, as this will create lumps. If it does boil, however, you can strain the finished curd through a fine-mesh sieve.

Allow to cool before making lemon bars, or you can store in the refrigerator for up to 2 weeks.
For lemon bars
Combine the gingersnap crumbs and granulated sugar in a bowl, and pour in the butter and 1 tablespoon water. Stir until the mixture is soft and well mixed. Press very firmly into a lightly greased 8-inch square baking dish and freeze while the filling is prepared.

Pour the lemon juice and 2 tablespoons water into a small saucepan and sprinkle the gelatin over the surface. Soften the gelatin for 5 minutes, then warm the pan over medium-low heat and stir until it is completely dissolved. Whisk it into the lemon curd. Spread the filling over the crust and refrigerate for 2 hours, or until set. Dust generously with powdered sugar just before serving and garnish with the lemon zest.

Refrigerate, loosely covered, for up to 5 days.
Notes
Nutrition
Serving:
1
bar
|
Calories:
424
kcal
|
Carbohydrates:
50
g
|
Protein:
5
g
|
Fat:
23
g
|
Saturated Fat:
12
g
|
Polyunsaturated Fat:
2
g
|
Monounsaturated Fat:
7
g
|
Cholesterol:
281
mg
|
Sodium:
239
mg
|
Potassium:
203
mg
|
Fiber:
1
g
|
Vitamin A:
800
IU
|
Vitamin C:
16.5
mg
|
Calcium:
50
mg
|
Iron:
2.3
mg