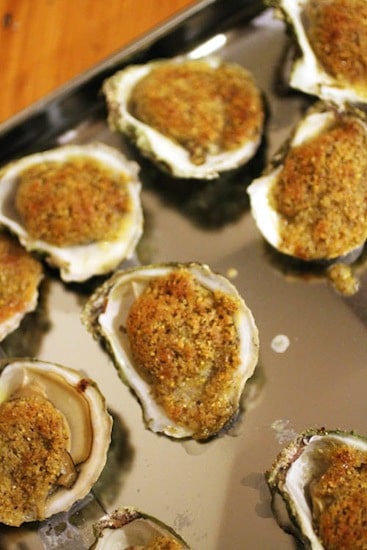 So, this was my first time making an Oysters Rockefeller recipe. Last week I left the Bay Area to trip my way around Wellfleet, Massachusetts for a few months. Being in New England has been an adventure to say the least, mostly because I have no idea how to cook shellfish. I know, I know. Please don't revoke my foodie card.
Wellfleet is famous for one primary thing: oysters. Wellfleet oysters are a particularly succulent breed of shellfish. Hank Shaw writes about them in his book (which you can order here), and I've been sucking them down raw like mad. But, eating raw oysters is easy. Cooking them is, I feared, not so much.
A few days ago, my friend Sandy picked up two dozen fresh oysters from a local oysterman. She prepared a fabulous Oysters Rockefeller recipe, something that I'd never tried before. Having only ever enjoyed the clean, clear, oceany goodness of raw oysters, I was totally blown away by how savory this bivalve could be. My four little Oysters Rockefeller were rich and buttery, with just enough oyster liquor to brush against my lips like a silk negligee. Soft and tender, they wrapped around my tongue with a flirty wink.
Today I found myself in possession of a dozen fresh Wellfleet oysters. I considered gorging myself with a home raw bar, but instead decided to challenge myself by trying something I'd never done before: cooking oysters. And since I'd just enjoyed Sandy's Oysters Rockefeller so much, I decided that would be my entry into shellfish cookery.
First, though, I had to shuck the little buggers. I poked and prodded with my oyster knife, breaking off pieces of shell and generally pissing the mollusk off so that it tightened its grip on its shell even more. After 15 minutes of stabbing and jabbing, I called Hank, the King of All Things Shellfish ™. He picked up the phone, and I said something to the effect of, "I don't often ask for help, but I think you're the only person who can help me right now." He guided me through jabbing the knife into the ass-end of the oyster and sharply tweaking the knife to break the shell's hinge. After a few minutes of cursing and wiping bits of broken shell from my knife, I managed to officially shuck my first oyster. Win! Ten minutes later, I was the proud owner of twelve little Wellfleet oysters on the half shell.
Next I had to located Sandy's Oysters Rockefeller recipe, which, it turns out, came from The New Basics Cookbook by Julee Rosso and Sheila Lukins. After a little improvisation due to food allergies and missing ingredients, I cobbled together a damn fine Oysters Rockefeller, if I do say so myself.
This recipe is a little different from the traditional Oysters Rockefeller, which apparently calls for some combination of bread crumbs, green onions, parsley, olive oil, and either Pernod or absinthe. First of all, I'm gluten-free, so I couldn't use bread crumbs. Second, I didn't have green onions, only shallots (or le challot according to Sandy). Finally, there is no parsley to be found in New England this time of year, so I followed the suggestion of New Basics and used dried tarragon.
This dish is perfect for nights when you're looking for that something special. If you don't have to shuck the oysters yourself, the preparation is surprisingly easy and the end result is infinitely more decadent than its short prep-time would have you believe. If you've never shucked oysters before, well, if I can find success my first time, so can you. Just wear a protective glove (or find a mega-thick potholder).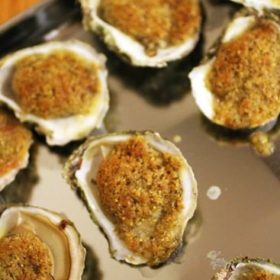 Ingredients
5

tablespoons

unsalted butter

at room temperature

1/3

cup

finely milled corn meal

1/4

cup

chopped shallots

3

tablespoons

dried tarragon

1/4

teaspoon

salt

1/2

teaspoon

finely ground black pepper

12

fresh oysters on the half shell
Instructions
Flip on the broiler or turn your oven to 500°F (260°C). Arrange rack to about 3-4 inches from the heat.

Arrange your oysters on a baking sheet, making sure not to spill any oyster liquor.

In a food processor, combine butter, corn meal, shallots, tarragon, salt, and pepper. Process until you've got a thick paste.

Using your hands, form about 1 tablespoon of butter into a disk shape. Place a disk on each oyster.

Slide the oysters into the broiler and cook until they are crisp and gently golden-brown, about 4 minutes. Remove from heat and eat immediately.
Nutrition
Serving:
3
oysters
|
Calories:
205
kcal
|
Carbohydrates:
14
g
|
Protein:
4
g
|
Fat:
15
g
|
Saturated Fat:
9
g
|
Polyunsaturated Fat:
1
g
|
Monounsaturated Fat:
4
g
|
Cholesterol:
52
mg
|
Sodium:
192
mg
|
Potassium:
208
mg
|
Fiber:
1
g
|
Vitamin A:
2000
IU
|
Vitamin C:
5
mg
|
Calcium:
60
mg
|
Iron:
3.6
mg
This content was originally posted on FearlessFresh.com.