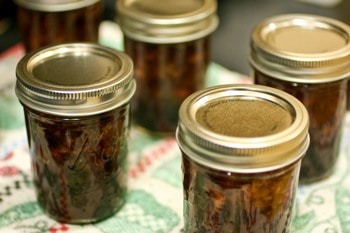 Here's another peachy post for Summer Fest: peach elderberry jam. This week's theme is stonefruits, and I've certainly been eating a lot of them!
It's nothing new that I love peaches, which I think embody everything that's good and right about summertime. I usually love them on their own and unadulterated, though occasionally I feel the need to mix it up a little bit. Part of the beauty of peaches is that they go so well with so many things.
I've been on a jam kick lately since peaches are the perfect thing to "put up" for winter. When making peach preserves last week, I had an idea – why not add a flavored syrup to the mix? A few days prior I'd cooked up some elderberry syrup for drinks and pancakes, and when combined with peaches, they make for a really sweet, interesting flavor combination. I've got all sorts of ideas for this jam, but you'll have to wait for future posts to see what I've got planned!

Making jam is really easy. If you're not ready for heat canning, this recipe could easily be made into freezer jam, though the consistency won't be as thick as regular jam.
This isn't a canning primer – if you need to know how to make preserves, I highly recommend Ball's Blue Book of Canning, a cheap and exhaustive guide. There are also many awesome Internet resources on making preserves that you can check out. I highly recommend that you familiarize yourself with the basics of heat canning before you undertake a project like this. It's an easy process, but there are some basic guidelines you need to understand, for your safety and all the folks you'll be feeding!
I use Pomona's Universal Pectin when I make preserves, and this recipe is based on the needs of this specific brand. If you're using something else, you might need to alter the recipe a bit to make sure there's enough sugar to set your jam. Every brand of pectin is a little different, so make sure you've got your measurements right. I like Pomona's because you don't have to use a lot of sugar (you could even use honey or agave nectar, if you like), while some brands require that you use more sugar than you do fruit. Ick.
Note: Pomona's will also let you use Splenda, if you like, but not all brands will. Check your the label on your pectin package before picking a sweetener. Yes, you can make this peach elderberry jam without any refined sugar!
Here you go!
Peach Elderberry Jam
This peach elderberry jam recipe is a unique departure from traditional summer jams. Elderberries make this jam fuller and fruitier, with just a touch of wine flavor. Makes 32 ounces of jam, or enough to fill about four or five 8-ounce jam jars.
Print
Pin
Ingredients
4

cups

peeled and finely chopped peaches

1

tablespoon

lemon juice

1/2

cup

elderberry syrup

1/2

teaspoon

butter

4

tablespoons

calcium water

3/4

cup

sugar

or Splenda, ideally superfine (try pulsing in your food processor)

3

tablespoons

Pomona's Universal Pectin
Instructions
Wash and rinse your jars and lids. Put them in a pot of water and bring it to a simmer.

In a saucepan, mash your peaches with a potato masher until you get a consistency you like. Feel free to leave chunks if you like a chunkier jam.

Add lemon juice, elderberry syrup, and butter to peaches, mixing well.

Add calcium water to peaches, again mixing well.

In a separate bowl, measure out and mix your sugar and pectin. Make sure it's mixed very thoroughly.

Bring fruit to a boil. Add pectin/sugar mixture in 4 increments, making sure to mix well after each addition. Keep mixing vigorously for 2 more minutes – if you don't get the pectin and sugar fully dispersed, you'll get weird lumps.

Return peaches to a boil, and remove from heat.

Fill jars to leave 1/4-inch of headroom. Wipe rims with a clean cloth and secure lids and rings.

Heat process for ten minutes (this time may change depending on your altitude – please see a canning book for guidelines).

Remove from water and let jars cool on a cutting board or folded towel on the counter. Let rest, undisturbed, overnight.
Nutrition
Serving:
2
g
|
Calories:
65
kcal
|
Carbohydrates:
17
g
|
Sodium:
7
mg
|
Potassium:
85
mg
|
Fiber:
1
g
|
Vitamin A:
250
IU
|
Vitamin C:
4.1
mg
|
Iron:
0.2
mg
This content was originally posted on FearlessFresh.com.