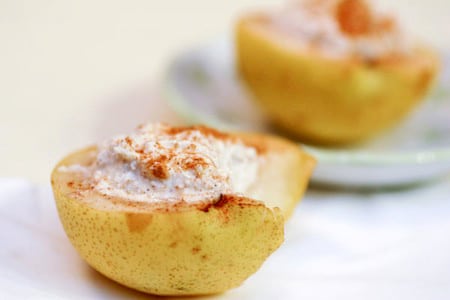 – This ricotta stuffed pear dessert recipe is delicious AND healthy! –
The end of stone fruit season is heartbreaking. All winter long I patiently wait for my first bite of peach, and then just a few short months later, THEY'RE GONE. The whole thing is almost unbearable. <cue the world's tiniest violin>
It reminds me of a fleeting romance, where the first few weeks of the relationship are perfectly delicious, and then your would-be Mr. Right skips the country.
Only one thing could lessen the blow of such a tragic loss: a replacement. In this case, it's the beginning of Asian pear season. (Or, a really tasty sugar-free pear jam recipe.)

Late August/early September in California signal an influx of Asian pears (also know as apple pears to some folks). These sophisticated little beauties are more than willing to step up and fill the gap left by their cheeky predecessors. Don't let them fool you, though.
While Asian pears may seem innocent enough on the outside, inside they're dripping with a juicy sensuality that rivals even your most luscious nectarine. They may start off as a replacement for your missing mate stone fruit, but they quickly take center stage and captivate you all on their own.
Best. Rebound. Ever.
I created this recipe looking for a light and semi-healthy dessert that involved no refined sugar. Pear desserts are right at the top of my list this time of year. The first bite of this dessert was dreamy, and every bite thereafter was kind of a blur. It was so good that I ended up eating the rest of the ricotta filling with a spoon. Because, ricotta.
For this recipe I chose honey over agave since it pairs well with cinnamon, though if you really wanted to you could easily use 1 teaspoon of agave or even 1/2 teaspoon of white sugar if you don't like honey. Either way, don't make your filling too sweet. The goal is to elevate the pears so that they sing, so don't make them compete with your filling.
Buon appetito!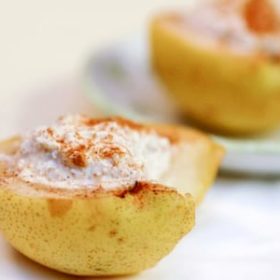 Pear Dessert: Ricotta Stuffed Asian Pears with Cinnamon Recipe
This ricotta stuffed pears with cinnamon recipe is incredibly rich and satisfy - and healthy! The ultimate pear dessert without the guilt.
Print
Pin
Ingredients
4

whole

Asian pears

ripe

1

cup

ricotta cheese

room temperature

1

tablespoon

honey

1/4

teaspoon

cinnamon

1/4

teaspoon

ground ginger

Cinnamon

for dusting
Instructions
Slice pears in half. Using a spoon or melon baller, remove the seeds and scoop a divot out of the center of each pear half, making it large enough to hold at least 1 tablespoon of filling.

In a small bowl, mix ricotta and honey until they are completely combined. Stir in cinnamon and ginger.

Fill the center of each pear half with ricotta filling. Don't be afraid to heap it on. This is good stuff, and it's not bad for you! Sprinkle each pear half with a light dusting of cinnamon.

Eat immediately. If covered, they will keep a couple of hours. (Though don't prepare them too far ahead of time or the pears will brown.)
Nutrition
Calories:
175
kcal
|
Carbohydrates:
19
g
|
Protein:
8
g
|
Fat:
8
g
|
Saturated Fat:
5
g
|
Monounsaturated Fat:
2
g
|
Cholesterol:
31
mg
|
Sodium:
52
mg
|
Potassium:
217
mg
|
Fiber:
4
g
|
Vitamin A:
300
IU
|
Vitamin C:
6.6
mg
|
Calcium:
130
mg
|
Iron:
0.4
mg
This content was originally posted on FearlessFresh.com.