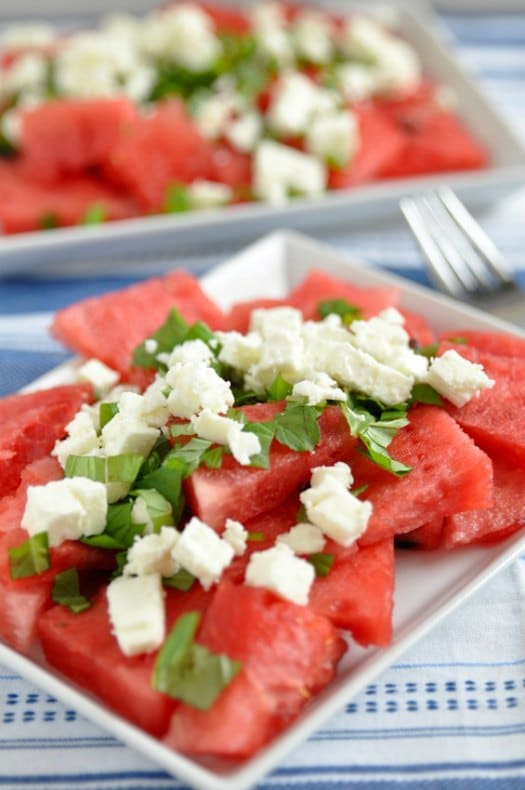 – A quick and easy watermelon mint salad with feta makes for a perfect Labor Day Weekend snack. –
Life has been a whirlwind lately, to say the least. I haven't had a lot of time to cook, so salads have been my mainstay for the past month. There's a bright light on the horizon, though – Labor Day Weekend. The infamous span of three days that marks the end of summer, that last long weekend to pull out your grill and fill your deck with friends in shorts gnawing on corn on the cob and lemon-vanilla rice krispy treats.
Another big plus for Labor Day is that half of the Bay Area takes off for Burning Man, which leaves a good amount of breathing room on our highways and in our parks. For those of us that stay home on Labor Day weekend, the Bay Area becomes WAY less crowded. (And a lot more tolerable!)
A few weeks ago, Garrett threw a party after he'd bought and renovated his very first home (yay!). For the event he'd made a super quick and easy watermelon mint salad with feta cheese, a dish that I'd never experienced before. I was taken with the salad, and spent a good part of the afternoon grabbing chunks out of the bowl – first melon, then feta, then another bite of melon, and another cube of feta… you get the idea. I had to make this dish for Labor Day, and of course I wanted to share it with you all so you can enjoy it as well.
This watermelon mint salad is hands down the most refreshing thing I've ever eaten. The mint wakes you up with its perky personality, and the watermelon and feta make for a crescendo of  explosive salty-sweet flavor well worth the five minutes it takes to prepare this dish. When making this salad, spring for the pricier locally-farmed watermelon, if you can, since the color and sweetness are often more pronounced in melons that have been left  to ripen fully on the vine, since they only need to be transported a short distance before finding their way to your table. As for the cheese, try to find a brined feta, one that's sold in a bathe of saltwater. The texture and salty flavor are one helluva ride, completing this salad's incendiary journey across your palate.
Happy end of summer, my friends.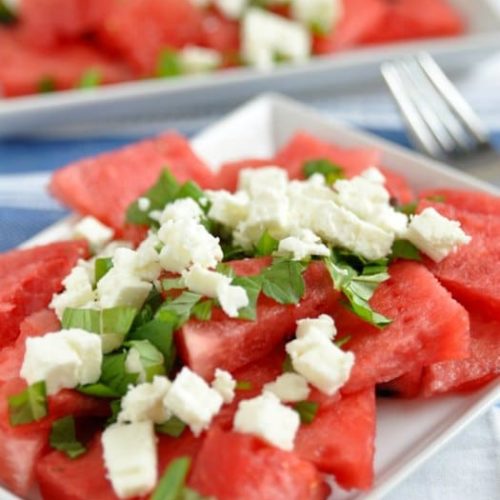 Seriously Refreshing Watermelon Mint Salad with Feta
I can't think of a better way to enjoy watermelon than in a sweet, salty, refreshing salad. Brined feta is extra salty and makes the watermelon taste so much sweeter, with the mint adding a touch of green spark to the mix. So quick and easy.
Print
Pin
Ingredients
3

cups

chopped watermelon

cut into 1-inch cubes

1/2

cup

chopped fresh mint

3

tablespoons

lime juice

(or more, if you like your salad really tart)

1/4

teaspoon

salt

(optional)

3/4

pound

brined feta cheese

cut into 1/2-inch cubes
Instructions
In a large bowl toss together watermelon, mint, lime juice, and salt. Add feta cheese, crumbling gently with your fingers. Toss the salad with your hands. Taste and add more salt, if you like. Serve chilled or at room temperature.
Nutrition
Calories:
269
kcal
|
Carbohydrates:
14
g
|
Protein:
13
g
|
Fat:
19
g
|
Saturated Fat:
13
g
|
Polyunsaturated Fat:
1
g
|
Monounsaturated Fat:
4
g
|
Cholesterol:
76
mg
|
Sodium:
1089
mg
|
Potassium:
251
mg
|
Fiber:
1
g
|
Vitamin A:
1250
IU
|
Vitamin C:
22.3
mg
|
Calcium:
450
mg
|
Iron:
2.2
mg
This content was originally posted on FearlessFresh.com.