I love souffle pancakes. They're the ultimate breakfast comfort fluff.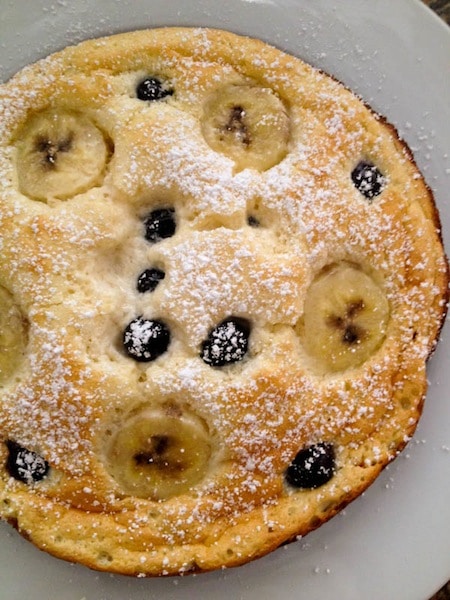 This has been the winter of my virus-fueled angst. When I haven't been felled by a cold, I've been wallowing in NyQuil-soaked influenza goodness.
My sinuses are the devil's playground, with a plethora of microorganisms acting as his loyal minions. The only thing that makes it better is this souffle pancake with some homemade clotted cream.
Welllllllll, some simple, fresh mint tea would help, too.
I'll spare you the grim details, but let's just say that what I've lacked in energy, I've more than made up for in post nasal drip. As such I haven't been cooking very much, and even 5-minute dinners seem like too much of a commitment right now.
But, as illness would have it, the infirmed occasionally need to eat. When hunger is high and energy has long since sunsetted, you reach for whatever is easy and close at hand – in my case, it's an emergency ration of soup that I keep in the freezer.
That quickly ran out, and I was left with eggs, flour, and butter in the fridge. A single banana languished on the counter, turning that unique color of brown that only bananas possess when they're somewhere between banana bread fodder and bound for the compost bin.
I sat around wishing someone were home to make my deviously comforting baked oatmeal with fresh berries, coconut, and pecans, but alas, there was no one to be found.
Equipped with the basic ingredients to make something tasty but lacking any sort of creativity, I floundered. A copy of The Pancake Handbook rested on a shelf nearby, a great little book by Bette Kroening, owner of Bette's Oceanview Diner – also known as The Pancake Capital of Berkeley.
I flipped through the pages, weary with starvation, finally settling on Bette's recipe for a soufflé pancake. A banana soufflé pancake sounds good, I thought. And easy.
Now, the boy and I had visited Bette's Diner, and neither of us was especially impressed with the souffle pancakes they served. It was indeed light and airy, but tasted only of egg whites and fruit. We both thought it needed a little more oomph, likely just a bit of additional salt and sugar. And vanilla.
If you ask Thad, everything is better with more vanilla. So I prepared the recipe, adding a little more flavoring, and the end result was just what the doctor ordered.
Light and fluffy enough to not agitate my sad stomach, but still substantial enough to count as a meal. Win.
I made my souffle pancakes recipe with bananas and blueberries, but feel free to use whatever you have on hand – as long as the fruit is dry and at somewhere around room temperature.
Strawberries work well, as do raspberries and apple chunks. In fact, if you sautéed your apple bits in butter and brown sugar before dropping them into the pancake, it would probably taste just like heaven.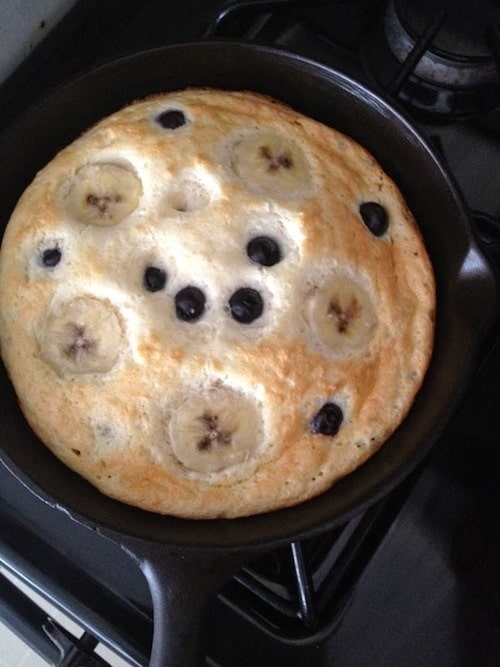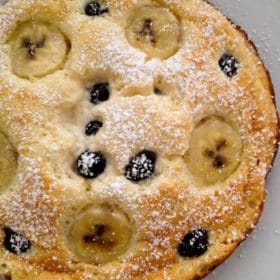 Souffle Pancakes: The Ultimate Breakfast Puff
Soufflé pancakes are light and airy while remaining incredibly decadent. Feel free to smother yours in powdered sugar, chocolate syrup, or your favorite fruit. A pan that can go from stovetop to oven is essential to making this dish correctly – 10-inch cast iron skillets are your best bet.
Print
Pin
Ingredients
2

eggs yolks

1/2

cup

half & half

1/3

cup

flour

1 1/2

tablespoons

unsalted butter

melted

1

tablespoon

sugar

1/2

teaspoon

salt

1/2

teaspoon

vanilla

3

egg whites

Chopped fresh fruit

(optional)

Powdered sugar for garnish

(optional)
Instructions
Preheat the broiler in your oven. Alternately, preheat your oven to 400°F (204°C).

Beat the egg yolks and half & half in a large bowl until well mixed. Slowly whisk in the flour, stirring just until combined, then whisk in the butter, sugar, salt, and vanilla. Set aside.

In a separate bowl, beat the egg whites with an electric beater until they form soft peaks. Gently fold the whites into the batter, folding just until the whites disappear. You don't want to flatten your egg whites, lest you compromise the fluffiness of your lovely soufflé.

Lightly grease a 10-inch nonstick ovenproof pan and set it over medium-high heat for one minute. Pour the batter into the hot pan and reduce heat to medium. Cook the pancake for 5 minutes, until the batter begins to firm up a bit. Drop chunks of chopped fruit onto the surface of the pancake.

Place the pan 5 inches below the hot broiler, or if you don't have a broiler, slide the pan into the preheated oven. Bake for 2-3 minutes, or until the pancake is puffed up and center is set but still soft. Watch carefully to make sure the top doesn't burn! These things tend to head south pretty quickly, so don't walk away from your oven while the soufflé pancake is baking.

Slide the pancake onto a plate using a spatula. Dust with powdered sugar and more fruit, if you like. Eat immediately.
Notes
Nutritional analysis does not include fruit or powdered sugar for topping.
Nutrition
Calories:
343
kcal
|
Carbohydrates:
26
g
|
Protein:
12
g
|
Fat:
21
g
|
Saturated Fat:
11
g
|
Polyunsaturated Fat:
1
g
|
Monounsaturated Fat:
6
g
|
Cholesterol:
258
mg
|
Sodium:
648
mg
|
Potassium:
191
mg
|
Fiber:
1
g
|
Vitamin A:
900
IU
|
Vitamin C:
0.8
mg
|
Calcium:
100
mg
|
Iron:
1.6
mg
This content was originally posted on FearlessFresh.com.