Christmas mashed potatoes for the yuletide history books.
This time of year is all about reflection and appreciation, and I'm one of those people who feels compulsively grateful for every little thing in my life. That said, I've had a minor gripe building inside of me for the past few years. I'd like to get it off my chest.
Potato dreaming…
Let's talk about one traditional Christmas dinner dish many of us take for granted: mashed potatoes. You probably sit down with your family on Christmas and enjoy a plate packed full of many delicious things, one of which is mashed potatoes.
When I picture your holiday dinner in my head, I envision a steaming mountain of light, fluffy potatoes, made with butter or cream, complete with a large enough ladle-full of gravy to feed half the third world.
In my family, there is no such magical beast. No bacon-rosemary mashed potatoes, or white wine mashed sweet potatoes.
In fact, where I come from, homemade mashed potatoes are like pink-maned unicorns that grant wishes while singing "What A Wonderful World." In other words, they don't exist.

Christmas mashed potato recipe fail
As much as I love my family and enjoy spending my favorite holiday with them, for years I've been squelching the desire to call bullshit on their choice of mashed potatoes.
My family loves Tater Buds and there's very little I can do to change their minds.
You know what I'm talking about, right? The box of weird white flakes that you could just as easily mistake for powdered laundry detergent?
They're simple enough to make, requiring only water, salt, and if you like, butter. (Or in my family, it's I Can't Believe It's Not Butter.) They don't taste awful, I guess, but that's mostly because they have no taste at all. Something can't taste bad if there is no flavor to speak of.
Fresh mashed potatoes are so EASY
Perhaps the saddest part of the whole situation is that my family opts for prefab mashed potato flakes for the sake of convenience, when real mashed potatoes are anything but laborious to prepare.
Chop potatoes. Boil water. Combine the two for 15 minutes. Drain and mash with salt, pepper, butter, and if you're feeling really fancy, cheese.
The entire process takes maybe 20 minutes, and for most of that time you're just watching chunks of potato bob about in a pot of water.
Still, there's no changing my family's mashed potato selection. And since I love my family very much — and they get highly offended whenever I try to insert my highfalutin "gourmet" ways into their culinary culture — it looks like I'll be enjoying Tater Buds for Christmas dinner into perpetuity.
But on the occasional year when I'm elsewhere for the holiday, below is my go-to recipe that I almost always bring to dinner.
Sure, whoever is hosting the big event may think it strange that I leap into the room and present my beloved mashed potatoes with the biggest, most enthusiastic grin they've ever seen.
But in my heart I'm doing a river dance over finally celebrating Christmas with my favorite dish ever: real mashed potatoes that didn't require a pitstop in a large processing facility.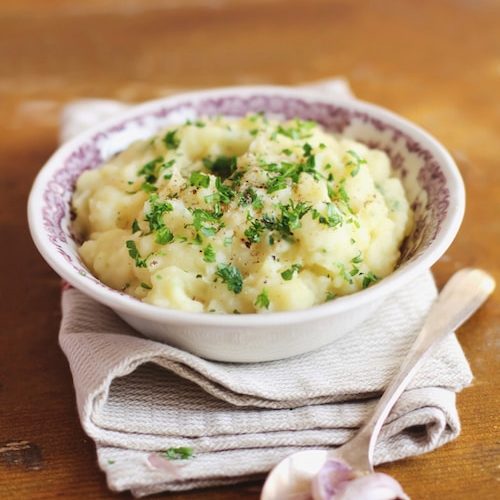 Steph's Epic Mashed Potatoes Recipe
Given these epically luxurious mashed potatoes were meant to be shared for the holidays, I go all out for richness and luxury (while maintaining a dish that is incredibly simple to make). These are the perfect side dish for your Thanksgiving or Christmas dinner.
Print
Pin
Ingredients
2

pounds

Yukon Gold potatoes

1/2

cup

butter

chopped into small pieces

1/4

pound

fresh Parmigiano-Reggiano cheese

freshly grated*

1/2

teaspoon

salt

more to taste

1/4

teaspoon

freshly-ground black pepper

more to taste

1/4

cup

chopped parsley or chives

(optional)
Instructions
Bring a large pot of unsalted water to boil. Preheat the oven to 375°F (190°C).

Chop the potatoes into 2-inch cubes, leaving the skin on if you're lazy like I am. (Conveniently, the skin also adds texture and depth of flavor, but feel free to ditch them if you're not into the potato skin thing.) Add potatoes to boiling water. Allow to boil until you can easily skewer the chunks with a fork. Drain potatoes thoroughly and return to the pot.

Immediately add the butter to the potatoes and stir well to get the butter melting. Add cheese, salt, and pepper. Mash with a potato masher until everything is melted and well incorporated. Taste the potatoes, adding more salt or pepper as you prefer.

Scoop the potatoes into an 8-inch by 8-inch baking dish and slide into the oven. Bake until the top is a nice golden color in places. Serve immediately, sprinkled with chopped parsley or chives.

*For the love of all that is holy, please put away that green cylinder of prefab Parmesan-flavored powder. That is, unless you're topping an enormous pile of Tater Buds, in which case… by all means.
Notes
Half a cup of butter is no joke, and you can certainly decrease the amount of butter if you like, but going all-out will make this dish far more memorable.
It's also worth a mention that I use Yukon Gold potatoes, which mash down into a creamier texture than the stalwart Idaho Russets a lot of us grew up with. That said, if you prefer fluffier mashed potatoes, feel free to use the Russets.
NOTE! I prefer a little texture in my version of the dish, but mash until you've got the texture you like best - though be careful of over-mashing, as this can turn potato starch into a gloopy mess. (Which is why we never put mashed potatoes into a food processor. The more you know!)
Nutrition
Calories:
347
kcal
|
Carbohydrates:
28
g
|
Protein:
12
g
|
Fat:
21
g
|
Saturated Fat:
13
g
|
Polyunsaturated Fat:
1
g
|
Monounsaturated Fat:
6
g
|
Cholesterol:
56
mg
|
Sodium:
696
mg
|
Potassium:
40
mg
|
Fiber:
2
g
|
Vitamin A:
850
IU
|
Vitamin C:
48.7
mg
|
Calcium:
270
mg
|
Iron:
1.6
mg
This content was originally posted on FearlessFresh.com.