I do love a good, solid lamb burger recipe.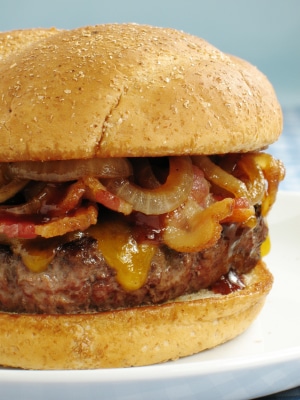 Lately I've been eating more lamb — like this curry potato soup with lamb meatballs, or of course my now-famous rack of lamb with spicy fennel rub — due to the fact that my in-laws raises sheep for fiber and thus, we have fresh lamb coming out of our ears. I love it, and honestly prefer it over beef for its flavor and texture. I've got literally twenty pounds of ground lamb in the freezer, so we eat lamburgers often.
I owe this lamb burger recipe to my friend Mark, who years and years (and years) ago taught me to add stuff to burgers before cooking them. "If you want a great burger," he advised, "add all of the flavoring to it before you cook it. Sauce, herbs, everything." I took his advice and have had almost perfect luck with burgers ever since.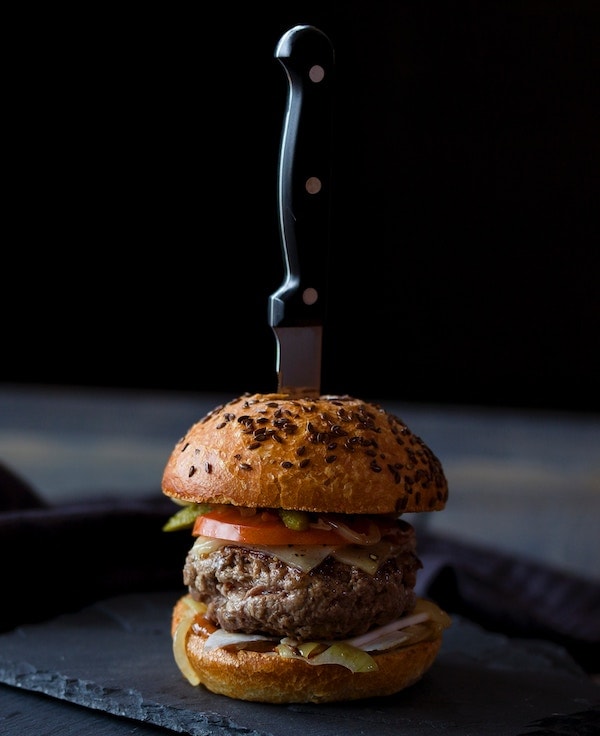 This lamb burger recipe almost makes me curl my toes in ecstasy whenever I make it. Seriously – this is the best damn burger you'll ever eat, if you've got a hankering for the lamby. I eat it straight without the bun for gluten-free purposes, and this is the only burger I've ever eaten where I don't miss the bready carrying case.
The new onion and green garlic really give this recipe a nice, fresh, not overly oniony taste, but you can certainly use regular onion and garlic if that's all you've got handy. I'd just use a little less since their older allium siblings are stronger in taste.
FYI – this recipe will yield very soft burgers – nearly sloppy Joe-like if you go heavy on the bbq sauce. If you prefer a more firm burger, go ahead and half the amount of sauce.
And by the way, this recipe works great with beef, too! Or you can just go for the good, old-fashioned artisan cheeseburger, which is pretty damn awesome as well.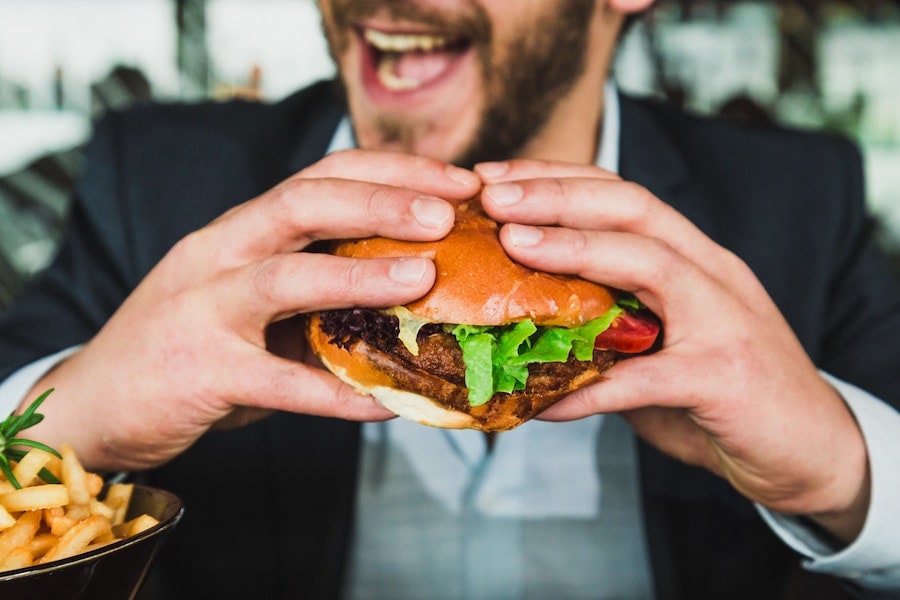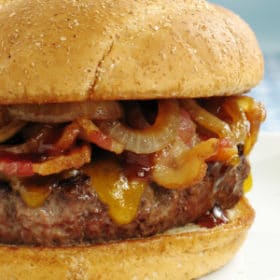 Steph's Orgasmic Lamb Burger Recipe
If you're looking for a great lamb burger recipe, this rich, savory version of the traditional hamburger will make you curl your toes in ecstasy. Makes 4 1/4-pound burgers.
Print
Pin
Ingredients
2

tablespoons

extra virgin olive oil

1/3

cup

diced new onion

(or a 1/4 cup of diced regular onion)

3

tablespoons

diced green garlic

(or two cloves of diced regular garlic)

1-

pound

ground lamb

preferably organic and free range (tastes better… seriously)

1/2-3/4

cup

your favorite bbq sauce

1/2

teaspoon

salt

1/2

teaspoon

ground pepper

4

hamburger buns
Instructions
Preheat oven to 350°F (176°C).

Prepare four foil cups by cutting a 12″x12″ piece of foil into four equal pieces and shaping them around the opening of a drinking glass. Place all four foil cups in a glass baking dish that's large enough to hold them all without squashing them.

Heat olive oil in a small pan, then add onion and garlic, sauteing until soft. Strain oil and place onion and garlic in a medium sized bowl. Stir in bbq sauce, salt, and pepper until well mixed. Add in lamb, and squish together with your hands until well incorporated.

Divide the lamb into four parts, forming into patties and placing each one in a foil cup. Cook in oven until burgers reach an internal temperature of 155°F (68°C), about 25 minutes. Remove from heat, let rest for five minutes. Drain fat from foil cups, and serve on a bun with dressing of your choice (I personally like them straight).
Nutrition
Serving:
1
burger
|
Calories:
541
kcal
|
Carbohydrates:
29
g
|
Protein:
24
g
|
Fat:
36
g
|
Saturated Fat:
13
g
|
Polyunsaturated Fat:
4
g
|
Monounsaturated Fat:
16
g
|
Cholesterol:
83
mg
|
Sodium:
831
mg
|
Potassium:
416
mg
|
Fiber:
2
g
|
Vitamin A:
250
IU
|
Vitamin C:
6.6
mg
|
Calcium:
100
mg
|
Iron:
3.6
mg
This content was originally posted on FearlessFresh.com.