– This strawberry cheesecake recipe is possible RIGHT NOW due to the magic of frozen strawberries. –
Recently I was searching for my Chipotle Stuffed Acorn Squash Recipe with Ricotta, Orzo, and Pecans, and I found a dessert recipe I hadn't considered in a long time: Strawberry cheesecake. I lingered on the recipe a few seconds too long, because strawberries are out of season, and then I remembered I had, like, five pounds of strawberries in my freezer.
Then I thought, why the hell not have strawberry cheesecake in October?
Ever since I was very young, I've had a major thing for cheesecake. Despite my devotion, it is one of those decadent desserts that I only save for special occasions. I have it in my head that cheesecake is a complicate task, even though it doesn't take a lot of work to put one together.
Maybe it's the exciting tang of the cream cheese; perhaps it's the way the sweetness glides across your tongue in a wave of fatty, creamy adoration. Whatever the reason, I need to stop holding out on myself. Cheesecake can – and should! – be an everyday dessert.
This particular strawberry cheesecake recipe is one of my personal favorites. Tart strawberries crank up the volume, while a whisper of almond flavoring and a tender almond crust round out the berries' assertiveness, making for a great balance of fruity and nutty. A healthy dose of crème fraîche wraps the whole thing up in a pretty little bow. (Because, CRÈME FRAÎCHE just makes everything better.)
You can even make your own creme fraiche at home. Just saying'. Or try using it in this cinnamon apple cake, which is pretty much the best thing I've ever brought to an autumn dinner party.
And… there's no reason to leave this recipe for June or July, folks! This strawberry cheesecake recipe is perfect for any season, given strawberries freeze so well. Here's a little-known secret: Fruit picked for freezing is generally left to ripen on the plant longer, so often what you get is more flavorful, nutrient-dense strawberries than those picked for the fresh aisle (since those need to be more durable for transport, they're not allowed to ripen so much.)
So enjoy your frozen fruit with reckless abandon, because it's super delicious and good for you.
Tall and moist, this strawberry cheesecake recipe serves up a middle ground between uber-rich and feather light. A touch of butter and a few more egg yolks give it a dreamy, custardy texture, while the strawberries provide a bit of interesting texture. I'm a big fan of super-smooth New York cheesecake, but once I started adding a little more texture to my cheesecake, people started literally pounding the table asking for more.
Who am I to argue with that?
So, are you in?
Also – here's a tip, because sometimes springform pans leak and no one likes that. Before wrapping the pan, do this:
Put two sheets of foil on the counter, going opposite directions lengthwise (essentially making a big X with foil).
Put two sheets of plastic wrap down on top of that, with each piece of plastic stretching the length of each piece of foil.
Set the pan in the middle of your X and roll/fold the foil and plastic up around the pan.
Voila, no leaks!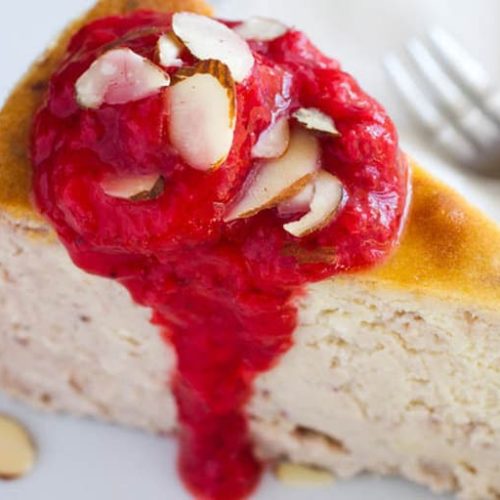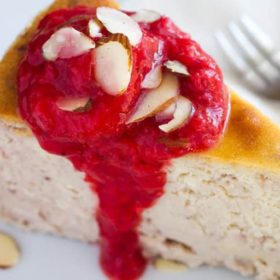 Strawberry Cheesecake Recipe with Almond Crust
This strawberry cheesecake recipe has a gorgeously tender almond crust. It's perfect as a post-summer fling, given it whips up so easily with frozen strawberries. Sure, we're all fans of in-season fruit, but when you've got a few bags of strawberries in the freezer and you're feeling a little wistful at the chilly temperatures, why not enjoy a few bites of summertime when folks least expect it?
Print
Pin
Ingredients
1 1/2-

pound

strawberries

halved, divided (if using frozen, defrost them)

1 1/2

cups

sugar

divided

1 1/2

cups

almond flour

4

teaspoons

melted butter

2

pounds

cream cheese

at room temperature

1

cup

crème fraîche

at room temperature

3

tablespoons

butter

at room temperature

3

large

eggs

at room temperature

3

large

egg yolks

at room temperature

2

teaspoons

almond extract

3

tablespoons

flour

1/2

teaspoon

salt

2

tablespoons

lemon zest

(from 1 large or 2 small lemons)

almonds

toasted and chopped, for garnish
For the Topping
1/2

pound

strawberries

chopped coarsely

3

tablespoons

sugar
Instructions
Place the oven rack in the middle of your oven and preheat to 275°F (135°C). Grease the sides and bottom of a 9-inch springform pan.

Spread berries on a baking sheet and sprinkle them with 3 tablespoons of sugar. Bake until the berries and sugar start to caramelize, about 1 hour. Watch them carefully after the first 30 minutes, removing them from the oven at any signs of burning (use your nose!). Once the berries are done, allow them to cool. Transfer the berries and all of their syrup to a food processor. Pulse until they have a coarsely chopped texture and set aside. Increase oven to 325°F (163°C).

Combine almond flour with melted butter and 1 tablespoon sugar, mixing well. Press firmly into the bottom of a 9-inch springform pan and bake for 10-15 minutes, until lightly browned. Remove from oven and allow to cool while preparing the rest of the cheesecake.

Set a large pot of water to boil on the stovetop. This will be for creating the water bath.

Add cream cheese, crème fraîche, and room temperature butter to the bowl of a stand mixer fitted with the paddle attachment. Beat on low speed until creamy and well mixed, about 1 minute. With the mixer running, slowly pour in the remaining 1 1/4 cups of sugar, beating until smooth and creamy, about 2 minutes.

Increase mixer speed to medium-low. Add the eggs one at a time, beating until each is fully incorporated before adding the next one. Add egg yolks all at once, again beating until completely mixed. Add almond extract, flour, salt, and lemon zest, beating for another 30 seconds. Stop the mixer and fold in the strawberries with a spatula.

If you are using a springform pan or other cake pan with a removable bottom, securely wrap the bottom and sides of the pan in aluminum foil—large sheets of commercial foil work well for this, as they enrobe the entire pan with one sheet, preventing anything from leaking in or out. See recipe notes for a particularly effective way to prevent leaks.

Pour the batter into the prepared springform pan. Firmly rap the pan on a counter a few times to release any air bubbles. Allow the batter to rest for 5 minutes, then rap a few more times to force out any bubbles that were hiding deeper in the batter.

Place the cake pan in a large roasting pan and fill the roasting pan with enough boiling water to come halfway up the sides of the cake pan. Slide the roasting pan into the oven and bake until center is barely set but still jiggles when shaken, about 90 minutes. The cake should start pulling away from the sides. Carefully remove the cake pan from the roasting pan and set it on a cooling rack. Allow the cake to cool in the pan for 3 hours.

Once the cake is cool, release it from the sides of the springform pan. Slide the cake into the refrigerator and chill for 2 to 3 hours. Slice and serve, garnished with a spoonful of the strawberry topping and a sprinkling of chopped toasted almonds.
For the Strawberry Topping:
Combine chopped strawberries with sugar and toss until well mixed. Let sit for 30 minutes. If you want a smoother sauce, pulse a few times in the food processor.
Notes
Special equipment: 9-inch spring-form pan
Nutrition
Serving:
1
slice
|
Calories:
571
kcal
|
Carbohydrates:
38
g
|
Protein:
10
g
|
Fat:
43
g
|
Saturated Fat:
25
g
|
Polyunsaturated Fat:
3
g
|
Monounsaturated Fat:
14
g
|
Cholesterol:
169
mg
|
Sodium:
341
mg
|
Potassium:
284
mg
|
Fiber:
1
g
|
Vitamin A:
1600
IU
|
Vitamin C:
45.4
mg
|
Calcium:
110
mg
|
Iron:
1.8
mg
This content was originally posted on FearlessFresh.com.