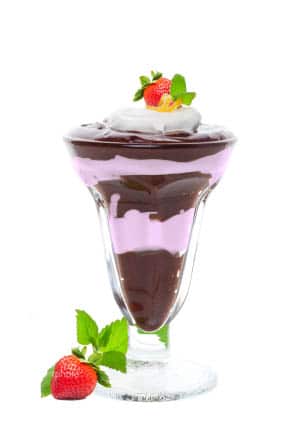 – A quick mousse parfait = instant Valentine's Day mojo –
Just in case you're not aware: tomorrow is Valentine's Day. If that sentence suddenly put you into a panic, relax! I've got you covered. Sure, you might not have flower delivery or a dinner reservation set up, but your local grocery store has plenty of gorgeous bouquets on offer, and dinner is only a few quick steps away.
But, what about dessert? On Valentine's Day, the sweets course is the whole point of dinner, isn't it? Since you'll already have your hands full, your best bet is a quick and easy Valentine's Day dessert recipe. And here is where I introduce Hervé This – and a super easy mousse parfait recipe that will make it look like you've been planning dessert for weeks.
Hervé This, a French chemist and best-selling culinary book author, has been exploring the science of cooking and writing books on the topic for both chefs and home cooks alike. He's the one who coined the term molecular gastronomy, that whole new-ish area of cooking that involves combining classic ingredients with chemistry-set substances to produce interesting, and edible, results.
Thankfully, molecular gastronomy isn't just about chemicals. It's more about chemistry. And as most of you know, at the core of cooking is a series of chemical reactions – that, ideally, taste really, really good.
Back to Hervé This, the French chemist. As a scientist, he explored a very simple dish: chocolate mousse. By thinking about mousse from a chemistry standpoint, he was able to create a ridiculously easy recipe for a thick dessert that taste of nothing but the good stuff. No cream, no eggs, no added sugar. Just chocolate.
As Food52 puts it:
It's just like whipping cream: Heavy cream (itself an emulsion of milk fats and water) froths up readily when whisked in a chilled bowl, right? So all you have to do is aim for a ratio of water to fat (cocoa butter here) that mimics that of whipping cream. (And what of emulsifiers, you ask? The lethicin in chocolate does the trick.)
Emulsification aside, all you need to know is this: you can create this perfectly lush, perfectly chocolaty dessert in less than five minutes. I've paired it with strawberry yogurt to give it a little color for Valentine's Day, and to lighten the dish up a bit (this is some seriously rich mousse, y0).
So I've given you ideas for flowers, dinner, and dessert. You're on your own for the rest of the night. (no TMIs in the comments, ok? ;) )
A Sweet for Your Sweetie: Strawberry Chocolate Mousse Parfaits
This strawberry chocolate mousse parfait is a perfect quick and easy dessert for Valentine's Day. Impress your love with literally five minutes worth of work! Yield: Serves 4
Print
Pin
Ingredients
3/4

cups

hot water

8

ounces

of bittersweet chocolate

, coarsely chopped (or use semi-sweet, if you like!)

A good-sized bowl of ice cubes

1

cup

whole milk strawberry yogurt

Whipped cream

for topping

Fresh strawberries

for topping
Instructions
In a saucepan, combine water and chocolate over medium-low heat. Stir until chocolate is completely melted.

Set the saucepan into the bowl of ice cubes and whisk the chocolate quickly until your emulsion sets up. Keep whipping until it's a consistency you like – remember that it will stiffen in the refrigerator, so don't allow a little slack in the consistency for further thickening as it chills. If the mousse breaks and thins out, move the saucepan back to the heat, re-melt, and then set back in the ice to whip again.

Into four parfait glasses, add a dollop of chocolate mousse, and then a layer of strawberry yogurt. Continue layering until the glasses are full, finishing with a layer of chocolate. Cover each glass and set in the refrigerator until ready to eat. Serve topped with fresh whipped cream and half a fresh strawberry.
Notes
Nutritional analysis does not include whipped cream and fresh strawberries.
Nutrition
Calories:
368
kcal
|
Carbohydrates:
28
g
|
Protein:
9
g
|
Fat:
33
g
|
Saturated Fat:
20
g
|
Polyunsaturated Fat:
1
g
|
Monounsaturated Fat:
11
g
|
Cholesterol:
2
mg
|
Sodium:
44
mg
|
Potassium:
595
mg
|
Fiber:
9
g
|
Vitamin A:
100
IU
|
Vitamin C:
0.8
mg
|
Calcium:
130
mg
|
Iron:
3.6
mg
This content was originally posted on FearlessFresh.com.