A few months back, my friend Vijitha had me over to dinner. Now, I know better than to down a turn dinner invitation from Vijitha. I've enjoyed her cooking at a few local food blogger events and trust me when I tell you that the woman can cook. She runs a gorgeous Indian cooking blog called Spices and Aroma if you want to see for yourself.
Vijitha told me we would be cooking from a Ayurvedic cookbook, Sukham Ayu: Cooking at Home with Ayurvedic Insights. I've been interested in Ayurvedic cooking since I first started thinking about how strongly my diet corresponds to my health; the idea of using food as medicine makes a lot more sense to me than pouring countless pills down my gullet. You see, I come from a long line of auto mechanics, and while I didn't personally jump into working on cars for a living, I have a pretty good understanding of how an internal combustion engine works. At the core of an engine is one unfailing truth: without gas, the whole thing doesn't run.
And if you use low quality gas, the motor runs poorly.
Computers, an area where I do have copious amounts of experience, aren't that different. If you've got bad power flowing into your electronic devices, guess what? They won't work very well either.
So, bad energy source = performance problems, deterioration, and an inevitable breakdown. It's true for cars, it's true for electronics, and it's true for our bodies, too.
For those that haven't heard of it, Ayurveda is an ancient style of medicine originating in India, where people have been practicing this sort of healthcare for over 5,000 years. Practitioners theorize that you can restore balance in the body through the use of diet and herbs. Focus is on both treatment and prevention, assigning each person to one of three body types, or doshas – vata, pitta, and kappa. The diet you follow corresponds to what category your individual constitution falls into.
Even though you may not have heard of it, Ayurvedic medicine is all around us. Do a quick Google search for Ayurvedic practitioners in your area. You'll probably find at least one or two, if not many to choose from.
Back to my story. The dinner Vijitha showed me how to make was authentically Indian and outstandingly delicious. The food was so delightful that I told her I must have a copy of the book, which she was happy to oblige.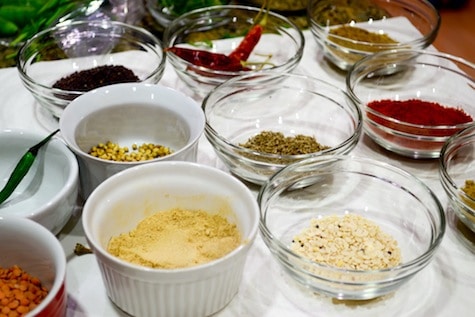 If you're interested in learning about how to treat and prevent disease through diet, I highly recommend you pick up a copy of Sukham Ayu. As a guide, it's not as wordy as other Ayurvedic cookbooks I've read, which can provide too much information too fast and leave readers feeling overwhelmed. This book focuses on something we all love: food. It's a cookbook more than anything else, providing a section in the beginning that gives a brief breakdown on Ayurvedic principles in a way that anyone can understand. Then it's off to the recipes, where each dish includes a tip on what kind of dosha is most suited to that particular combination of ingredients and flavors.
Besides its use as an Ayurvedic handbook, Sukham Ayu is a gorgeous example of publishing art. And I mean gorgeous with a capital G. Each page is laid out in full color, with a high quality image of the dish and small, lovely flourishes that make the book feel like the authors and designers put a lot of thought into the project. Even the charts at the beginning and end are beautiful, which makes you want to keep reading.
My favorite dish that Vijitha made that night was a simple one: mint rice. I've since made it a handful of times on my own, as a quick side dish to any number of hearty meals. Packed with mint and cilantro, this recipe results in a fresh, green dish that will lighten up any dinner while aiding digestion. (mint = happier tummy) A healthy dose of Indian spices add a little heat, bringing this recipe to perfect balance.
If you're not interested in Ayurveda, Sukham Ayu is still a standup Indian cookbook — even for beginners just hoping to dip a toe in Indian cooking. I've enjoyed having it as part of my collection, and I think you will, too.
Ayurvedic Mint Rice Recipe
This simple rice dish is packed with mint and cilantro, creating a fresh, green dish that will lighten up any dinner. A healthy dose of Indian spices add a little heat, bringing this recipe to perfect balance. Yield: feeds 4 as a side
Print
Pin
Ingredients
1/2

cup

grated coconut

1/4

cup

warm water

1

cup

Basmati rice

1/2

cup

fresh mint leaves

1/2

cup

fresh cilantro

2

cloves

garlic

chopped

1

small

green chili

seeds removed

1

tablespoon

ghee or butter

1

small

onion

cut to julienne

1

whole

cinnamon stick

2

whole

cloves

5

whole

black peppercorns

1/2

teaspoon

cumin seeds

2

cups

warm water
Instructions
Combine grated coconut and warm water in a small bowl. Stir to combine and let sit for 15 minutes. Squeeze coconut to expel as much excess water as possible. Discard water and fluff coconut with a fork. Set aside.

Rinse rice until the water runs clear. Soak for 10 minutes before straining and setting aside.

In a mortar and pestle (or a small food processor), grind mint, cilantro, garlic, chili, and coconut to a thick paste. Add a few drops of water if necessary to help form the paste.

In a saucepan, melt ghee over medium heat. Add cinnamon, cloves, peppercorns, and cumin seeds. Once the spices develop a nice aroma and start to pop, lower heat to low and add onions. Sauté the onions for 4-5 minutes, or until they turn translucent. Add paste, stir well, and cook for another 2 minutes.

Add rice and sauté the grains for 1 minute. Add 2 cups warm water to pot and cover tightly. Cook rice until done, about 10 minutes. Fluff rice with a fork and serve immediately.
Nutrition
Calories:
230
kcal
|
Carbohydrates:
42
g
|
Protein:
6
g
|
Fat:
5
g
|
Saturated Fat:
3
g
|
Sodium:
52
mg
|
Potassium:
280
mg
|
Fiber:
5
g
|
Vitamin A:
600
IU
|
Vitamin C:
11.6
mg
|
Calcium:
110
mg
|
Iron:
5.4
mg
This content was originally posted on FearlessFresh.com.