There's a special place in my heart for orange cake recipes, especially those that have a touch of tang and perk up my tastebuds. (Like this Meyer lemon mascarpone cheesecake.) Besides the gorgeous orange flavor that comes from a good amount of orange zest, this super-moist cake is also made with sour cream, which lends it touch more tang and a super luxurious texture that literally melts in your mouth. Taking a bite of this cake is like laying down on a super plush $500 pillow.
Sometimes I dream of dousing sponge cakes with a huge helping of flavored syrup or dessert sauce, which not only adds more flavor but also makes the cake that much more moist. It's the big secret of French baking that a lot of American either don't know about or don't take advantage of. Upside down cakes come close, because of all the fruit and sugar they contain. Check out this blueberry peach upside down cake as a great example.
This orange cake recipe is something special.
I've made all sorts of cakes and soaked them with countless different liquids, but there's one cake in particular that stands alone as my favorite of all time: this simple orange cake recipe. I keep coming back to the same recipe over and over again. It's like the dessert version of my "safe space."
I recently started making smaller cakes, because I really like Miette's 6-inch cake policy. Really, you don't need a lot of cake to satisfy your cravings, and stuffing yourself leads to not feeling all that great about amount of sugar you just devoured. In a moment of self control, I opted to make this cake in a single-layer style. It's short and to the point. (LOL)  Because really, a small helping is all you need.
You'll find this cake moist, tender, and full of orange flavor, giving up a touch of heat from spicy cinnamon. The whole things is soaked with a mixture of condensed milk and heavy cream, then covered with a generous blanket of ultra-smooth Swiss buttercream frosting after a brief spell in the icebox to firm it all up.
If you like, you can cover the cake in super easy buttercream roses, like these from I am Baker. It's a quick and easy way to make an already impressive cake stand out, though I prefer a more traditional icing style that leaves a little something to the imagination. Have fun with it however you prefer!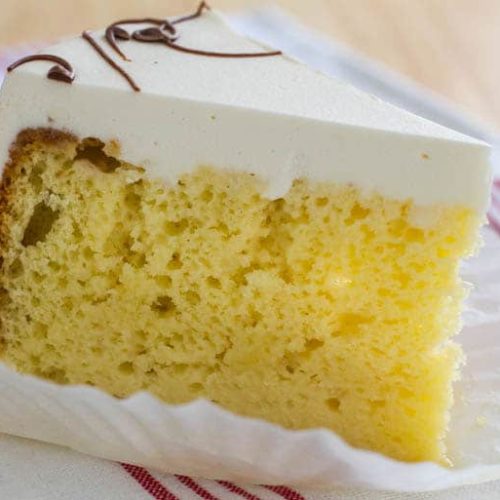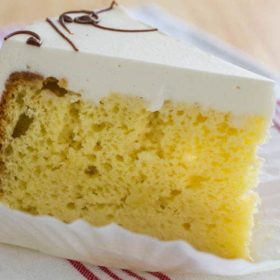 Super Moist Orange Cake Recipe with Sour Cream
This orange cake recipe is made with sour cream, giving it a delectable moist texture that melts in your mouth. Fresh and bright for winter, it will add a little sunshine to your day.
Print
Pin
Ingredients
1

cup plus 2 tablespoons

sifted all-purpose flour

(about 5 2/3 ounces)

1

teaspoon

baking powder

1/4

teaspoon

salt

1

teaspoon

cinnamon

2

large

eggs

separated

1

teaspoon

powdered sugar

1

stick (8 tablespoons)

unsalted butter

at cool room temperature

1

cup (about 7 ounces)

granulated sugar

2

tablespoons

grated zest from 1 orange

1/3

cup

sour cream

1 1/3

cup

sweetened condensed milk

divided

1

cup

heavy cream

1

batch

of Swiss buttercream frosting

(optional)

Chocolate ganache recipe

for decorating (optional)
Instructions
Move rack to middle of oven and preheat to 350°F (176°C). Grease one 8 inch cake pan and line the bottom with a parchment circle.

Combine flour, baking powder, salt, and cinnamon in a bowl and whisk for 30 seconds to combine completely. Set aside.

Whip the egg whites until they are foamy. Add 1 teaspoon sugar and beat until they reach soft peaks. Cover and set aside.

Add butter to the bowl of a stand mixer fitted with the paddle attachment. The butter should be cool-room temperature, meaning it should give when poked but not so soft that it barely holds its shape. Whip butter until it is light and airy, about 3 minutes. Add sugar and beat on medium speed for 5 minutes. Add yolks, one at a time, beating each for 30 seconds before adding another. Add in orange zest, beating for another 30 seconds.

Reduce mixer speed to low. Add 1/3 of the dry ingredients, mixing just until combined. Add sour cream, mixing just until combined.

Add another 1/3 of the dry ingredients, mixing just until combined, then add 1/3 cup condensed milk, reserving the rest, again mixing just until combined. Add the rest of the dry ingredients. Mix for 10 seconds or so, just until there are no traces of flour left. Gently fold in egg whites, making sure to not over mix the cake, as you want it light and airy.

Scrape the batter into the prepared cake pan and smooth the top flat with a spatula. Cake for 45 minutes, or until a toothpick inserted in the middle comes out clean.

Remove cake from oven and let sit in the pan for 10 minutes. Turn out onto a cooling rack and allow to cool completely. Once cool, set the cake on a serving plate and poke a few holes in the cake using a thin skewer, spacing the holes out over every 2-inches or so.

In a small bowl, combine heavy cream with the remaining 1 cup of condensed milk and mix well. Pour 1/3 of the cream over the cake and let sit for 30 minutes. Follow with another 1/3 cup of cream, letting the cake sit for another 30 minutes, then pour over the remaining 1/3 cup of cream. Cover cake and refrigerator for 2 hours.

Once cake is well chilled, frost with Swiss buttercream. If you like, decorate the top with a bit of chocolate ganache in a pretty pattern around the edges. Store in the refrigerator until ready to serve.
Notes
Nutritional analysis does not include buttercream frosting or ganache.
Nutrition
Serving:
1
slice
|
Calories:
571
kcal
|
Carbohydrates:
69
g
|
Protein:
8
g
|
Fat:
30
g
|
Saturated Fat:
18
g
|
Polyunsaturated Fat:
1
g
|
Monounsaturated Fat:
9
g
|
Cholesterol:
146
mg
|
Sodium:
228
mg
|
Potassium:
270
mg
|
Fiber:
1
g
|
Vitamin A:
1200
IU
|
Vitamin C:
5
mg
|
Calcium:
230
mg
|
Iron:
1.4
mg
This content was originally posted on FearlessFresh.com.