The publishing industry is on its ear, but while book sales are lagging overall, sales of cookbook titles are on the rise. We could hypothesize about the 'whys' all day: people are broke and cooking at home more, American food culture has gained in momentum over the past decade, people are returning to a 'back to basics' way of eating that involves cutting out restaurants. Whichever theory you subscribe to, the facts are the same; cookbooks are as popular as ever.
With so many cookbooks titles on the market, which are worth their salt? I know I've stood at my local Borders and gawked at the rows upon rows of colorful spines within the culinary section, wondering which to pull down and flip through. When faced with a selection of hundreds to choose from, overwhelm sets in and I just give up and walk away.
For me, it always ends the same way: with the sense that there are just too many damn cookbooks in the world right now.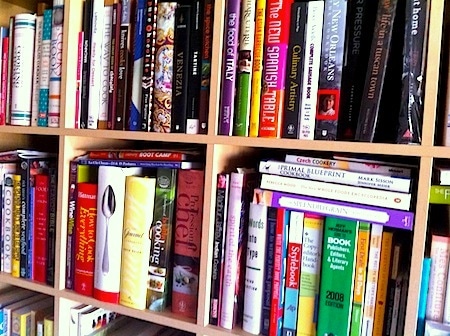 Thankfully, we've got a few pros to help us separate the wheat from the ass. Small specialty shops, such as Omnivore Books in San Francisco, are filled with more cookbook titles than any single large-scale chain bookstore can possibly hold. You might think that it would be more difficult to make a selection when confronted by literally thousands of cookbooks, but here you'd be wrong. Because in a store like this, you have a pro at hand who can walk you through the vast majority of the books before you.
Today we've got Samantha Tackeff back again, sharing with us her favorite cookbook selections. You might remember her from Food Blogger Spotlight a few weeks ago, where I introduced her and explained that she had the best job ever – she works at the afore mentioned Omnivore Books, where she spends her days getting up close and personal with more cookbooks than you can possibly imagine.
So if you're like me and find yourself prostrate before a throng of cookbooks, gaping wildly and drooling on yourself in confusion, you'll appreciate Sam's advice about which are worth your pennies and ingredients. Some of her recommendations might surprise you.

Only the Very Best Cookbooks
You work in a store that sells only cookbooks (best job ever!!). Can you name ten books, new and old, that are must-haves for any serious cook?
(ed note: Omnivore doesn't have an online shop, so I'm linking through Amazon.)
People come into the shop and routinely ask me what my favorite cookbook title is, to which my response would be… well, I could tell you my favorite four in each section? Even that's difficult!
You know, this question is a tough one, mostly because there is such a huge range of what people are looking for in cookbooks – one of the best parts about working in a bookstore is getting to talk to people and figure out exactly what they might like – and it's so incredibly satisfying when they come back and tell you all about how in love they are with their choices. Ultimately, even though there are books that are "classic" – I want people to come out with a book that they are really going to use, so my list sways a little bit on the modern side.
On my own shelves I have almost every Jamie Oliver, and generally recommend any of them, but 'Jamie at Home' and 'Jamie's Italy' are the ones that have gotten the most use lately. Like Jamie Oliver, Hugh Fearnley-Whittingstall "River Cottage" books are all stellar. He writes these big encyclopedic books with clear titles like "Meat" and "Fish" and has this brilliant series of handbooks, on bread baking, preserve making, mushrooms, seafood, and vegetables. This is a guy who is so passionate about food, and reading any of his books is [dare I say it] life changing. He also has a great cookbook I recommend for families: "The River Cottage Family Cookbook".
I also recommend Mark Bittman's 'How to Cook Everything' and 'How to Cook Everything Vegetarian' to almost everyone who comes into the shop. He writes the New York Times column 'The Minimalist' and generally shares my philosophies about food. His books are slightly encyclopedic, and have master recipes with dozens of variations. They are also very well organized so you can easily look up odd ingredients in the index and flip to the page and get a myriad of ideas. Most of all, they encourage some spontenaiety in the kitchen, which makes things so much more fun!
I really love Nigel Slater – his book 'The Kitchen Diaries' chronicles his year in dinners – it's great because on some days he has really detailed recipes, and on other days, he might have picked up a japanese bento box, or maybe this great peach is in season and he eats it with a wedge of cheese and a nob of good bread. I've read the book through several times, and love going back to it for seasonal inspiration.
I also collect every Donna Hay book, which is generally my recommendation to food bloggers – her simplicity, innovation, and beautiful food photography is so inspirational. For baking, you can't go wrong with either Flo Braker's 'Baking for All Occasions' or Dorie Greenspan's 'Baking: From My Home to Yours'. They both have cult followings and recipes that turn out so well.
For Vegetarian cooking, I love Deborah Madison's 'Vegetarian Cooking for Everyone', and for vegan baking: any of Isa Chandra Moscovitz's books. My coworker routinely bakes vegan things out of her books that make me swoon. Edna Lewis' books are the best for Southern cooking. Believe me, it pays to have some really great southern things in your repertoire.
For classic Chinese, Fucshia Dunlop has written really great books – she was the first foreigner to take classes in the Chinese National Cooking schools, and is a great writer. I've always used copies of Madhur Jaffrey's books for Indian cooking, with lots of success. I've also been reading through Luke Nguyen's 'Songs of Sapa' – he's an Aussie chef who went to seek his roots in Vietnam. It'll make you hungry and empowered in about 30 seconds.
Finally, every good cook should have a copy of Harold McGee's 'On Food and Cooking'. It's a mix of food science and history and technique that is a great resource.
And I'd highly recommend a copy of 'Mr. Boston's' or 'The Savoy Cocktail Book' for anyone with a desire to learn how to mix a good drink.
Wow, Sam, thanks for all of this! I know I'll be digging through a few of these titles in the very near future.
To everyone else – remember the old adage, "don't just a book by its cover," no matter how gorgeous that dish on the front might look. Do a little homework before buying, and your cookbook title collection will thank you.
What are your favorite cookbooks, and why? What makes a particular cookbook stand out for you as a good egg?
This content was originally posted on FearlessFresh.com.