– How about a pink and white chocolate soufflé recipe for Valentine's Day? – Yes, please!
When it comes to romance, can you think of a culture more associated with grand, sweeping gestures of love than the French? There's a reason they call Paris "the city of love." Then it makes sense to celebrate Valentine's Day with another simple dessert straight out of France's pastry canon, a recipe for white chocolate soufflé. Plus soufflés only take about 10 minutes of work to create, so you'll be able to spend your time doing, um, other things with your holiday.
Another option for your Valentine's Day is a Coeur à la Crème recipe, a luscious cream heart made with crème fraîche and lemon.
Soufflés are light and tender, a perfectly delicate treat for Valentine's Day. Don't let the word soufflé scare you; they're easier to make than you might think. At their very core, soufflés are simply a sweet sauce mixed with egg whites, which causes the batter to rise when exposed to the high temperatures of baking. Your primary concern when making a soufflé is to not flatten your egg whites, and this can be accomplished by not overmixing your batter. The key is to stop folding as soon as the egg whites disappear into the batter. Problem solved!
Then, if you're feeling really fancy, follow up this soufflé with a very special Valentine's Day cheese plate, with cheese hand-picked for the holiday.
These little soufflés sport a festive pink and white swirl, or if you like, you can make them entirely pink by not dividing the batter before stirring in the red food coloring. Just remember – if you swirl too much, you'll just end up with pink batter, so be judicious with your swirling hand!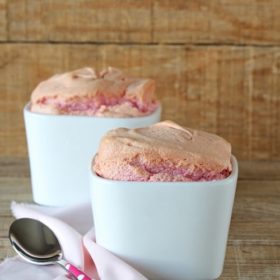 Valentine's Day White Chocolate Soufflé Recipe
Soufflés always fall—that's just the way they are. You have just a few minutes to get them to their final destination before they begin to lose their loft; this is nothing you did wrong. I promise! Just be ready to eat as soon as this white chocolate souffle recipe comes out of the oven, and everything will be just fine. :)
Print
Pin
Ingredients
4

tablespoons

softened unsalted butter

for greasing

3

tablespoons

red sugar

6

ounces

white chocolate

chopped

3

large

egg yolks

beaten, at room temperature

6

large

egg whites

at room temperature

1/4

cup

sugar

6

drops

red food coloring

Powdered sugar

for dusting
Instructions
Set an oven rack to the middle of the oven and preheat to 350°F (176°C).

Using a pastry brush or paper towel, heavily butter the entire insides of all four ramekins, making sure to get every nook and cranny. Divide the red sugar equally among all the ramekins, rotating them to coat the entire inside with sugar. Gently tap out any excess sugar and set the ramekins at least 1 inch apart on a rimmed baking sheet.

Fill a pot with 2-inches of water and set to boil over medium heat. When the water is at a simmer, turn off the heat. Add the white chocolate to a metal mixing bowl that will fit snuggly into the pot, and set the bowl into the pot. Stir the chocolate until it is completely melted.

Stir egg yolks into chocolate and beat quickly to mix. The mixture will stiffen and may look grainy, which is fine. Set aside.

With an electric mixer or stand mixer, beat the egg whites until foamy. Sprinkle in sugar, continuing to beat just until the white reach stiff peaks. Stir one quarter of the beaten egg whites into the chocolate and mix thoroughly. Gently fold in the remaining whites just until no streaks of white remain.

Divide the soufflé batter in half. To one half add 6 drops of red food coloring and fold gently until the red is somewhat dispersed into the batter. Do not flatten the egg whites by overmixing.

Fill each ramekin one quarter of the way full with white batter, then fill another quarter with red batter, to the halfway point. Add another layer of white batter, filling to the 3/4 point, and top off with red batter, filling the ramekins to the rim. Use a butter knife to carefully drag through the batter, creating a swirl effect.

Bake until puffed and barely set, about 16 minutes. Remove from oven, sprinkle the tops with powdered sugar, and serve immediately.
Notes
Special Equipment: 4 (12-ounce) ramekins, rimmed baking sheet, electric mixer Note: You can also use 8-ounce ramekins, though you'll need twice as many and you'll have to reduce the baking time to about 14 minutes to compensate for the smaller size. Nutritional analysis does not include powdered sugar for dusting.
Nutrition
Calories:
471
kcal
|
Carbohydrates:
48
g
|
Protein:
9
g
|
Fat:
30
g
|
Saturated Fat:
17
g
|
Polyunsaturated Fat:
1
g
|
Monounsaturated Fat:
10
g
|
Cholesterol:
191
mg
|
Sodium:
96
mg
|
Potassium:
211
mg
|
Fiber:
2
g
|
Vitamin A:
700
IU
|
Calcium:
30
mg
|
Iron:
1.6
mg
This content was originally posted on FearlessFresh.com.