– The uber-refreshing agave watermelon lime vodka-martini –
Watermelon is one of my favorite winter fruits. Wait – did I just say winter?! Yes I did, boys and girls. You too can enjoy watermelon in the wintertime, a very welcome burst of summer sweetness when the days are generally a depressing monochromatic gray.
Why would I seek out watermelon during the colder months when I'm awash with lovely in-season apples and root vegetables? As much as I would love to eat with the seasons 100% of the time, my personal diet is such that I can't only live on starches. My body starts to rebel when I don't get more fresh fruit, and I get incredibly tired of apples by the time the holidays hit.
While I'd like to stuff myself with hearty beef stews 24 hours a day this time of year, my body just doesn't work that way. Watermelon is one of those fruits that gives me the chance to "fill up without filling out," which basically means I can stuff myself silly without stumbling into a food coma for the next four hours. Watermelon is over 90% water, so I can eat as much as I want and still stay hydrated and alert. And, colorful fruits are good for you. I find that my body starts to feel run down if I don't get enough fruit-based nutrients, like lycopene. The gorgeous red color in watermelon (and tomatoes, incidentally) comes from this all important antioxidant, and there is more lycopene in watermelon and in any other fresh fruit or vegetable. Yup, seriously.
Let me just say that I'm a HUGE fan of seasonal produce. I try to eat with the seasons, and besides the occasional random zucchini, I don't generally go for summer produce during the snowy season. But with the advent of the greenhouse, and this being California and all… well, you get there this is going. I'm lucky enough to have a friend who grows summer produce all year round. While it's not the same luscious ripeness that we get from June to August, it's pretty darn close. And my body stays happier, which means *I* stay happier. Yay all around.
What about you folks in colder climates? Take heart, dear parka-wrapped readers. Grocery stores can carry off-season watermelon from local organic hothouse growers, or you can usually find some in the pre-cut section of your produce aisle. Or, if you've got garden space, try setting up a little poly tunnel and see what you can grow. You might be surprised.
This watermelon vodka-tini recipe jump-starts your afternoon (or any time of day, really–I won't tell!) with a twist of lime and a quick shot of agave nectar. Winter is the new summer! Or something.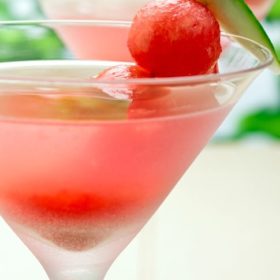 Agave Watermelon Lime Vodka-Tini
This watermelon vodka-tini jump-starts your afternoon with a twist of lime and a quick shot of agave nectar. Sip away your summer in a pink watermelon blush.
Print
Pin
Ingredients
White sugar to rim the glass

Three

1-inch cubes

of watermelon

seeds removed

6

drops

lime juice

1/2

teaspoon

agave nectar

simple syrup will also work

3

ounces

vodka

Crushed ice

One

1/2" chunk

of watermelon

with a toothpick in it, for garnish
Instructions
Rim a martini glass with white sugar and set aside.

In a cocktail shaker, muddle the watermelon with the lime juice and agave nectar. Add the vodka and crushed ice to the shaker, then shake until well mixed, about 5 or 6 good shakes.

Strain the drink into the prepared martini glass and drop in the toothpick with the watermelon chunk. Enjoy!
Notes
Nutritional analysis does not include sugar on rim of glass.
Nutrition
Calories:
216
kcal
|
Carbohydrates:
5
g
|
Sodium:
2
mg
|
Potassium:
48
mg
|
Vitamin A:
150
IU
|
Vitamin C:
5
mg
|
Calcium:
30
mg
This content was originally posted on FearlessFresh.com.