This white chocolate brioche recipe is the very same bread that we all raved about after attending 2010 Food Blogger Camp at Club Med in Ixtapa, Mexico. It's both soft and crispy, with little nuggets of white chocolate nestled inside the folds of its tender layers. One bite will be cakey, while the next leaves you floating on a cloud of sweet, creamy bliss. What more could you want in a dessert bread?
I remember my first bite very clearly. I had woken up just in time to catch the breakfast buffet, and I was wandering around the main restaurant when I saw David standing near a counter full of gorgeous baked goods. I walked up to say hello, but not knowing him very well, I stayed off to one side. He noticed me standing there and smiled, then pointed. My eyes followed his outreached arm, which motioned towards a plate full of sliced bread.
"You have to try this," he said. "It their white chocolate brioche. They're famous for it."

I nodded and grabbed a piece, then headed back to my table with Garrett, Casey, Sarah, and Diana. We chatted, ate, and just generally enjoyed the ocean view and tropical breeze. After I'd finished all of my bacon and eggs, I took a little nibble of the white chocolate brioche, which looked so lonely sitting on my plate, alone after I'd eaten everything else. The first bite was good, with the texture of the bread soft and moist, but the second bite is what grabbed me; this bite harbored a few little white chocolate chips, and paired with the lovely tenderness of the bread, my inner gastronaut just about passed out from sheer bliss.
Later that afternoon I found David sunning on the beach and asked him if he thought it would be possible to get the recipe from the resort. He looked up at me through his sunglasses, drawing another sip from his tropical cocktail. "Well, yeah," he smiled. "It's actually available on the website."
So there you have it, dear readers. This bread was one of my favorite things served at Club Med for Food Blogger Camp, and I'm excited to share it with you (sure, it's 18 months later… but I think you'll forgive me, right?). This white chocolate brioche bread makes a great dessert toast, or try it for breakfast if you love sweet things in the morning.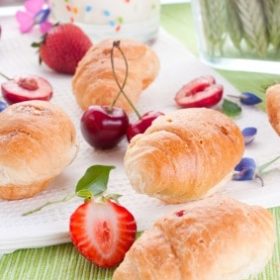 Club Med's White Chocolate Brioche Recipe
This white chocolate brioche recipe is the very same one that Club Med guests have been raving about for years. Make this crispy-sweet treat at home! Makes 5 large rolls.
Print
Pin
Ingredients
8

cups

flour

1

teaspoon

active dry yeast

1

tablespoon

vital wheat gluten

2

teaspoons

salt

3 1/2

cups

water

2 3/4

cups

white chocolate chips

(or regular chocolate chips)

1/2

cup

chopped cherries

(optional)
Instructions
Place flour, yeast and gluten in the bowl of a stand mixer. Beat on medium-low for 1 minute. Add water and mix for another 2 minutes. Add salt and continue mixing for another 8-10 minutes on medium speed.

Remove dough from bowl and lightly knead into a ball. Let rest on the counter for 15-20 minutes.

Preheat the oven to 450˚F (232°C).

Flour your work surface generously. Divide dough into 5 equal portions and roll each piece out to a 1/2-inch thick, trimming it into a 8-inch by 8-inch square shape. Sprinkle each square with 1/5 of the white chocolate chips and a sprinkling of chopped cherries. Roll each square into a tight roll, gently rubbing the dough with a wet finger to make sure it's smooth all over. Cover lightly and let the loaves proof for 40 minutes in a warm area.

Place uncooked loaves on a baking pan lined with parchment paper and bake for 20 minutes, or until the surface is a deep golden brown. Remove from oven and let stand for 15 minutes before removing from pan.

Once cool, wrap loaves in plastic wrap to keep fresh. Loaves will keep in the refrigerator for up to a week.
Nutrition
Calories:
727
kcal
|
Carbohydrates:
117
g
|
Protein:
16
g
|
Fat:
19
g
|
Saturated Fat:
16
g
|
Sodium:
521
mg
|
Potassium:
125
mg
|
Fiber:
3
g
|
Vitamin A:
50
IU
|
Calcium:
20
mg
|
Iron:
4.9
mg
This content was originally posted on FearlessFresh.com.